Every student would be happy to come back home from college and have a tasty dinner. It isn't surprising as studying takes much time and effort. Most college students do their best to balance work and studies. This causes a catastrophic lack of time. Are you one of the college students who want to save time? Many meal delivery services can help you not spend valuable time cooking and eating delicious dishes at a reasonable cost.
How to identify what meal delivery for college students will meet all your expectations? First, check the comparison of the best cheap meals for college students and make the right choice according to your current budget and personal preferences.
Blue Apron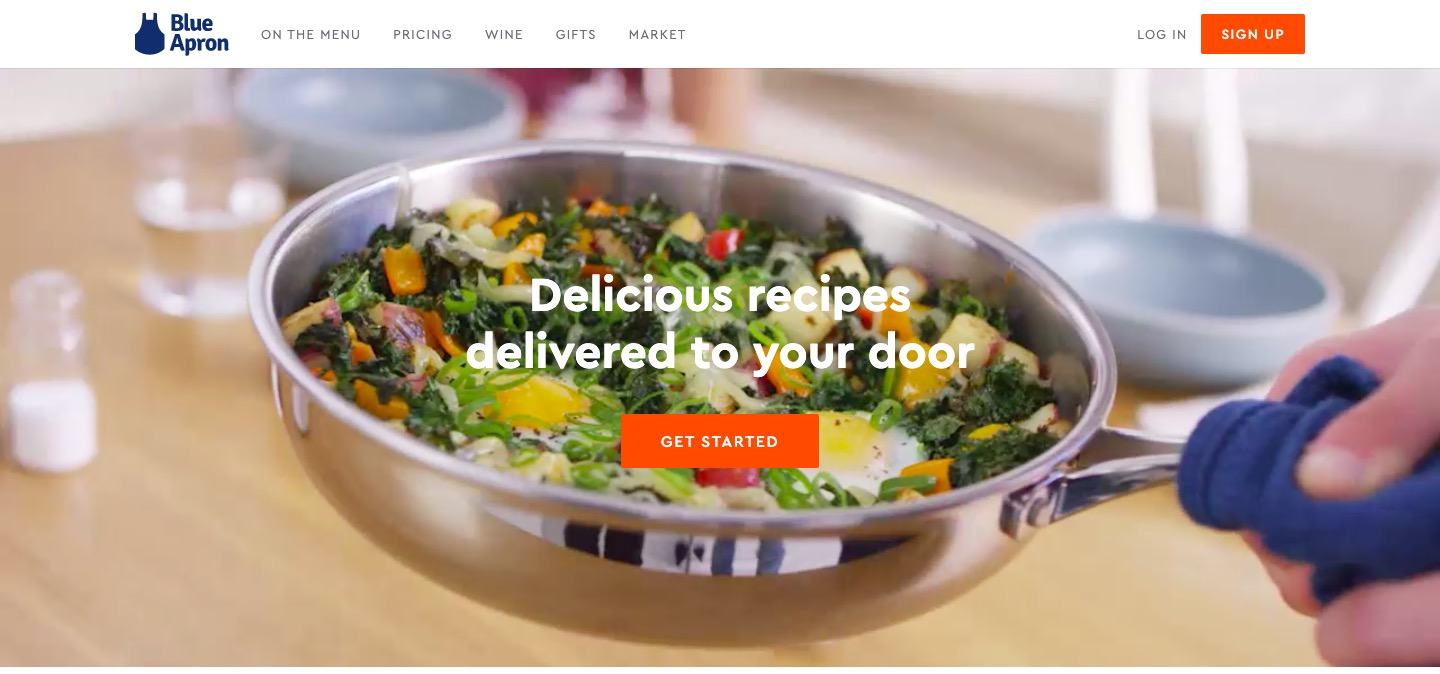 Blue Apron delivery service is number one on the list as it is of crazy popularity among college students. It is because they offer an impressive assortment of easy-to-cook recipes. If you check plans, you'll see: all of them contain good quality ingredients. One more distinctive feature of Blue Apron for college students is its fair price.
Who should choose Blue Apron? The meal delivery service fits college students whose aim is to spend as little time cooking as possible without sacrificing quality. Both meat lovers and vegetarians will find a large variety of foods at Blue Apron. The delivery service will meet your expectations if you want to save time on cooking. Who can be disappointed with the Blue Apron delivery services? However, it may not be the best choice if you have any specific dietary requirements. For example, college students with allergies may need to choose some other food delivery service.
Cost Per Week: The exact price can be defined after you order meals as it depends on what your plan contains and how many meals you order. In general, you can spend about $7.49 per serving to eat healthy and tasty food. In addition, you can save on shipping if you order 3 or more recipes.
Types of Menu: Those college students who can't imagine their life without meat recipes will evaluate the best meals for college students made of meat. But if you prefer cheap vegetarian meals for college students, you won't be disappointed by Blue Apron delivery service as they offer many recipes made of fruit and vegetables.
Delivery Area: The food delivery service operates in the USA. You should check the list with zip codes to ensure Blue Apron's best meal service offers delivery to your area.
Pricing
Blue Apron meal delivery is one of the most affordable delivery services. It has a fair price-quality ratio. You're recommended to order more than 3 recipes if you want to save money. In case your order contains fewer than 3 recipes, the cost will be $7.99 per serving.
Customer Support
Customer support of the Blue Apron delivery service is somewhat helpful. They have a useful FAQ section where you can find answers to all the common questions. If you have a specific problem that hasn't been described in the section, you can contact customer support managers either by sending an email or over the phone. They are available round-the-clock. Be sure your problem will be solved at your earliest convenience.
Hello Fresh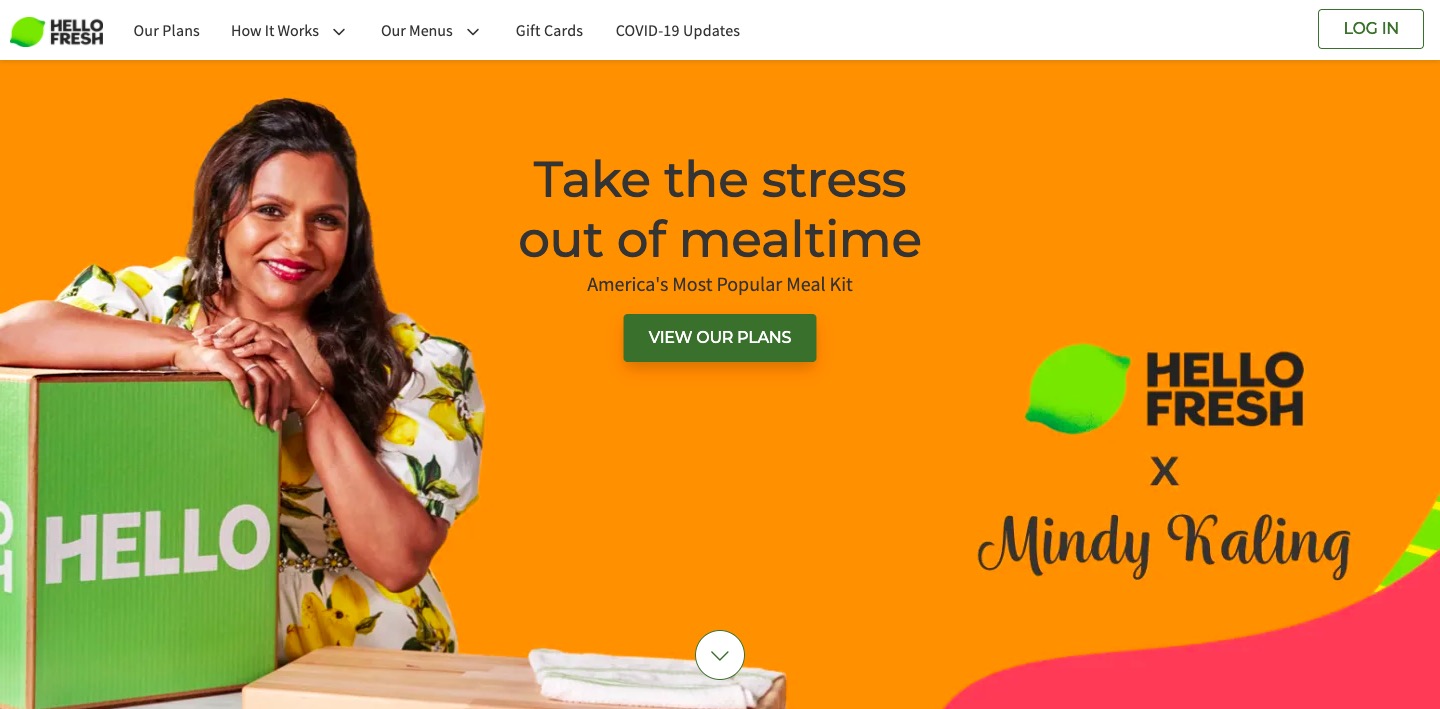 Short overview: Hello Fresh meal delivery service is one of the veterans on the market. To be more exact, they have been working in the industry for 10+ years. Hello Fresh meal delivery service has talented chefs who can provide you with a chance to taste top-quality meals at a competitive price. In addition, there is an essential benefit of this delivery service option: you can cancel your meal plan delivery at any time or skip a week if you need without any problems. Can Hello Fresh meal delivery meet your expectations? It's a good choice if you want to get subscription boxes for college students at a fair price and eat at a good restaurant. All the dishes are created by professional chefs. You will need to follow easy instructions to cook them.
Cost Per Week. If you live with a neighbor, don't hesitate to order Hello Fresh, as they offer a meal plan for two college students at about $69.
Types of Menu. The delivery service peculiarities refer to the meal plan: weekly select 5 meals (from 23 recipes). Hello Fresh for college students can meet the requirements of customers with different tastes. It is a great option to choose if college students follow the vegetarian diet, are a pescetarian, or keep to a diet to lose weight. There are meals with a different number of calories for college students to choose from. Is there any reason why you shouldn't order from Hello Fresh? It isn't the best choice if you need to keep to a diet without any allergens. Unfortunately, there are no allergen-free meals in the assortment.
Delivery Area. Hello Fresh meal delivery service can provide you with food delivery service if you live in Australia. The area covers SA, VIC, NSW, ACT. Check the list with zip codes on the website.
Pricing
The cost for such high-quality food offered by Hello Fresh delivery service is quite reasonable. The only thing to consider is that your order should consist of not fewer than 4 plates weekly as it's a subscription-based delivery service.
Support
If you have any questions regarding your meal plan, you just need to send a request on the website. Then, share the problem on the website, and customer support managers will deal with the issue immediately.
Home Chef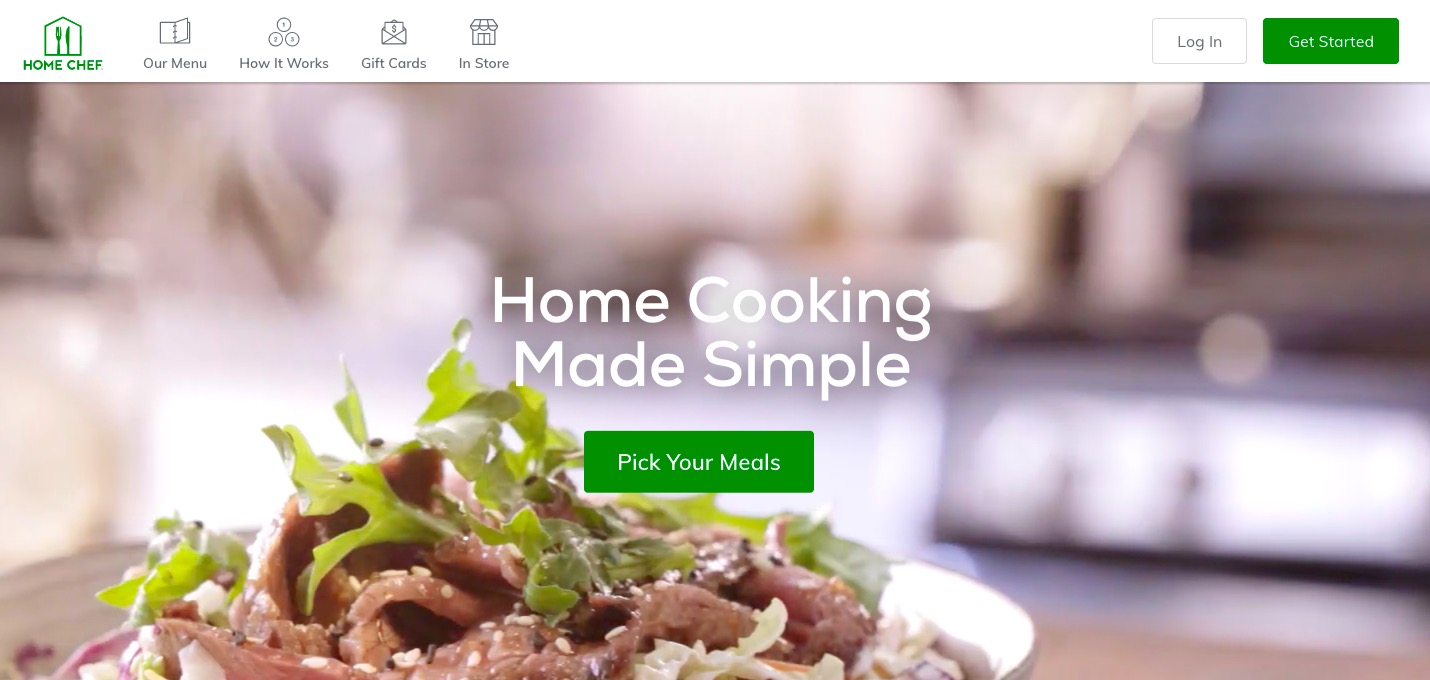 Short overview: Home Chef is the name of the delivery service well-known for a large variety of foods at a relatively low price. About 90% of Americans order meals from this service, including college students. The delivery service has had a flawless reputation since 2013. They offer easy-to-cook recipes every college student can cook at home within minutes. All the dishes are of high quality even though recipes contain simple beginner-friendly instructions.
Cost Per Week. If you want to determine how much the meal plan will cost, add the recipes you want to your subscription plan and proceed to the checkout. On average, the cost per serving is $6.99. 2 college students will buy meal plans designed for two at around $38.99. It's an excellent option to choose if you live with another college student who wants to eat healthy foods without spending much time on cooking.
Types of Menu. Compared to previous delivery options, Home Chef can meet the expectations of a more significant number of people. In addition, they offer a customization feature. You can choose ingredients you want to add or exclude from the recipe. Try cheap vegetarian meals for college students and meals that can meet the requirements of customers who keep to specific diets.
Is the Home Chef delivery service the best choice for college students? Choose it if you like to eat delicious foods at a reasonable cost with an opportunity to make improvements to the recipes for broke college students. The possibility to customize your plate is one of the advantages of this service. If you give preference to recipes containing only organic foods and antibiotic-free meat, take into account, you will have to pay a higher price.
Delivery Area. Order foods from Home Chef college food delivery service if you live in the USA. They'll send food to college students across the United States only.
Pricing
The meal delivery service has a flexible pricing policy. This means you can select dishes according to your budget and personal diet preferences, thanks to the customization option. The only thing to keep in mind is: this option isn't free of charge. You'll need to pay an additional cost to enjoy the possibility to manage your meals as you wish. But if you are a student, you will be able to use a home chef student discount and add promo codes when placing an order.
Support
Customer support specialists are always ready to give a helping hand. You can find a very detailed FAQ section on the site. If there is no answer to your question, contact customer support, and they will tell you how everything works and help you make the right choice of a meal plan.
Every Plate

Short Overview: Not everyone knows this meal delivery service is one of the companies belonging to Hello Fresh. It was founded in 2018 and has become very popular among college students for its democratic prices and good-quality lunch boxes for college students. Therefore, it is easy to make an affordable meal plan and keep to a well-balanced diet sticking to a tight budget.
Cost Per Week. You will pay a lower price per serving here than when ordering from other companies. It's possible to eat tasty foods of good quality by paying $4.99 per serving. Take into account that the cost won't decrease if you order meals for two or more people. Delivery isn't free here. The shipping cost is $8.99.
Types of Menu. If you like to try new dishes regularly, you can do this with Every Plate. They offer to choose among 13 new meals weekly. It's a real paradise for college students who love meals with meat. You can order pork, steak, chicken at a fair cost.
It fits those college students searching for a possibility to try various meals when being on a tight budget. Every Plate service is the best option for those who invite friends often – they offer simple, easy-to-follow recipes at a cheap cost. Every Plate delivery doesn't offer paleo, keto, and other specific recipes.
Delivery Area. Use the delivery service if you live in the continental part of the USA. Make sure your zip code is on the list of the delivery company by visiting the website.
Pricing
As has already been said, the cost per serving is democratic here. It's cheaper than other popular delivery services. There is no free shipping, but it's relatively inexpensive and isn't a reason to pass by the delivery service. Moreover, college students can enjoy various discounts and promo codes to get dishes at a lower cost.
Support
You are welcome to ask your questions round the clock. The customer support manager will answer immediately if you contact the company via a live chat option available 24 hours, 7 days a week.
Dinnerly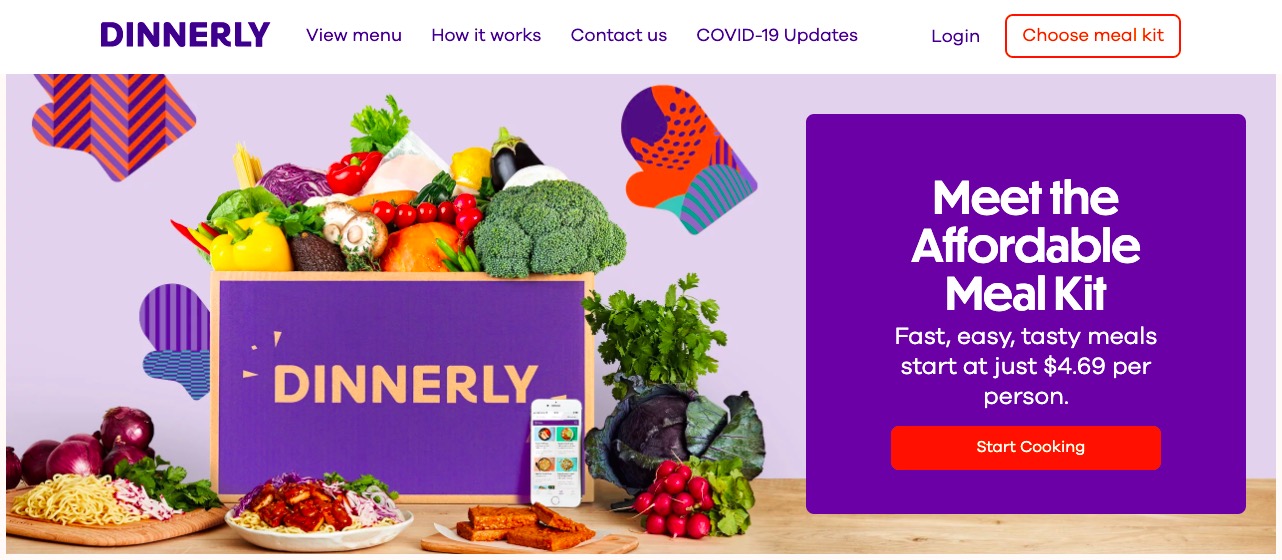 Short Overview: This service has been operating since 2017. During this period, they have won great popularity among broke college students. Using this service, you can cook tasty dishes by using not more than 7 ingredients. Who may not be satisfied with the Dinnerly options? First, the service doesn't offer gourmet dishes. Second, it may not be the best option if you keep to a specific diet. Dinnerly doesn't offer paleo, keto, or other specific plans.
Cost Per Week. Order no fewer than 3 meals weekly and pay a price of $4.29 per serving. The cost for the meal plan here is cheaper than in other delivery meal companies.
Types of Menu. Despite the relatively cheap cost, you can treat yourself to a large variety of delicious dishes that can satisfy the requirements of the most demanding college students. Here are creamy ravioli, macarons, meat dishes, a large variety of sauces, and other meals that are worth your attention. Forget about ordering frozen food for college students – order delivery of Dinnerly meals at a fair price and don't sacrifice quality.
Check what each dish is made of and choose the one that fits your diet. It's very convenient for those who want to avoid allergens. The delivery company offers many dishes made of fruit and vegetables that can meet the expectations of any vegetarian. Follow the news on the site, and don't miss a chance to try a new dish.
Delivery Area. Inhabitants of Australia can place an order for a Dinnerly meal plan. Gol to the site to check whether your area is covered before choosing Dinnerly as your subscription-based meal delivery.
Pricing
Dinnerly meal prep college students service has a fair pricing policy. However, if you want to save money, you should order more meals. For example, if you buy 2 servings, you will pay $4.99 for them. The cost for Dinnerly meals cost a fair price that is cheaper than anywhere else in Australia. In fact, it is the best affordable food for college students.
Support
If you have a question, you can contact customer support either via a phone call or by sending a particular form on the website. Customer support managers will contact you at your earliest convenience.
FAQ
Where should I order meals if I am on a tight budget?
Consider ordering meals from Dinnerly and Every Plate if you want to save money and eat dishes that taste homemade at the same time. These companies offer a relatively wide assortment at a low price that doesn't affect the quality of foods.
What food delivery service offers a customization option?
Home Chef is a good choice if you want to customize your plate. You can either ask to include ingredients in the meal or exclude some of them if you dislike them or have allergies to a certain ingredient.
Conclusion
According to the college meal plan cost comparison, all the deliveries offer decent quality foods at a reasonable cost. But some certain distinctive features and peculiarities may affect your choice. For students, price is a crucial factor. Are you looking for the cheapest option? Pay attention to the Dinnerly delivery service. Students on a tight budget can save a lot of money by choosing it and still eating tasty foods.
One more relatively cheap service is Every Plate. It offers a good assortment of easy-to-follow recipes at a fair cost. If price isn't a number one criteria, pay attention to such popular services as Hello Fresh, Home Chef, Blue Apron, which are well-known for more diversified make-ahead meals for college students.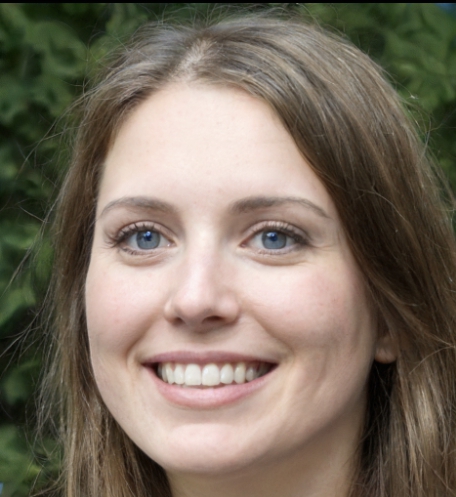 Hi! My name is Stephanie Hinton and I'm a trained expert in food and nutrition.