Pescatarian meals are a great way to diversify your menu and keep to the diet you've chosen. They can often become either good add-on meals or make up your primary menu for the whole family.
This article has compared 5 popular pescatarian meal delivery services with excellent reputations offering top dishes to picky eaters.
1.Sun Basket: Short Overview
Meal delivery kits from Sun Basket are known as versatile and focused on the freshest products. This company is considered the leader among pescatarian deliveries because of its excellent seafood, responsible sourcing, and the best pescatarian recipes.
The pescatarian meal delivery offers meal kits that are ready to eat and simple to prepare with flexible delivery frequency so that you can feel free from obligation to order.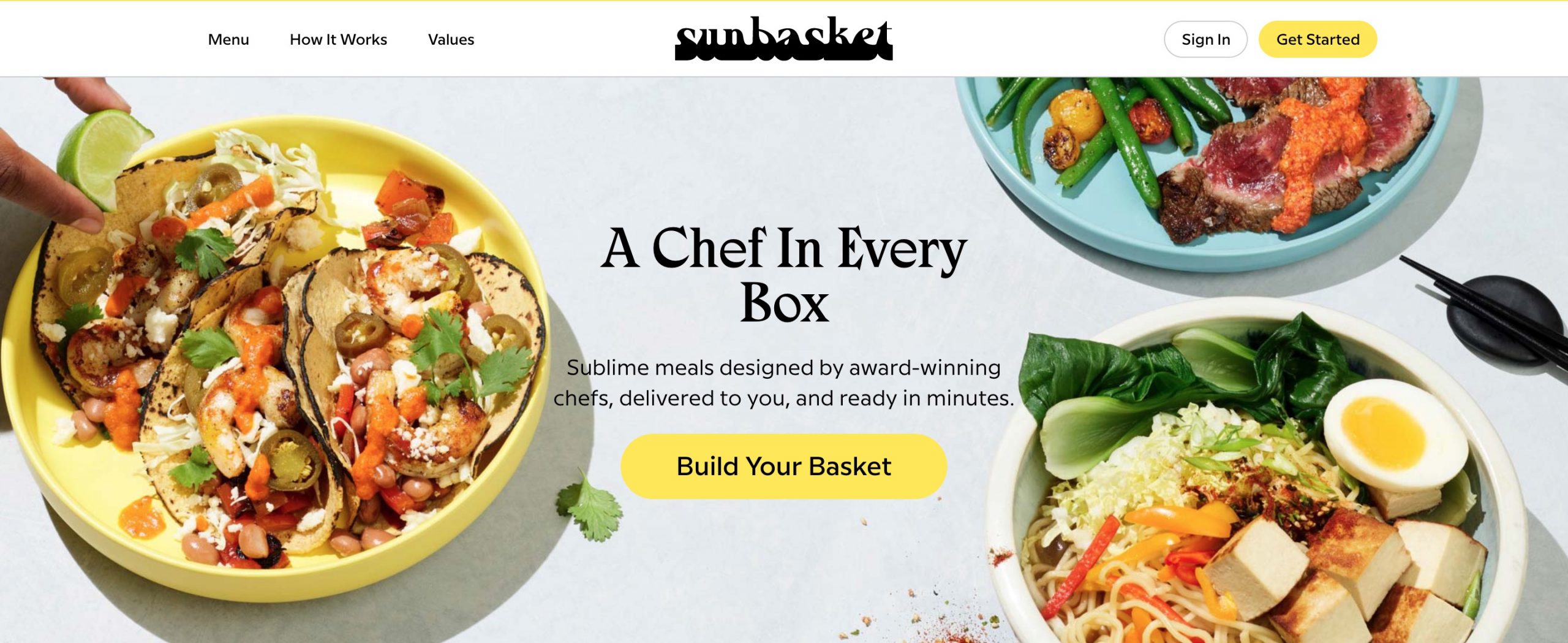 Cost Per Week
The total price in a week at Sun Basket depends on the number of persons and number of meals in a week.
To generalize and count the average price of a pescatarian delivery, we will take a family of 4 as an example. Two meals for a family of 4 will cost you nearly 110 USD since you will pay around 13 USD per serving if you order twice a week, 12 USD if you order three times a week, and 11 USD for the same serving if you order 4 times a week.
Hence, the more servings you order per week, the cheaper they turn out. Following the same logic, 4 recipes a week for the same family size will cost up to 190 USD. Yes, the prices at Sun Basket are among the highest ones but let's agree that organic foods and the best quality of ingredients are worth it.
Types of Menu at Sun Basket
First of all, Sun Basket is where customers turn to in search of a lot of dish types such as gluten-free, dairy-free, and a pescatarian menu.
All in all, the company offers these menus:
Pescatarian
Diabetes-friendly
Gluten-free
Soy-free
Dairy-free
Vegan
Paleo
Lean and Clean
Vegetarian
Carb-Conscious
Keto-friendly
Another significant point is that Sun Basket allows you to filter the recipes at the website and to choose more kid-friendly dishes because if you look through Chef's Choice, you will be shown meals from every category.
A special place is taken by snacks and excellent add-ons such as nuts, seeds, crisps, fruit and chocolate bars, dips, add-ons for soups, and different types of cheese. Proteins in pescatarian meals are represented by salmon, sole, crab, shrimps, scallops, snapper, and other fish under delicious seasonings.
Sun Basket Delivery Area
Your Sun Basket box can travel to almost every US state. The delivery exceptions are Alaska, Montana, New Mexico, Hawaii, and specific regions of North Dakota.
Special Points About Pricing
Despite high prices for the pescatarian menu, Sun Basket allows its clients to order Family Plan, where a serving costs around 10 USD.
Besides, each pescatarian meal delivery will cost you 6 USD on average.
Support
Client support at Sun Basket is given automatically 24/7. Otherwise, contact agents by phone, email or text message from 6 am to 8 pm.
2. Home Chef: Short Overview
Home Chef is another meal kit delivery company specializing in various menus, including many seafood meal delivery options. With very beginner-friendly recipe cards, fresh seafood, and traditional taste, Home Chef meal delivery is excellent for everyone searching for pescatarian meals for a whole week.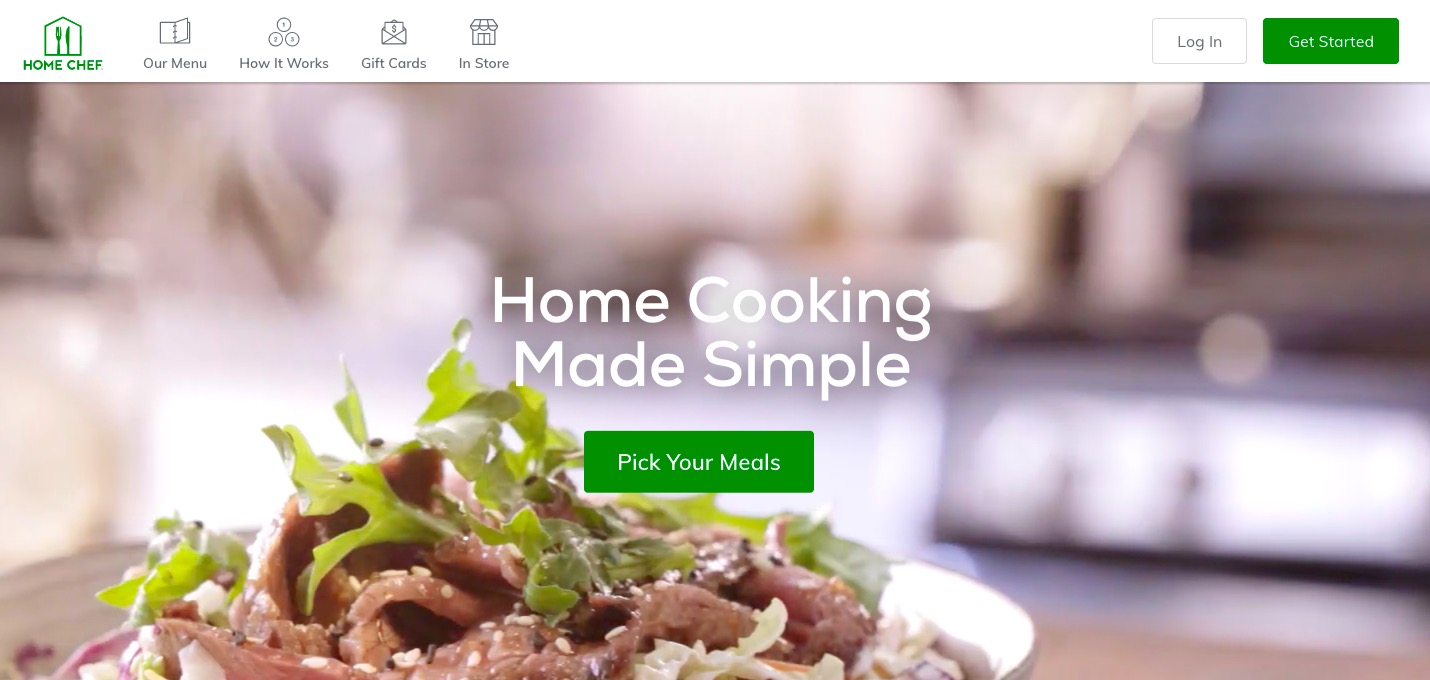 Cost Per Week
Now, the contrast is enormous between this and the previous pescatarian meal delivery. Home Chef offers servings just at 4,69 USD. The overall cost for a family of four will be low enough – 80 to 90 USD depending on additional things you order.
Types of Menu
The delivery service has about 6 fish recipes rotating in a week among 18-20 recipes. But the good point is the 'Customize It' function. With its help, you can add seafood or other protein to practically any dish.
All in all, menus include:
Seafood.
Vegetarian.
Without Nuts.
Without Soy.
Without Wheat.
Chicken.
Pork.
Without Milk.
Poultry.
Carb-Conscious
Calorie-Conscious
The list is completed by Staff Picks and Customer Favorites, including the tried and true recipes that clients and chefs love.
Delivery Area
Currently, the delivery of your pescatarian plan is possible if you live in the USA.
Pricing
Delivery in orders over 45 USD costs 10 USD.
Support
The support service is well organized and provides answers through phone or email.
3.HelloFresh: Short Overview
HelloFresh meals are there to save you from the too-much-used pescatarian recipes. Most of them are fit for quick preparation taking just 15-20 minutes.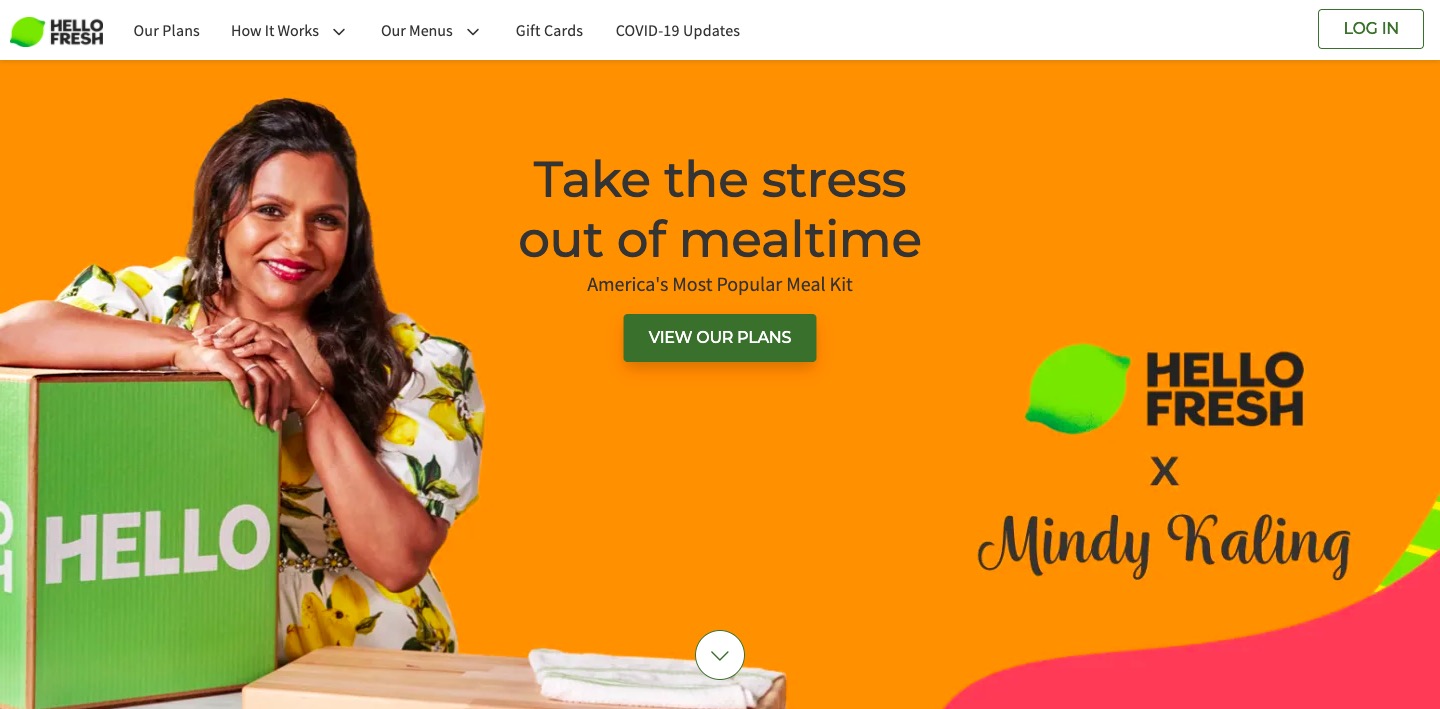 Cost Per Week
While being a reputable meal delivery company and featuring a lot of fish dishes (including those you can find in the archive on the website), this form offers reasonably affordable prices.
An average serving costs 9 USD, but recently the company has added some options under 9 USD, so the prices start at 7.48 USD. A whole family HelloFresh pescatarian meal delivery service subscription will turn out approximately 130 USD.
Types of Menu
The menus here are limited to 4 types:
Veggie
Meat plus Veggies
Family Friendly
Low Calorie
But the great thing is that if you don't find the pescatarian recipe you want this week, there is no problem in skipping one or making use of your favorite dish collection. Usually, fish recipes are found among the Meat and Veggies plan.
The range of recipes also includes meals for busy nights and some snacks that you will appreciate when striving to maintain your pescatarian lifestyle – breakfasts, bread, healthy desserts, and extra protein from seafood. Besides, there is a search by ingredient on the official website. Every pescatarian meal includes lean protein, and you will be captured by the ease of pescatarian meal prep.
Delivery Area
HelloFresh delivers only to the continental regions (48 states) of the US. Still, they are coming to the point of more significant development to send their meal kits to Hawaii and Alaska soon too.
More About Pricing at HelloFresh
All in all, 130 USD for a week of 4 recipes is a reasonable price for such a rich pescatarian menu. Plus, there are 8 servings available which make the whole order cheaper.
First shipping is traditionally free with HelloFresh. In every next case of meal delivery, you will be charged 8.99 USD.
Support
The company has classical customer support and accepts requests by email or phone at any time.
4. Martha and Marley Spoon: Short Overview
If your dream of a seafood delivery includes wild-caught fish, an abundance of unique chef-designed recipes, and partially prepared food kits to save your time, Martha and Marley Spoon is a great option. No gastronomical boredom is guaranteed!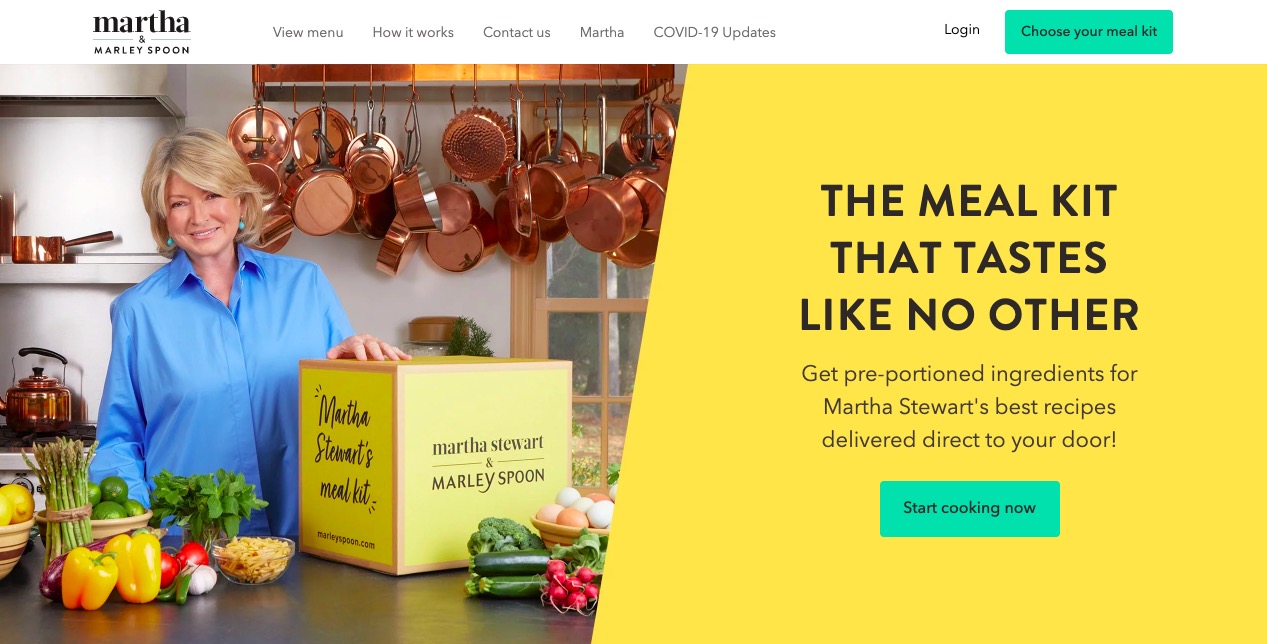 Cost Per Week
The largest pescatarian kit will give you a single dish at 6.39 USD and includes 4 servings in a week with 6 different recipes every time. Add here 8.99 USD for delivery, and the weekly cost in total will make 165 USD. A small box for two people (2 recipes) is 49.99 USD.
Types of Menu at Marth and Marley Spoon
Every week you will be offered an extensive menu including those rich in veggies and the best seafood recipes from the pescatarian menu. Up to 30 dishes can be divided into these 5 menus:
Meat and Fish
Vegetarian and Vegan
Health and Diet
Family Friendly
Under 30 min
The last category is for those who have no time to spare for pescatarian meal prep.
Delivery Area
The company will get your pescatarian kit delivery only to the contiguous states of the US.
More On Pricing
You will be surprised to know it, but the cost of a serving at Martha and Marly Spoon starts at 6.39 USD. Still, if we assume that your family will want to add a handful of extras such as smoothies, coffee, or protein bars, a serving will cost 8 to 10.25 USD.
Support
Here you will enjoy standard client support with chat, email, or phone assistance.
5. Green Chef: Short Overview
Pescatarian meals are not the only thing making Green Chef well worth a try. The firm is focused on clean and healthy eating and responsible ingredient sourcing with its love for certified organic products.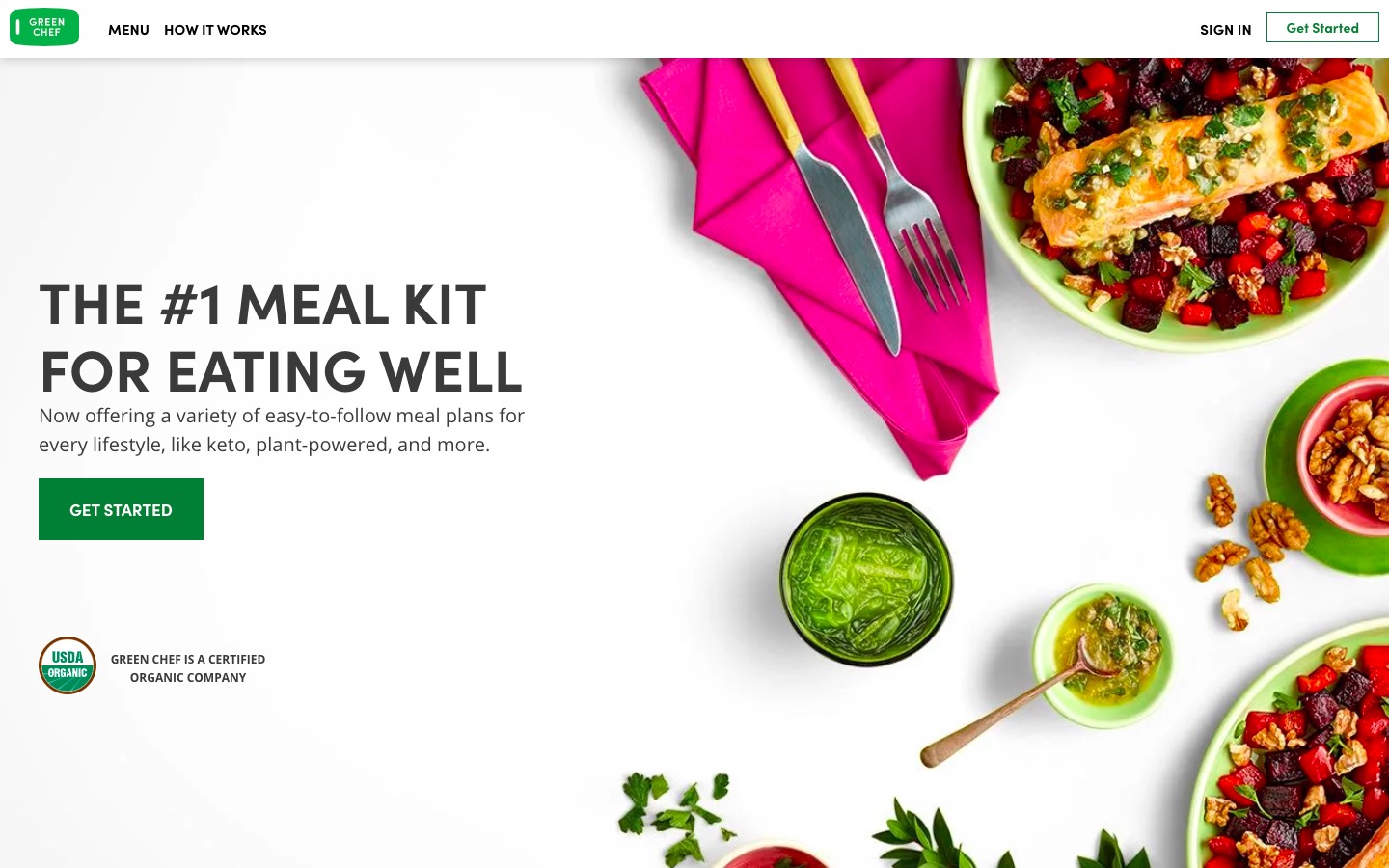 Cost Per Week
Together with Sun Basket, the company stands as an expensive provider of easy pescatarian meal plan options. To illustrate it, ordering a pescatarian menu for a family of 4 with 3 recipes weekly will reach 200 USD.
Types of Menu
When looking for a good pescatarian menu, you will see 3 meal plans:
Balanced Living
Keto + Paleo
Plant Powered
But don't focus on them – you can find excellent seafood recipes in each. Just keep in mind to check nutritional value because the Keto + Paleo plan, for example, includes recipes with little carbs. So, unless you're there for a pescatarian meal plan for weight loss, choose more traditional pescatarian kits.
Delivery Area
You can get pescatarian meals delivered by Green Chef to all states except Alaska, Hawaii, and specific areas in Louisiana.
More Details On Pricing at Green Chef
Here a serving's price will start from 12 USD. Plus, the shipping cost varies from 8.99 USD to 26.96 USD. Still, getting the fresh and organic meal kits for tasty meals right in time is worth the high price.
Green Chef: Support
It allows you to get support by email, live chat, or phone at any time of the day or night.
FAQs
What Does a Pescatarian Diet Mean?
In a broad sense, a pescatarian menu is not a diet but rather a food preference where a person eats a lot of veggies and replaces meat with fish and seafood. Pescatarian meals don't include pork, chicken, or poultry, whereas some still consume dairy. Eating seafood has obvious health benefits as it is rich in fatty acids and vital microelements. Therefore pescatarian meals are so popular.
Can I Get Protein Deficiency If I Replace Meat With Seafood?
Meat contains valuable protein for the human body, but it isn't the only source. A good and balanced pescatarian menu includes wild-caught fish, eggs, nuts, seeds, and if you get enough of them, you won't be protein deficient.
Is Hellofresh for Sustainable Consumption?
The company provides a pescetarian food delivery service that leaves a minimal carbon imprint and focuses on donating foods instead of making waste. HelloFresh also orders pescatarian ingredients from local farms and suppliers. This saves the environment from extra CO2 emissions due to fewer transportation needs.
The Final Word
A pescatarian meal delivery service can make your eating routine for the whole family way more versatile and more effortless. This is a chance to try amazing new recipes, practice cooking, and enjoy your choice of lifestyle even when you're busy. It's both happiness for your taste buds and health!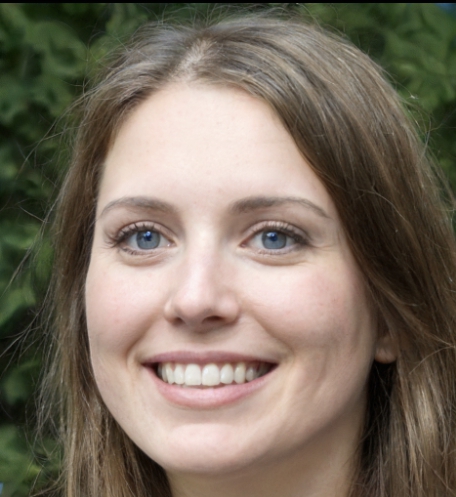 Hi! My name is Stephanie Hinton and I'm a trained expert in food and nutrition.