If you are a busy working mom or just not into cooking, no judgment, and no worries because the industry of baby food subscription services is huge! Today, instead of going to the grocery store, you can order nutritious meals online from the best baby food delivery services and give them to your child. So looking ahead, no single worry should be also focused on pricing.
This review will introduce you to the high-quality, tasty, balanced in nutrients and calories baby food delivery companies. Yet, let's first dive into their benefits.
Why Should You Buy Organic Baby Food Online?
First off, it saves your time. Such meal delivery services are designed to help busy moms avoid staying hours in front of the ovens and cooking. Secondly, they are relatively cheap compared to your grocery shopping when you may buy hundreds of ingredients and waste several of them. Thirdly, such meals are balanced in calories and ingredients. For instance, one organic baby food delivery service may be powered by chefs and medical and health advisors who will collaborate. As a result, they will come up with a healthy formula. A formula that will promote bones, brain growth and assist your baby to never be hungry.
Now, you will find the top 8 best baby food delivery services experts' reviewed by pricing, types of available menu, delivery areas, and customer support. Still, it is highly important to contact the preferred one by yourself to check whether the dishes will be a good fit for your baby.
#1 Yumi

Short Overview
This baby food delivery service positions itself as everything you have ever searched for, with tasty purees, finger meals, child snacks, and vitamins with no junk nutrients. The service does not only provide chef-crafted meals for your baby but has a whole "army" behind of medical and health advisors who research the recipes. Their recipes are USDA Certified Organic. Every week, they offer a rotating baby's meals menu so that you can forget about the planning, purchasing, cutting, and steaming.
Aside from coconut, Yumi baby dishes are devoid of all other Big-9 allergies. They do not add sugar to their sweet jars but power them with natural sugar from the fresh fruits and vegetables. All of their produce comes from local, organic farms that do not use GMOs. Besides, all dishes are free of dairy and gluten and vegetarian or vegan.
Yumi baby food plans start from $5/ day.
Purees, finger delicacies, and snacks.
Delivery Area
They currently deliver to the 48 contiguous states, excluding Hawaii and Alaska.
Pricing
8 dishes weekly = $35 is total = $4.38 / serving;
16 dishes weekly = $65 is total = $4.06 / serving;
24 dishes weekly = $90 is total = $3.75 / serving.
Support
Yumi has a live chat button to address your inquiry and get a 24/7 response. Besides, find the email and telephone/text contact details.
#2 Nurture Life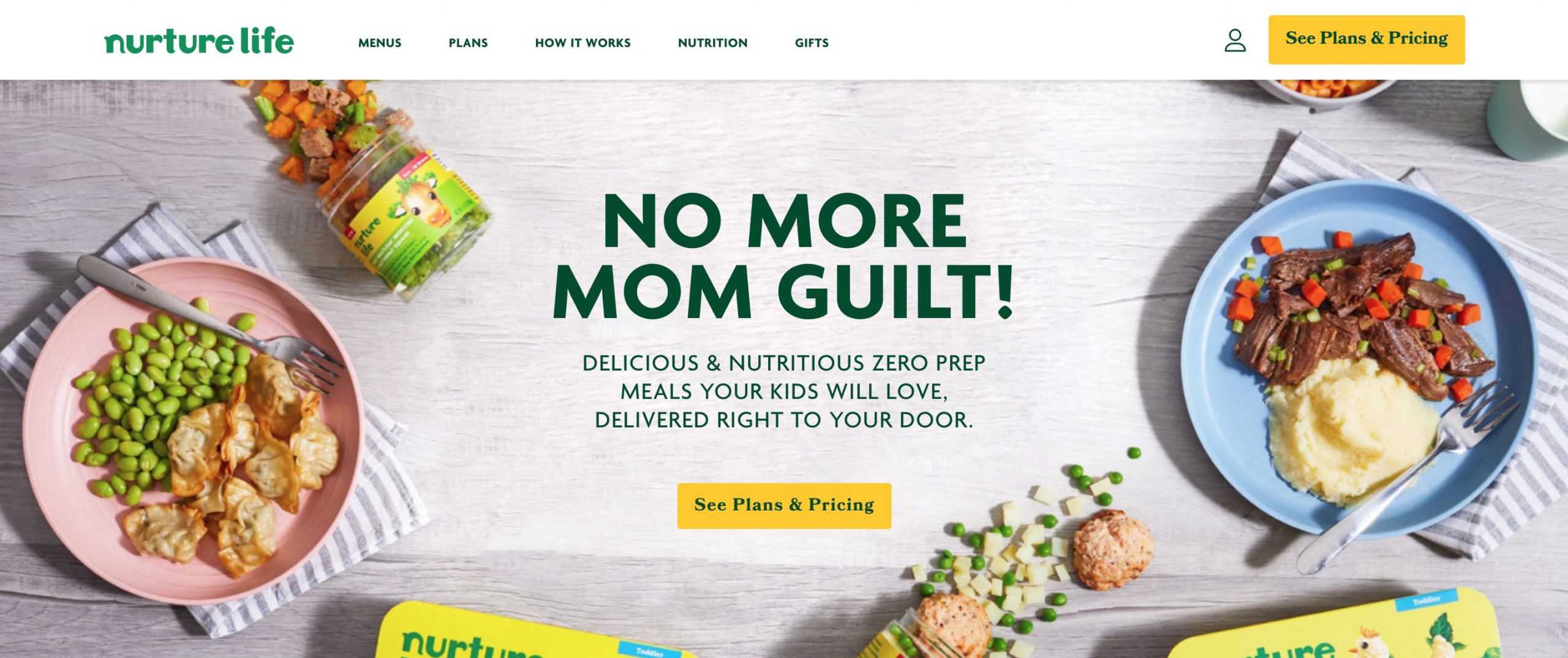 Short Overview
The next baby food service is Nurture Life. They currently offer finger foods in bite-sized portions for babies who only started learning to self-feed. You may find dishes for toddlers and children ready to consume solid, more significant foods. Besides, healthy snacks and the most nutritious treats fit your children. You will find vegetables at every dish, high protein content, best organic ingredients, and everything are always fresh, never frozen.
Nurture Life is strict in terms of ingredients. Hence, you won't ever find trans fats, high fructose corn syrup, or artificial colors or flavors, as well as nitrates—no worries about time-consuming preparation. Of course, you do also skip that!
Nurture Life dishes start from $6.89.
They currently offer three types of menu including Kids Meals, Finger Foods, and Snacks.
Delivery Area
Their delivery area covers the contiguous US.
Pricing
6 dishes = $7.99/ meal, $47.94 is total + $8.00 is shipping;
9 dishes = $7.99 / meal, $71.91 is total + free shipping;
12 dishes = $7.99 / meal, $85.88 + free shipping + $10 OFF;
15 dishes = $7.99 / meal, $104.85 + free shipping + $15 OFF.
Support
You may contact Nurture Life baby food meals company via email and phone number. However, there is no live chat with 24/7 communication.
#3 Little Spoon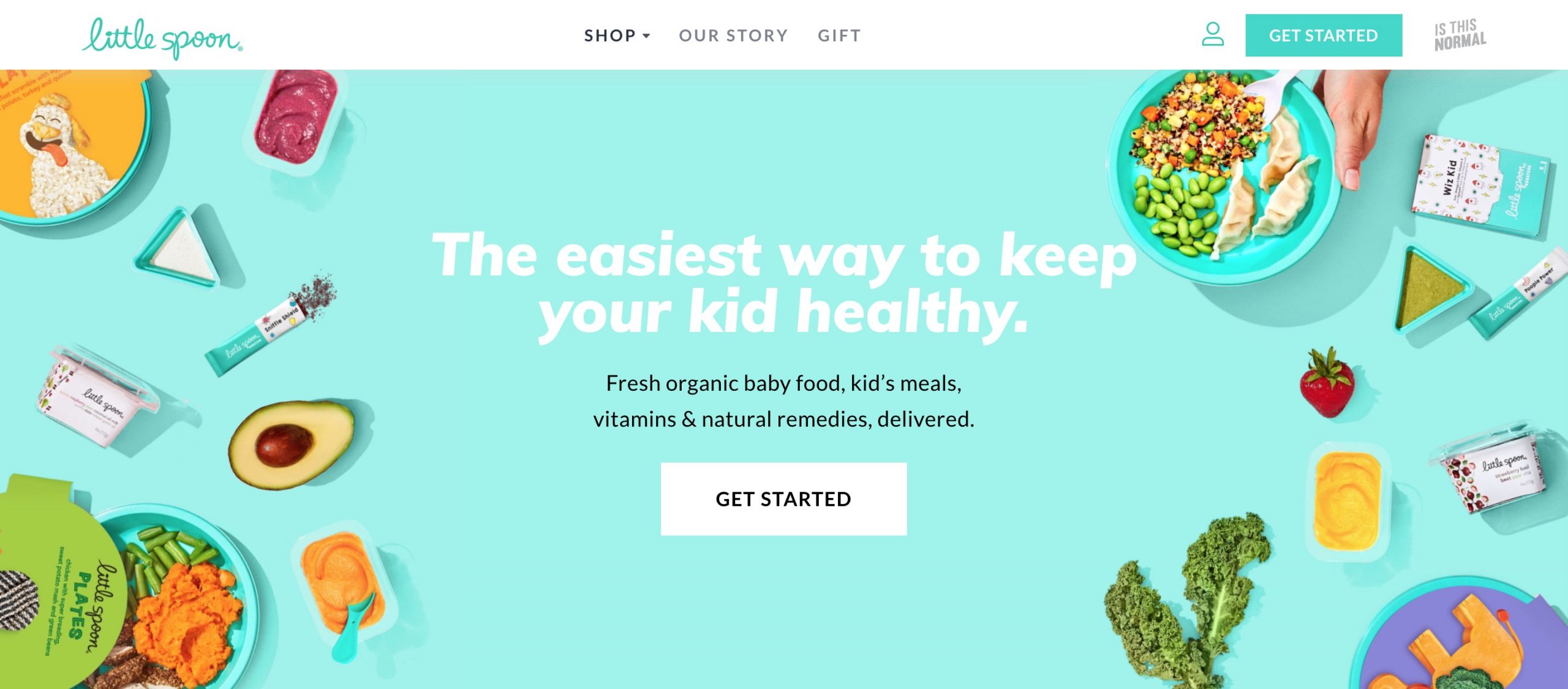 Short Overview
Little Spoon is a fresh baby food service that offers a number of products. You may find organic Baby Delicacies and non-GMO infant formula that comes with over 100 components and is made fresh and cold-pressed. Then, you may find the best finger snacks and foods that are both healthy and nourishing with hidden vegetables and nutrients your little picky eater won't ever recognize. With Little Spoon, you may also order smoothies made entirely of organic ingredients, including hidden vegetables and superfoods. Or healthy snacks catered to toddlers and children. Finally, there are natural vitamins and cures to order to help your infant feel better quickly.
The service employs an FDA-approved food safety process, cold-pressure pasteurization, rather than heat pasteurization. It helps to keep Babyblends and Smoothies safe and fresh in your fridge for 14 days or freezer for up to 3 months. All the products are USDA Certified Organic, and ingredients are sourced from reputable vendors and farms.
Purees start from $2.74, toddlers/kids foods from $4.99, smoothies from $2.50, and vitamins from $5.99 per pack.
Little Spoon currently offers Baby Treats, Toddler + Kids Meals, Smoothies, Vitamins + Remedies menus.
Delivery Area
They cover the continental US.
Pricing
14 delivered dishes – around $25 per week;
28 dishes delivered – about $45 per week;
42 delivered dishes – around $58 per week.
8 delivered dishes – approximately $26 per week;
12 dishes delivered – approximately $36 per week;
18 delivered dishes – approximately $50 per week;
24 delivered dishes – around $60 per week.
A la carte – from $2.50 per baby food smoothie.
A la carte – from $5.99 per baby food pack.
Support
You may reach this baby food service via email, live chat, or text.
#4 Tiny Organics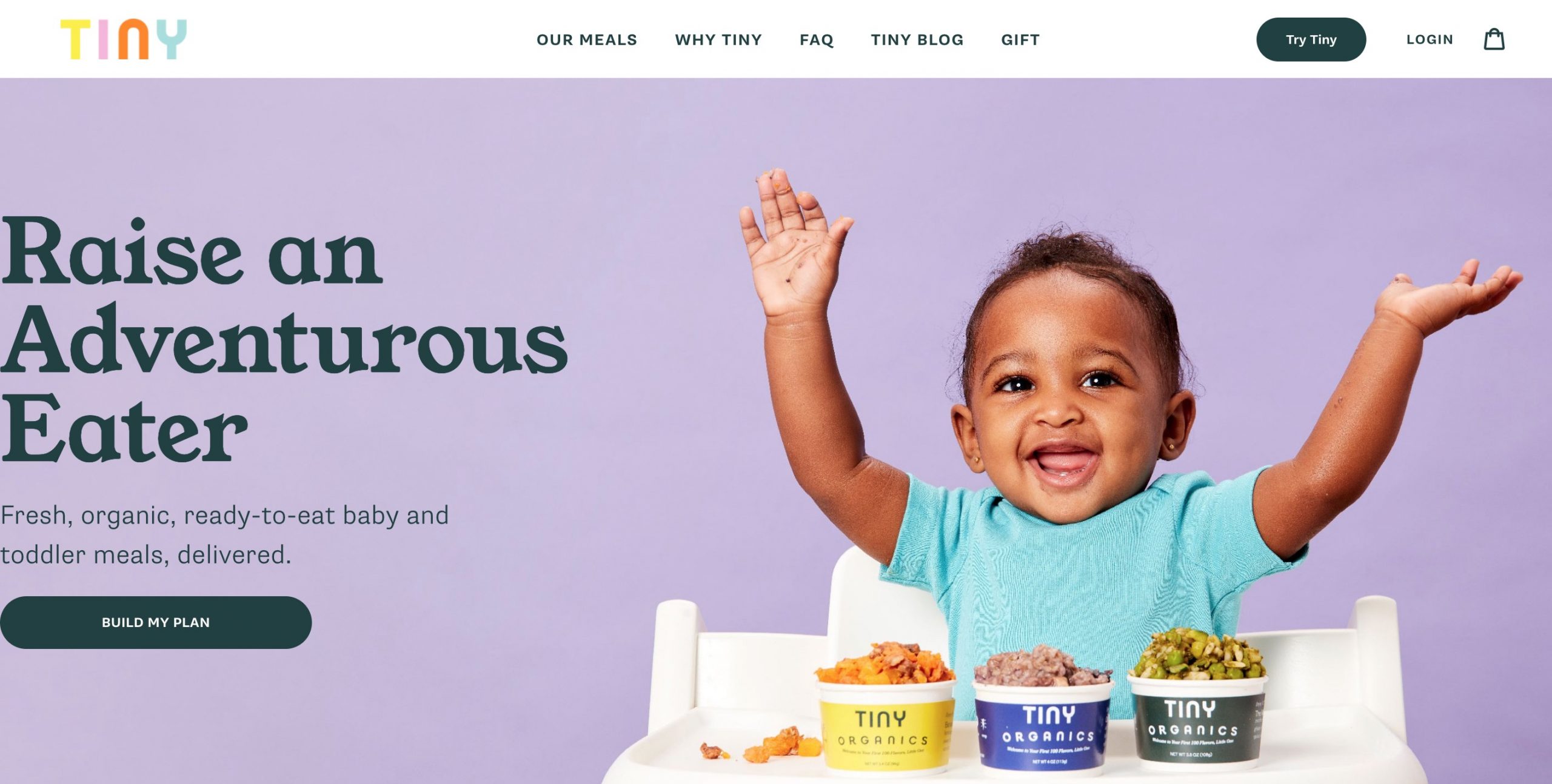 Short Overview
Tiny Organics is a baby food company committed to producing 100% organic finger-food meals for infants and toddlers. Yet, when overlooking their menu, you won't find any purees. Their meals are ideal for baby-led weaning, encouraging newborns to feed themselves soft, mashable finger foods before developing their first teeth. Consequently, they provide over a dozen options that are the best for finger feeding and babies who are just starting to utilize utensils. No preparation of foods is required.
Tiny Organics also has a dedicated team of health and medical advisors who produce the most nutritious meals. As a result, you always receive fresh dishes 100% plant-based, organic, and free of Big-9 allergens.
Their dishes start from $5.49 per serving.
Breakfast Bowls, Lunch & Dinner, and Add-Ons menu.
Delivery Area
They currently deliver to all U.S. states, excluding Hawaii and Alaska!
Pricing
12 baby food meals every week = $5.49 per meal;
24 baby food meals every week – $5.49 per meal;
The Starter Pack for $35.94 as the introduction to the best of Tiny Organics.
Support
You may reach the delivery service Tiny Organics via email.
#5 Once Upon a Farm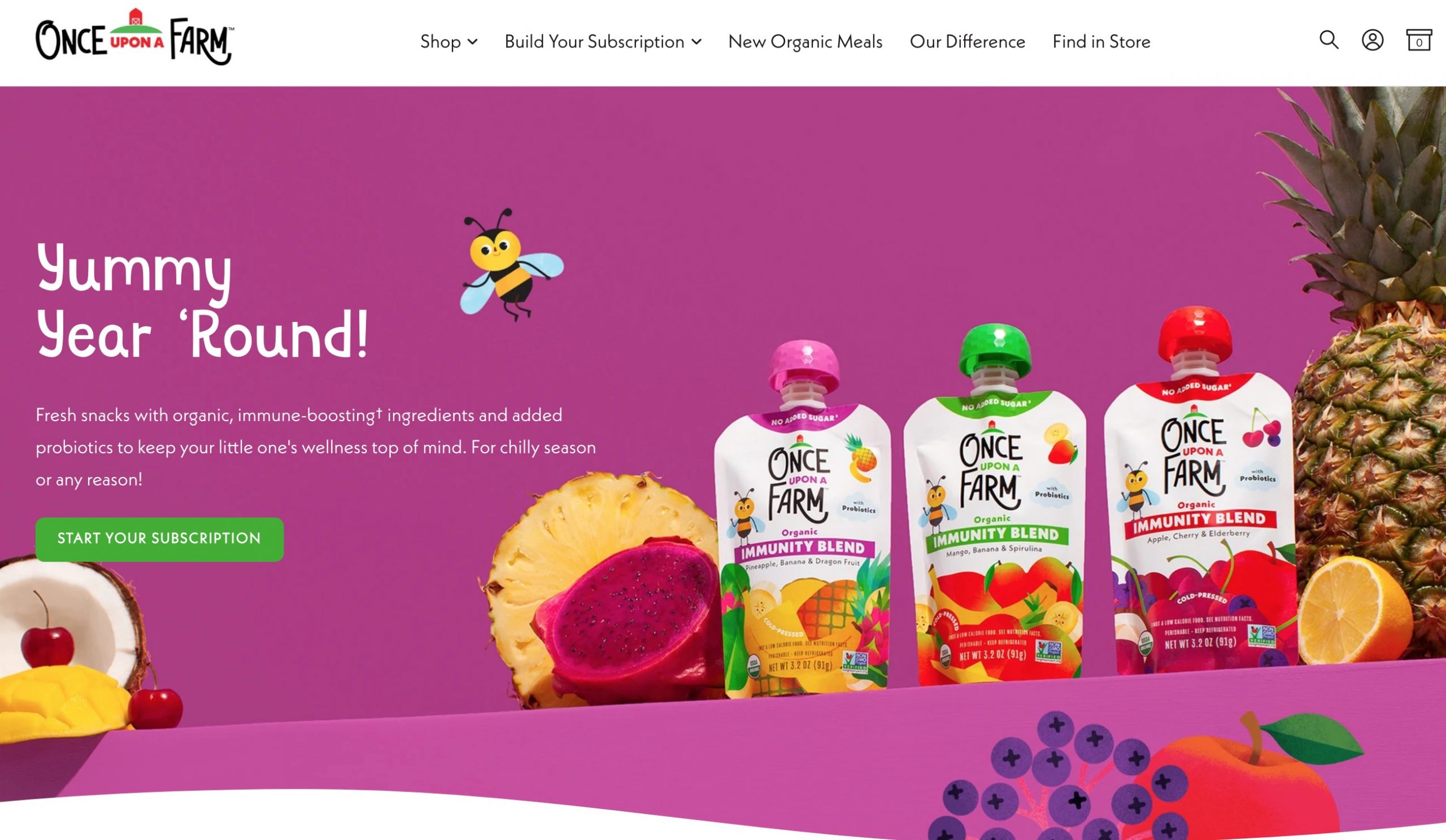 Short Overview
The fifth and best baby food delivery service is Once Upon a Farm. They focus on providing above and beyond service to ensure that all baby food products are delicious, healthy, and safe for you and your family. You will find all organic ingredients, the non-GMO project confirmed, and have no added sugar, preservatives, or additives. Besides, your ordered meals are cold-pressure protected, which means the service employs cold-pressure (HPP) rather than heat to cold-press the blends to seal in the nutrients, flavor, and texture of the organic ingredients. Find the best meal packages with frozen fruits, vegetables, and superfoods for children aged 6 months and above. Before eating, the food must be thoroughly cooked.
Starting at $64.56 per box + free shipping.
Cold-pressed blends and New Organic Menu.
Delivery Area
The delivery service currently covers the 48 contiguous United States and the District of Columbia.
Pricing
Cold-pressed blends – 24 pouches – Case packs starting at $64.56;
New Organic Meals – 16 meals from $79.84 and 24 $112.56.
Support
Reach the delivery service customer support via email, phone, and online subscription form on their official website.
#6 Cerebelly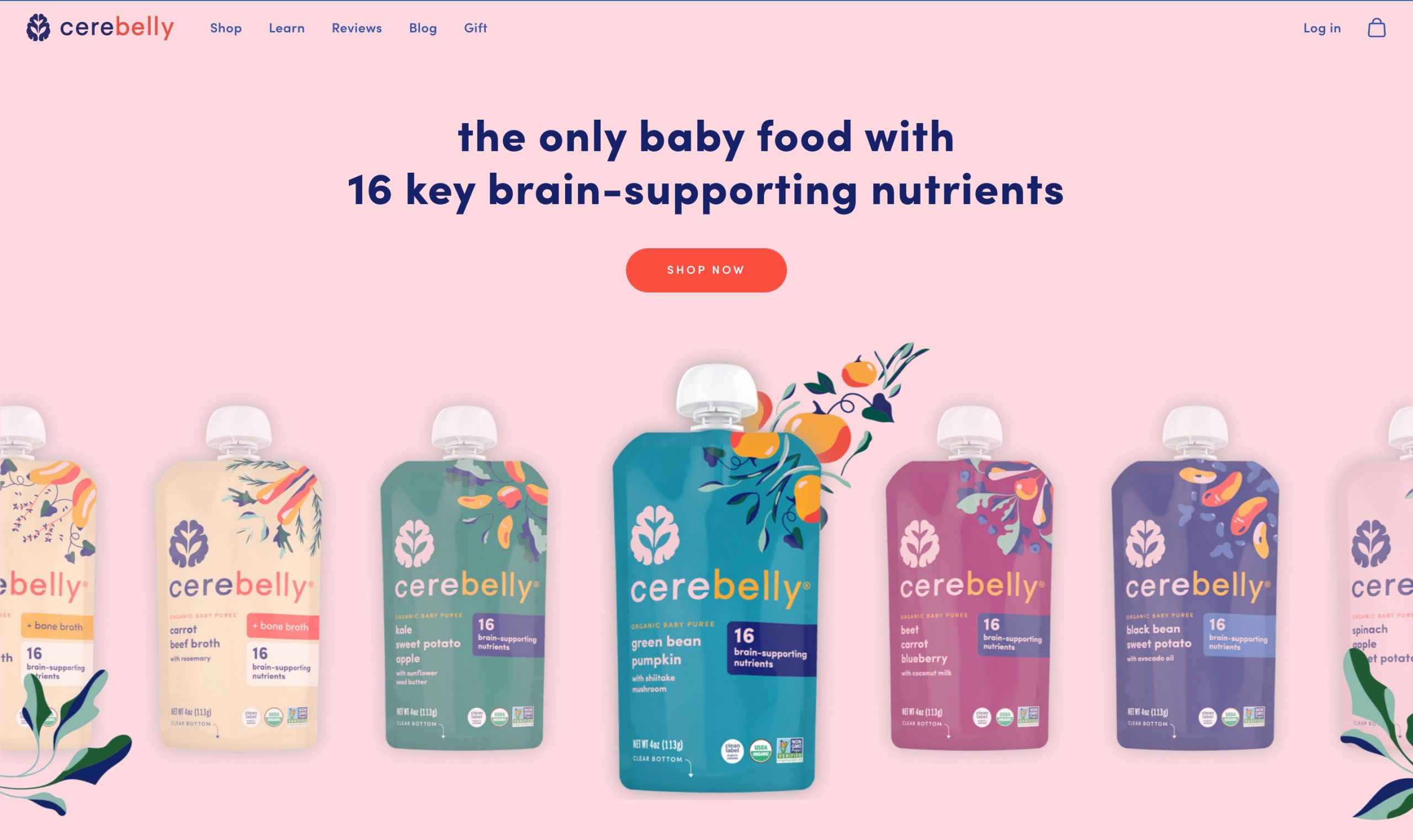 Short Overview
Cerebelly is another organic baby food delivery. This brand focuses on the relationship between nutrition and brain development in infancy. The founder, a neurosurgeon, and mother noticed that, while there were many firms out there, few that could be found in your local grocery store indeed met the goal of boosting nutrition for brain development in the youngest diners.
The ordering with this delivery service is easy. You will simply tell them a bit about your child, and they will recommend the finest pouches for their present growth and age. The pouches are shelf-stable and can be kept unopened for up to 18 months. They remain fresh for 48 hours after being opened. Cerebelly's mixes are suited for the youngest eaters, ages 4 to 24 months.
Bundles start from $2.46 per meal, variety packs from $2.46, purees from $2.46, smoothie-inspired delicacies from $2.46, and Smart Bars from $4.24 per meal.
Bundles, Variety Packs, Purees, Smoothies, and chic bars are offered on their menu.
Delivery Area
The delivery service covers the continental US.
Pricing
Bundles – 5-7 Months Bundle at $68.88 for 28 items;
Variety Packs – Festive Favorites at $14.76 for 6 items;
Purees – White Bean Pumpkin Apple at $14.76 for 6-pack box;
Smoothies – Celery Apple Kiwi at $14.76 for 6-pack box;
Smart Bars – Carrot Raisin Smart Bars at $4.24 for the 5-pack box.
Support
You may reach the delivery service only via email.
#7 Serenity Kids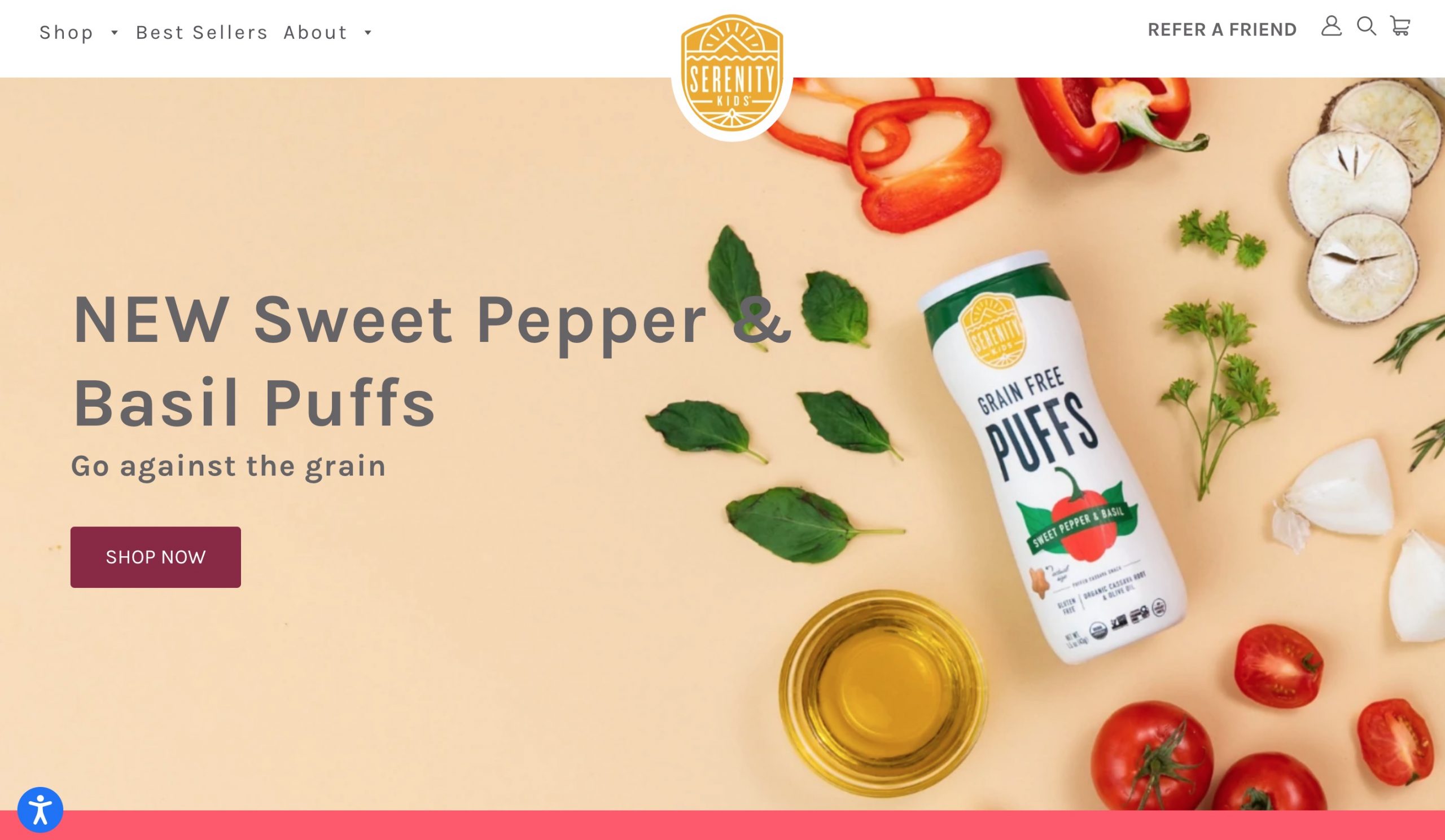 Short Overview
This fresh baby food delivered ranks first in many online reviews. Serenity Kids is a baby foods company that boasts the production of only high-quality, organic purees, puffs, and toddler formula. Alongside such basics, you will find excellent meats, including grass-fed beef and bison. Or, you may enjoy the wild salmon, free-range chicken, and pastured turkey and change your impression about kids' food. Today, this delivery service is hardly the only one that offers meat as a nutritious and easy-to-digest source of protein, fat, and minerals for developing bones within infants and toddlers.
Even though the delivery service strives to produce dishes excluding soy, corn, nuts, and sweeteners, everything is made in facilities that may interact with common allergens such as milk, tree nuts, eggs, soy, seafood, and wheat. Therefore, everything might not be suitable for youngsters with severe allergies.
Starts from $2.79.
Variety Packs, Meat and Veggies Treats, Purees, Puffs, and Kids' Formula.
Delivery Area
The delivery service covers the whole USA.
Pricing
Variety Packs – 8 Flavored Packs at $27.95;
Meat Packs- 6 Pouches at $23.95;
Veggies Packs – 6 Pouches at $20.95;
Purees – 6 Pouches at $23.95;
Puffs – 6 Puffs at $32.95;
Formula – from $32.95.
Support
You may reach the delivery service Serenity Kids via the online submission form.
#8 Whiteleaf Provisions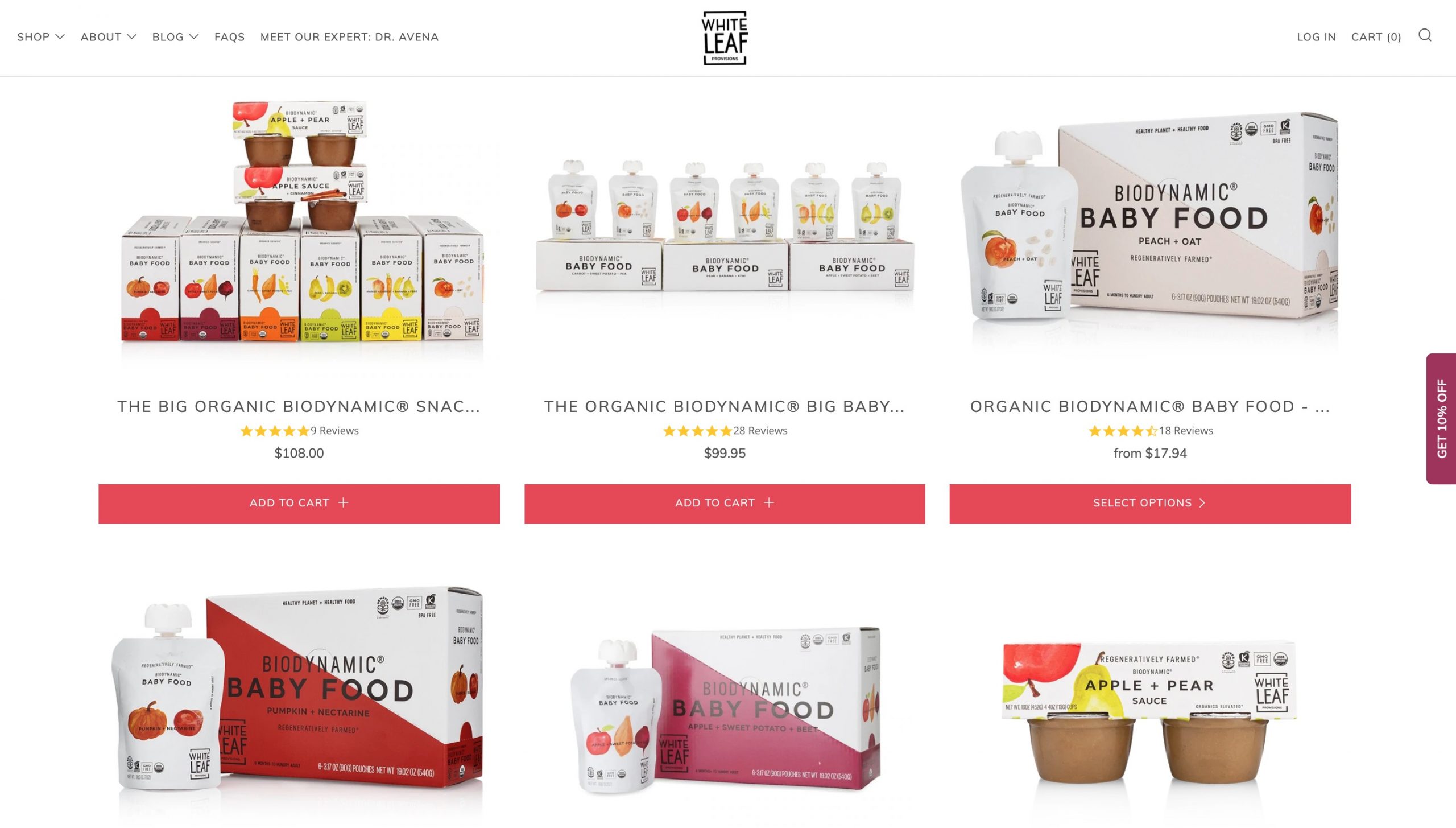 Short Overview
The eighth organic baby food delivery service is Whiteleaf Provision. It works by offering plant-based purees and applesauce prepared with organic and non-GMO ingredients. All of their ingredients are sourced from sustainable farms that practice regenerative agriculture, a method that prioritizes soil health, crop diversification, conservation, and emulating natural plant development cycles.
The Whiteleaf Provisions baby food is produced in a gluten-free, animal-free, dairy-free, and nut-free facility. As a result, you can be confident that the products are safe and acceptable for infants with food allergies or intolerances.
Except for their Pumpkin, Nectarine and Kiwi, Banana, Pear, all White Leaf Provisions items are recommended for ages 6 months and over. However, due to the natural acidity inherent in nectarines and kiwis, which your kid may be sensitive to, the service recommends giving these mixes to infants 8 months and older.
Starts from $2.69 per serving.
AppleSauce and Baby Food.
Delivery Area
The delivery service covers the whole US.
Pricing
The Big Organic Box at $108.00;
Organic Box with Apple Sauce starts from $5.99 per sauce.
Support
Reach the delivery service via email, or they do also have many social media accounts where you may address your inquiry.
FAQs
Is Pricing for Baby Meals Exorbitant?
It all depends on the baby foods company where you order the meals for your baby. On most occasions, the cost of baby foods will start from $2.90 per puree. The exact minimum price is per smoothie, finger snacks, etc.
What Are the Eligible Kids' Ages to Eat from Such Services?
There are different categories of fresh organic baby food offers. Some cater to infants, some to toddlers. Ensure to pick the preferred service, and ask them from which age you may give their baby food to your youngest.
Are Baby Foods Frozen?
Again, it depends on the service which you pick. For example, some services deliver fresh homemade baby food, while some are frozen that require only reheating using the oven or microwave. Yet, they all strive to produce cold-pressed dishes that won't allow ingredients to lose their nutritional value.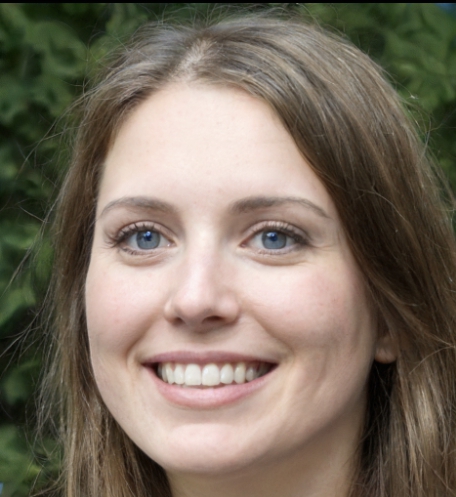 Hi! My name is Stephanie Hinton and I'm a trained expert in food and nutrition.