The United States can be called a leader by the quantity and quality of meal delivery services. Some help large families manage their eating plans and save time for cooking. Others cater to the special needs of people who follow a certain diet to stay healthy. There's a group of food delivery services that focus on comfort food or single servings for those who love to dine alone.
We've reviewed Blue Apron vs. Green Chef in this article, the two well-known companies competing for the position of the best delivery service. After a thorough investigation, we've got a winner.
Both companies are decent and provide a wide variety of fresh, organic food. However, there has to be a leader.
If you're interested in the winner of the Green Chef vs. Blue Apron battle, continue reading!
Short Overview and Delivery Area
Before choosing Blue Apron or Green Chef, it's important to find out what these services focus on and where they deliver.
Blue Apron
Blue Apron is a delivery service providing great prepared foods designed by chefs. Their pearls are Mediterranean meals and one-pan dinners. The freshness of food is guaranteed by Blue Apron, as every item is shipped in insulated, cooled boxes.
Many options that offer free shipping, and the average price to pay for one service is $9.99, which is decent.
Blue Apron delivers everywhere in the continental part of the United States.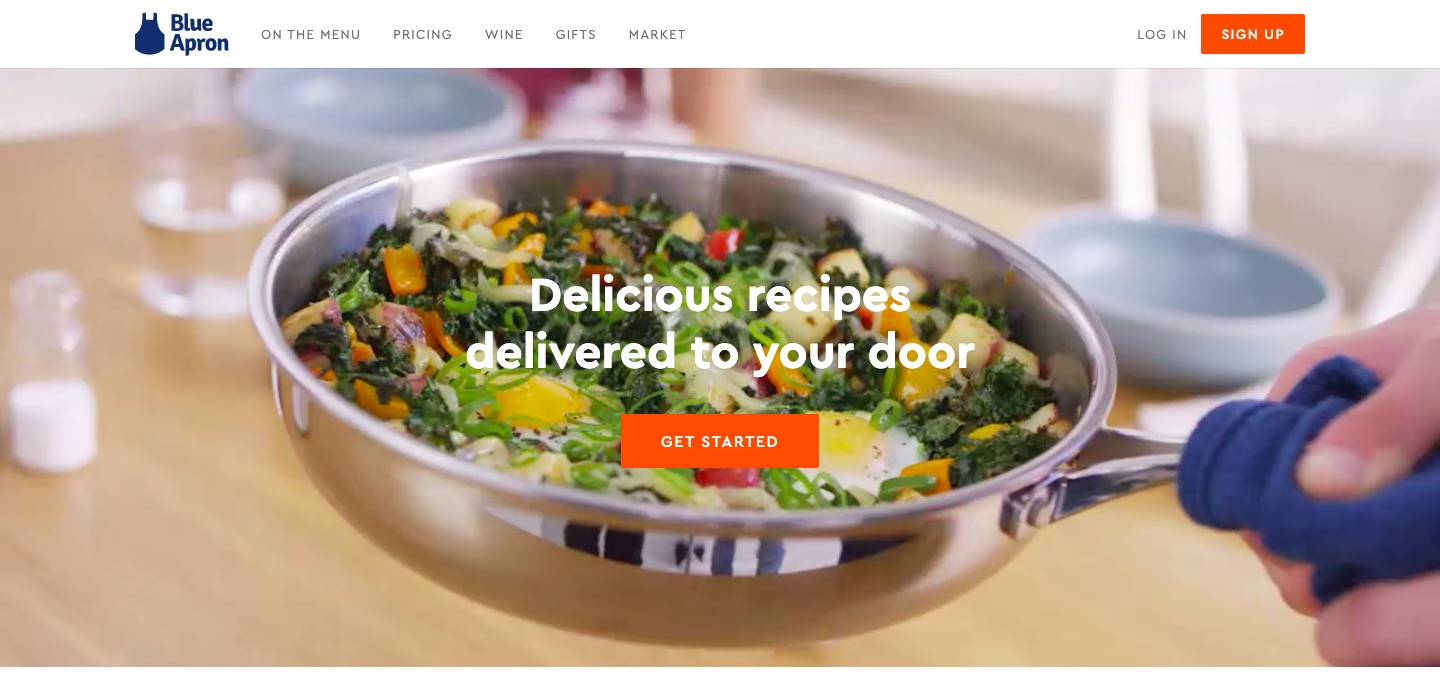 Green Chef
Green Chef will impress you with the variety of menus suitable for regular eaters as well as for people following vegan, keto, paleo, and other diets. The recipes by Green Chef are fresh, new, and exciting every week. The dishes are made with amateur home cooks in mind; they are easy in cooking and delicious!
Green Chef charges a shipping fee of $9, and the price for a meal is around $13.99.
As to the delivery area, the company ships to most states, except for Hawaii, Alaska, and certain parts of Louisiana.
The winner of the category: With a small advantage, Blue Apron wins here due to a slightly wider delivery area and lower prices.
Pros/Cons of Both Blue Apron and Green Chef
To find out which is better, Blue Apron vs. Green Chef, you should not shy away from any drawback. Here, we'll see what advantages and disadvantages every company has.
Blue Apron
Pros:
Blue Apron guarantees that all the ingredients in their meals are fresh;
It's very convenient to choose just the items you love from their menus;
There's a Blue Apron Wine Club;
The prices are adequate, given the fame of the service.
Cons:
While the costs are reasonable, they are higher than if you would buy all the same healthy food in a store;
There is a variety of vegetarian, organic food but not a lot of options for people with special dietary needs.
Green Chef
Pros:
All the food items Green Chef offers are organic and have a certificate to prove it;
Cooking is very easy as all ingredients come pre-measured;
The Green Chef carnivore food menu contains more meat than similar menus of other companies.
Cons:
The price per serving is higher than Blue Apron's;
You can't mix menus for your Green Chef plan.
The winner of the category: Both companies have their pros and cons, so the winner depends on what you're looking for. If your priority is the pricing, Blue Apron is definitely the one. In case you want more variety for dietary restrictions, Green Chef has more to offer.
Pricing
The difference between Green Chef and Blue Apron is the price of their meals. The final number depends on the plan of your choice.
Blue Apron
Subscribing to Blue Apron, you will pay $9.99 per serving, given the minimum order for two people. The final number is somewhere around $59.94 for one round of the plan.
There's also a family plan where the price of one dish drops to $8.99 (2 meals a week) or $7.99 (3 meals a week). You can also order 4 a week and pay $7.49 per serving. The total (4 people) will be $95.88 a week. The shipping is free unless you order for two people only; the fee then is $7.99.
Green Chef
One meal from Green Chef costs from $11.99 (2 people, vegetarian, omnivore, vegan, or gluten-free). Keto and paleo dishes start at $12.99. There's also a family plan with the same price for one meal as keto and paleo.
As to the boxes, one from a plant-based plan, for example, will run you $78.93. If you order more, the price per serving drops to $9.99 (66.93 a box).
Now, let's find out about both companies in more detail.
The winner of the category: Blue Apron wins because it's cheaper and you can mix dishes from various plans. Green Chef offers more variety of plans, but the price is considerably higher.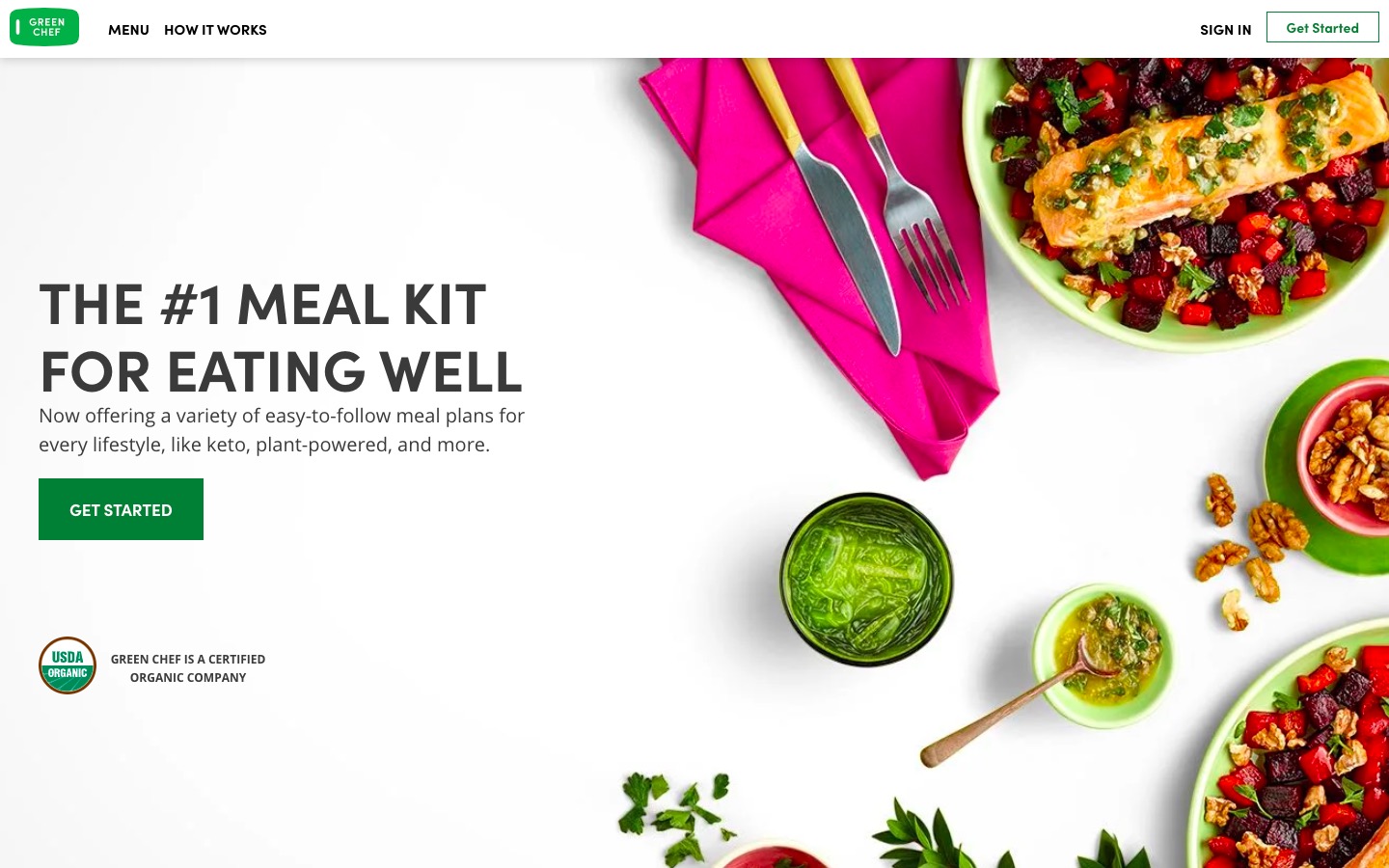 Types of Menu
Both Blue Apron and Green Chef provide from 2 to 4 servings. The two companies' menus are updated every week, and all recipes are quite easy to prepare.
Blue Apron Meals
Blue Apron offers the following special dishes:
GMO-free (all);
Hormones-free (all);
Vegetarian;
Family-friendly;
Gluten-free;
Omnivore.
The minimal order is 2 meals a week, meat-based or plant-based, or both. Blue Apron gives a lot of freedom to their subscribers, so you can customize any plan. Say you want to lower the amount of meat in your diet to 1 portion a week. The company will gladly help you because it's possible to mix plans.
Out of 8 offers on the menu, 3 are vegetarian-friendly. Filtering is also available by the time it will take to cook the dish (20 to 50 minutes).
The subscription is highly flexible. When needed, you can change the number of meals and people in the plan for the following week.
Green Chef Meals
Green Chef offers the following special foods:
Gluten-free;
Vegetarian;
Vegan;
Paleo;
Keto;
Family-friendly;
Kid-friendly;
Organic;
Low-carb (great for patients with type 2 diabetes).
The basic 2-person plan offers 6 servings a week (3 for every eater). The family plan has a total of 8 servings (2 dishes for every eater).
Green Chef is the leader for people who want a variety of super-healthy foods for paleo, keto, vegan, vegetarian, and other diets. The family plans offer two types of dishes:
However, you can't diversify your eating and try stuff from different plans every week. If you choose paleo, you'll eat paleo foods all the time. The only change allowed is between weeks (the charge will also differ, of course). The number of boxes is also flexible for every week.
Family meals from Green Chef take 30 to 45 minutes to cook.
The winner of the category: It's difficult to determine a winner because, again, it depends on what you're looking for. If you're a regular eater and want a variety of exciting dishes, Blue Apron will be your favorite. However, if you follow a special diet, choose Green Chef.
Boxes
Both companies follow the trend of eco-friendly, recyclable packaging. The meals come in cardboard boxes with an ice pack inside to keep the food fresh and cool. Also, both Blue Apron and Green Chef don't ask for a commitment. If needed, you can skip weeks, given the company receives a notice beforehand.
Blue Apron sends the ingredients altogether, not pre-measured. You have to follow the directions and cook the dinner, which takes more time usually.
Green Chef, on the other hand, sends every ingredient separately, pre-measured, and fully prepared for cooking. To save even more time, there are labels on packages that help you find what's needed for the meal faster.
The winner of the category: Green Chef and their pre-measured ingredients save a lot of effort and some time.
Ordering Process
Blue Apron makes it super-easy to sign-up and order. The steps are:
Choosing the number of people you're ordering for;
Choosing the vegetarian or regular plan;
Choosing the number of meals you need;
Entering your data (email and payment info).
The canceling process is simple as well. Just email or call the support and notify them that you want to cancel.
The Green Chef onboarding is similar:
Select the number of eaters;
Pick a plan to follow;
Specify the delivery day;
Enter personal data.
Canceling is a bit more difficult because it's hard to find the email on the Green Chef's website (as if they don't want you to cancel).
The winner of the category: With slightly more convenience to the cancellation process, Blue Apron wins here.
Support
Here's everything you need to know about Blue Apron's client support:
You can switch the plan easily;
You can cancel or skip unless the order status is "processes";
Getting a refund is relatively easy by contacting the support and stating why the food isn't good enough;
You get gifts from Blue Apron every once in a while as a sign of gratitude for your loyalty;
A free trial is offered at times, and you can contact the team to find out more;
The support can also help you get more of your favorite ingredient in the food.
And here's everything there's to know about the Green Chef support:
You can switch plans every week, trying new diets and looking for the one that will suit you;
Cancellation is easy if you don't see anything yummy in the menu for the week;
If you want a refund, contact the support within a week from delivery. Green Chef will give you credit for the same amount of money or replace the dish you weren't satisfied with;
There are no gifts from Green Chef;
There's also no way to get a free trial from Green Chef;
The change of your meal plan every week, skip 7 days if you don't like the menu, or get deliveries every 2-4 weeks.
The winner of the category: Blue Apron offers more support to their customers with gifts and free trials.
Conclusion
It's very difficult to compare Blue Apron vs. Green Chef. The first offers traditional American dishes that will suit a family. Their plans are often cheaper, and almost all deliveries are free. Blue Apron also offers more support and thank-you gifts to loyals.
Green Chef provides a wider variety of diet-based plans. You get a box with everything ready to be thrown in a pan, microwave, etc. Their support is decent, and the ordering process is easy.
However, Blue Apron wins this race, being more flexible and accessible.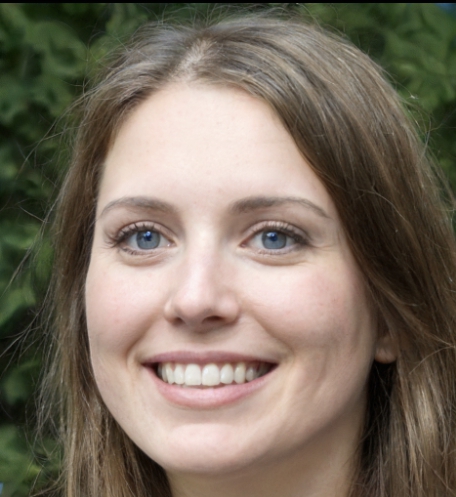 Hi! My name is Stephanie Hinton and I'm a trained expert in food and nutrition.