What is the best delivery service that would offer both tasty and affordable food? This article has an answer for you. If you were looking for a good service with nice rates, Dinnerly is one of the best options for you. However, there are so many reviews on Dinnerly that it becomes hard to decide whether it is a good idea to get its meal kit or not.
This article will tell you everything you need to know about the service, including such details as the cost of Dinnerly, quality, ordering process, and many other important things. Enjoy your read!
Conclusion
So is Dinnerly worth it? If you were looking for a good service that would provide you with low-cost healthy meals, Dinnerly is the right choice. There are no better services in Australia that would provide you with better dishes for the same price. What is more, the Dinnerly weekly menu often contains meals from different cultures made from various ingredients, making your diet more colorful and interesting. However, there are some cons that should be considered as well. There aren't many extraordinary options, and there are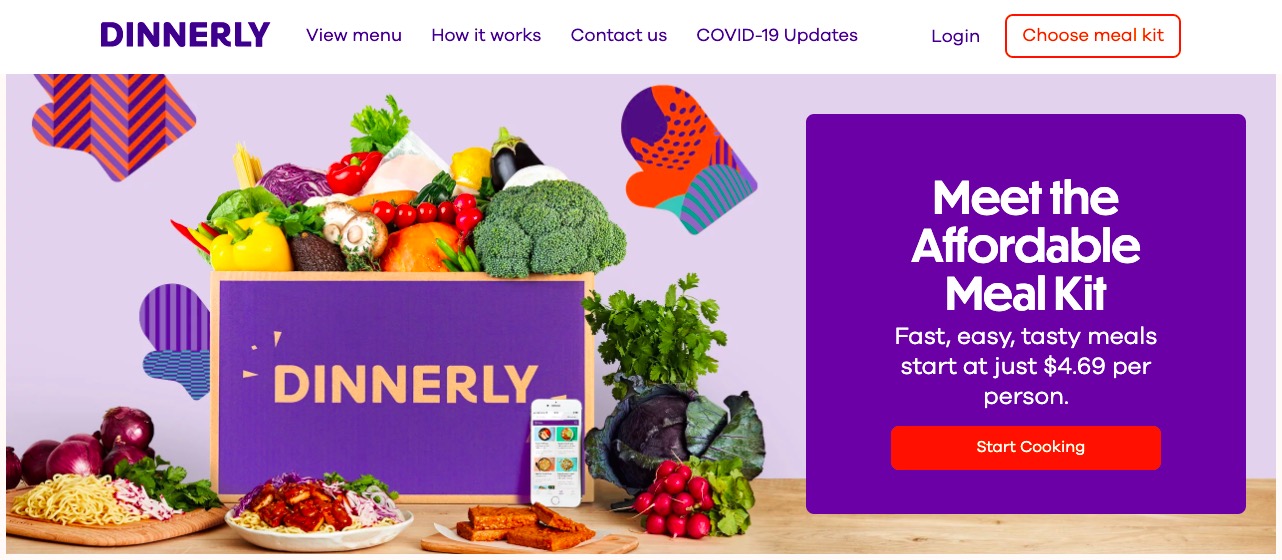 Pricing
What is so good about the Dinnerly delivery service is its price. The Dinnerly cost is truly one of the most surprising rates you've ever seen on the market. The prices often range between 4.29$ and 4.99$ per service, and the price lowers with every serving you order. This is the same price for many fast food dishes, however, Dinnerly offers much better quality.
When does Dinnerly charge you? The billing period is 7 days, but you can skip some weeks if you want to.
The Dinnerly shipping cost isn't free. It is usually around 8.99$ per package, which isn't a lot. Dinnerly delivery is more of a subscription kind of thing, so you will be charged for the food on a weekly basis. However, you can skip deliveries from time to time.
There are many reasons why Dinnerly is so cheap, and none of them are bad. First of all, Dinnerly uses low-cost products for its meals. The quality is still good, but products aren't usually very fancy. Also, the Dinnerly meal kit doesn't include recipe cards: you will have to look the recipes up on the company's website.
Another thing Dinnerly does to make the price lower is not always measuring out the products. You might get more ingredients than you need, and the package with all meals will be just gathered together, not sorted out. Sometimes, Dinnerly also wants you to have some of the products, such as eggs or salt and pepper, so read the instructions first to make sure you have everything prepared in advance. No worries, most of the time, you'll have all the ingredients already in your package, and the ones you'll need are already in your fridge.
Types of Meal Kit Food Options
There is a Dinnerly vegetarian menu. Usually, you'll get five options to choose from, which is enough to get a menu you'd like and add some variety to your diet. There are not Dinnerly gluten-free options.
There are some Dinnerly gluten-free, vegan, and vegetarian meals, but there are fewer of them when compared to meals that contain meat. Still, there is plenty to choose from. There is a large selection of meals every week, so you won't get bored from eating the same dishes every week. Even though all meal plans are pretty simple, this doesn't make them a bad choice, and you'll be able to enjoy quite a rich variety of dishes and interesting meals.
Quality of Products
The quality is mostly just fine. It depends on what side you're looking at the products used for meals. You should not expect anything extraordinary. Most meals are just usual meals that you've probably already tasted.
However, when it comes to products, you can be sure that all of them are fine and not expired. These are simple products that are still a good and healthy choice for people who are right on budget.
Of course, when you compare it with other companies, it seems like the offered quality from other meal delivery services is higher. But when it comes to the Dinnerly review, it is important to note that this service is specifically targeted at people who are looking for more low-budget options. This is why it is better to avoid such comparisons. Dinnerly has chosen this niche, and in the meal delivery area, there are plenty of other niches that a business can choose from. So when it comes to cheap and nice meal plans, Dinnerly definitely ranks first.
So, to sum it up. The Dinnerly's quality isn't superior, but it doesn't have to be. It offers a great range of products of satisfactory quality that are much better than fast food even though they cost like one.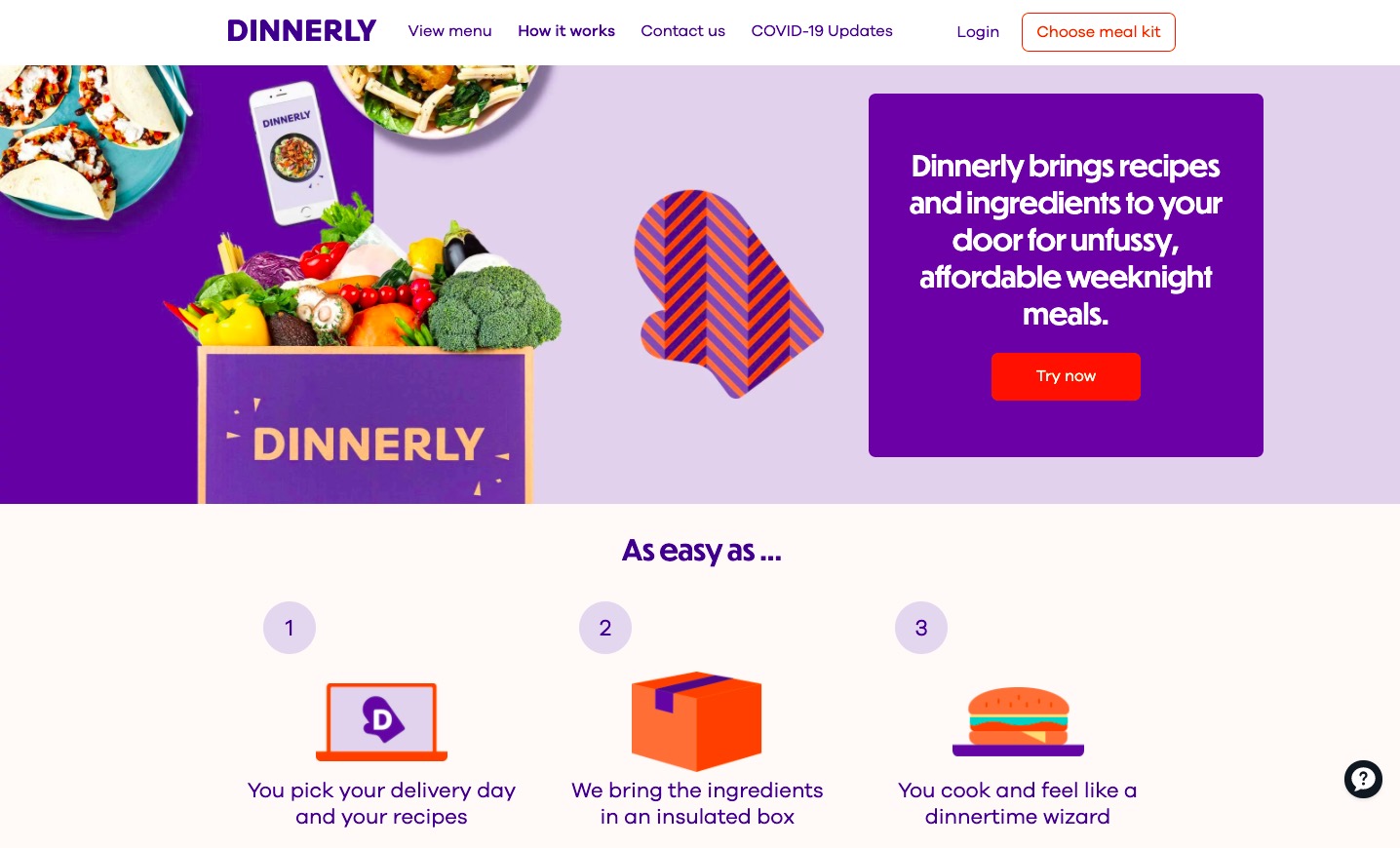 Ordering Process
Getting your first order will definitely go easy. At first, you will be given a quiz that will help the service understand your wishes and preferences. You will be given some recommendations based on your answers. This is a great opportunity to determine what kind of meals you would like to get if you are still not sure about that.
Right after signing up on the website, you'll get access to all its features. Proceed to the main page of the website to take a look at the Dinnerly meals this week and choose the one you'd like to order.
You will not be given much information about the meal at first. All Dinnerly meal options are tagged with short descriptions, such as "vegetarian", kid-friendly", etc.
If you've never used Dinnerly before, you can expect the service to provide you with a discount. You'll get it emailed to you. Apply it to your first order.
The Dinnerly delivery area covers most parts of Australia. As it is mentioned on the website, the areas that are covered right now are as following: NSW, VIC, QLD, SA, NT, TAS, and ACT. The package usually contains two ice packs, and the ingredients are supposed to arrive in good shape and without a bad smell.
Most reviews of Dinnerly state that the delivery took only a few days, and all the ingredients were good for consumption and weren't spoiled.
The ordering process will take only a few minutes, and there are plenty of options on the Dinnerly weekly menu you can choose from. The navigation on the website is pretty simple, and you'll figure it out pretty fast.
Packaging
Dinnerly definitely gets a few points for being an eco-friendly service that does its best to minimize the plastic used for packaging. Of course, this is done partially to lower the cost for both the service and the customer, but it is still a great thing to do. Let's get into details.
What's obvious from many Dinnerly reviews is the fact that their clients really appreciated the packaging. You will get your order in a cardboard box that can be recycled. Most of the products will be put in one bag, while other products will be just roaming free in the box. Most of the packaging can be reused and recycled, which is definitely a good thing. Of course, you'll have to spend an extra minute trying to find all the products.
In this review of Dinnerly, it is important to note that some of the products will put in a plastic bag. You can reuse this plastic, but not all of it is entirely recyclable.
So, how can we sum it up? The packaging of the meal delivery service is pretty eco-friendly, but it is not entirely made from recyclable materials.
Support
What was a bit confusing at first is a way to contact customer support. Let's agree that Dinnerly customer service isn't perfect in terms of quickly finding the right way to contact the service. It might be hard for you to reach customer support, but the experts working for Dinnerly will make sure that you get the right solutions you came for.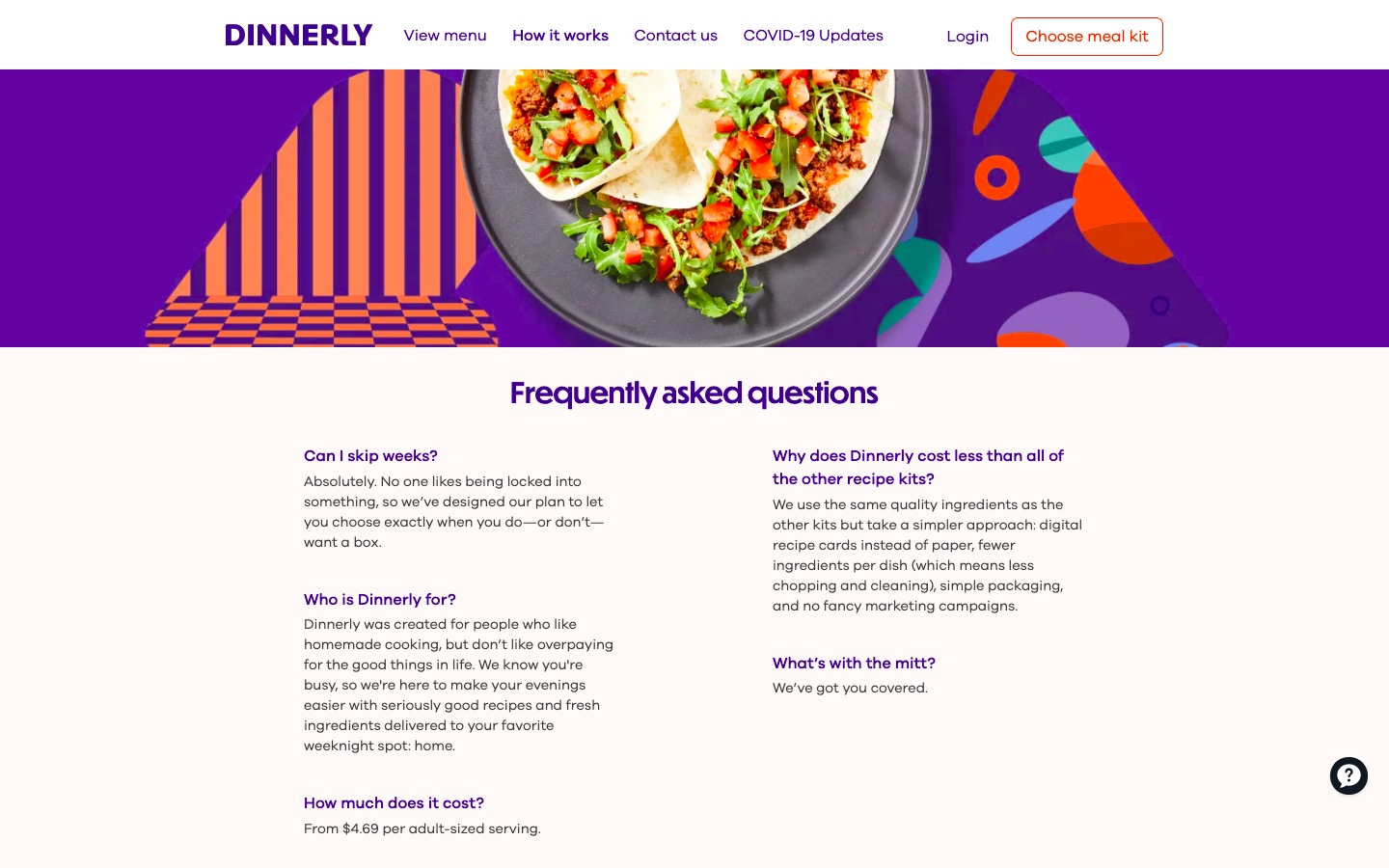 Similar Services
Pepper Leaf
This service is believed to support local businesses, which is a good option for people who are trying to do the same thing. This is not only about supporting local farms, though. Pepper Leaf focuses mostly on products that are produced during the season.
This is another healthy option for people who would like to get the most out of the seasonal goodies and enjoy some nice healthy meals. There are some vegetarian options, as well as some great meal plans that contain meat and fish. All the ingredients come pre-measured, and it will be up to you to chop the ingredients and make the chosen dish.
There are not many vegan options; however, most of the meal plans will be just what you are looking for. When it comes to price, things aren't that well. It is an extremely high quality, meaning that the price will be according.
My Muscle Chef
If you are in search of a service that would deliver prepared foods made from organic ingredients that would support your fitness goals, MMC is the best choice in this case. There are tons of options for different diets, and all meals are made from fresh products that are carefully chosen by the experts.
Still, it is better to go for a different service if you are looking for more cheap options and don't really need a meal plan that would aim you with your fitness goal. Options like the Dinnerly meal service are still one of the best food delivery services when it comes to well-balanced meals and affordable rates.
Marley Spoon
This one is the right choice for people who don't only enjoy cooking but also love experiments and would like to try something new every week. What's so good about this service is an incredible variety of different options. Marley Spoon uses organic food for their recipes, and all ingredients are high-quality and purchased from responsible manufacturers and farms.
All ingredients are pre-measured, so you won't have to worry about food waste. To make the dish, you'll only need to chop the products.
As you can see, there is a lot to choose from. Still, Dinnerly definitely remains one of the best choices on the market.