Nowadays life has become easier thanks to the appearance of meal delivery services. There are plenty of them, and Pete's Paleo review is there to shed light on its advantages and disadvantages. The delivery service is one step ahead because it provides decent customer service while offering fresh, healthy, organic food, a menu for personal diet preferences, and fast shipping right up to the door. Also, great advantages are the diversity of seasonal ingredients and skilled, experienced staff. Farmers and chefs do their best for customers' convenience. The main disadvantage is that Pete's Paleo prices may be a bit high, but it is worth every cent.
Pricing – How Much Does Pete's Paleo Meal Service Cost?
"How much is Pete's Paleo meal?" It is a question that interests everyone without exception. That is why thorough Pete's Paleo reviews will help to have a closer look at this side of the coin.
Firstly, a wide range of food plans are available. When ordering a standard meal on Pete's Paleo plans, the price varies from $123 to $324, taking into account the number of meals included. Lite plan offers seven meals for $109.98. It is worth mentioning that all moreish dishes on this menu, whether roast chicken with herbs or sesame beef with salt and pepper are packed with bits of veggies and protein. One meal from the "Eat what you love" menu ranges from $14 to $21.
The Pete's Paleo breakfast bundle plan, which costs $68, will make your morning routine brighter and healthier with freshly prepared food. Tangy bone broth, which includes several flavors, costs $94.66. It is enough for 12 servings. Also, paleo bacon prices start at $ 53.39 for 4lb.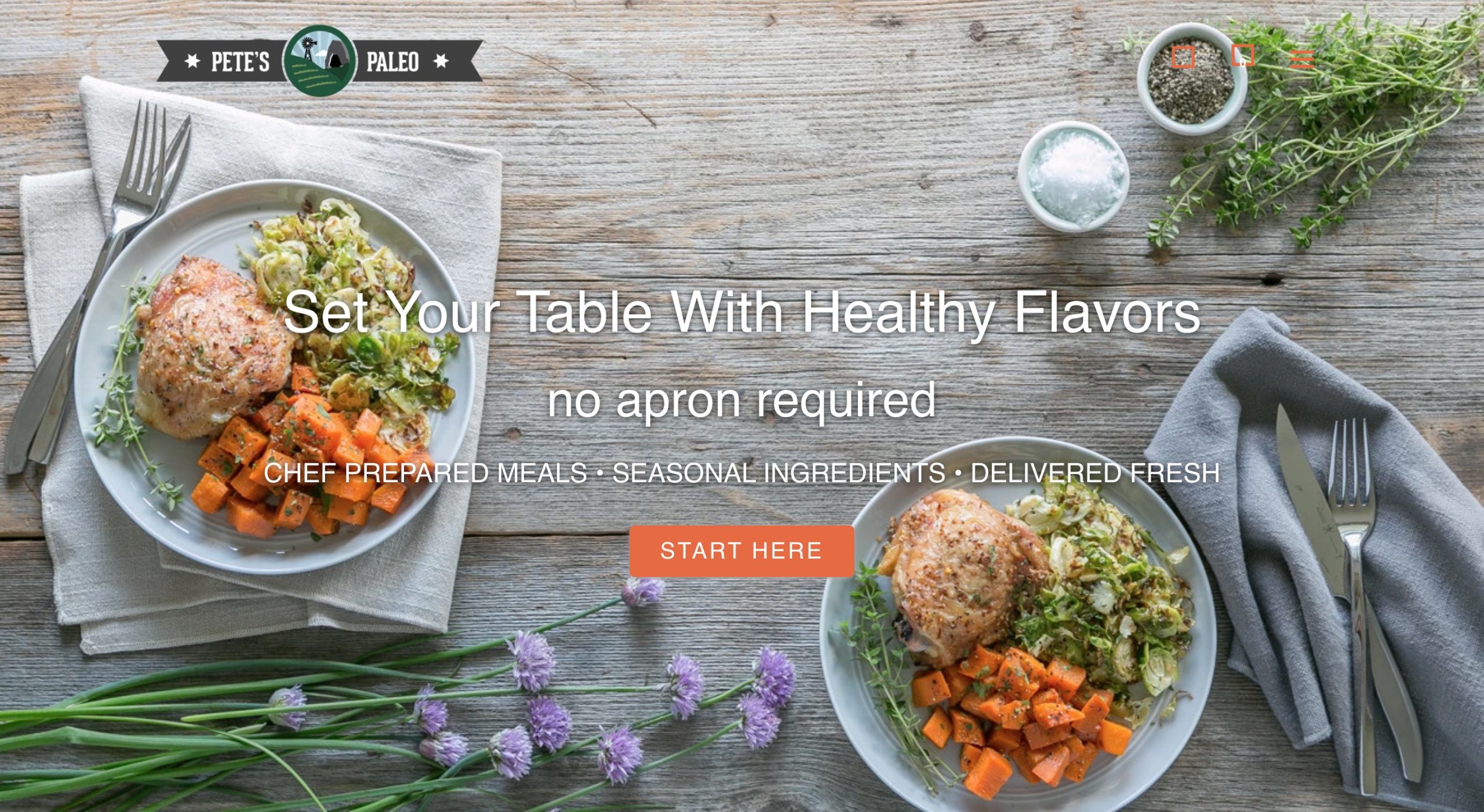 How Does Pete's Paleo Work?
All in all, the process from ordering meals on Pete's Paleo to getting them delivered by courier's hand consists of 5 steps.
First of all, you should place your order by Monday night. It was already mentioned in reviews of Pete's Paleo that meal plans are diverse. It is up to each customer's preferences to add extra protein, some side dishes, or pork to their meal. Customers are able to change the number of meals included. After this step, you decide how often the order must be delivered: one-time purchase or weekly subscription. Then you should proceed to checkout, fill out all necessary forms with personal information and wait for the order.
Ranchers and farmers are responsible for the second step. Experienced people provide service with high-quality organic food. They use upscale technologies, carefully treat animals and plants and guarantee safety.
Pete's Paleo chef and his team are in charge of the third step. With sophisticated movements, fresh ingredients turn into mouth-watering meals.
Then the meals are carefully packaged to avoid any damages and ship them in good condition.
The next step is to deliver the order. Pete's Paleo food delivery service provides shipping within the country. Usually, it takes several days, and customers can easily track their orders.
How Easy Are Pete's Paleo Meal Kits to Prepare?
Already picked and delivered ingredients make the whole process of cooking much easier. This point should be particularly highlighted in this Pete's Paleo meal kits review. Meals are shipped frozen, and then you can cook them straight away, place them in the microwave or oven for a couple of minutes to heat them, or put them in the freezer (this way, it can last up to 6 months). Also, chefs recommend sautéing food. When preparing seafood this way, you should add some oil or bacon fat to the pan. But it is an unnecessary step when cooking fatty meat chops.
In addition, a special cookbook, "Paleo by season," shares Pete's Paleo recipe cards. People enjoy the process of preparing using exclusive recipes.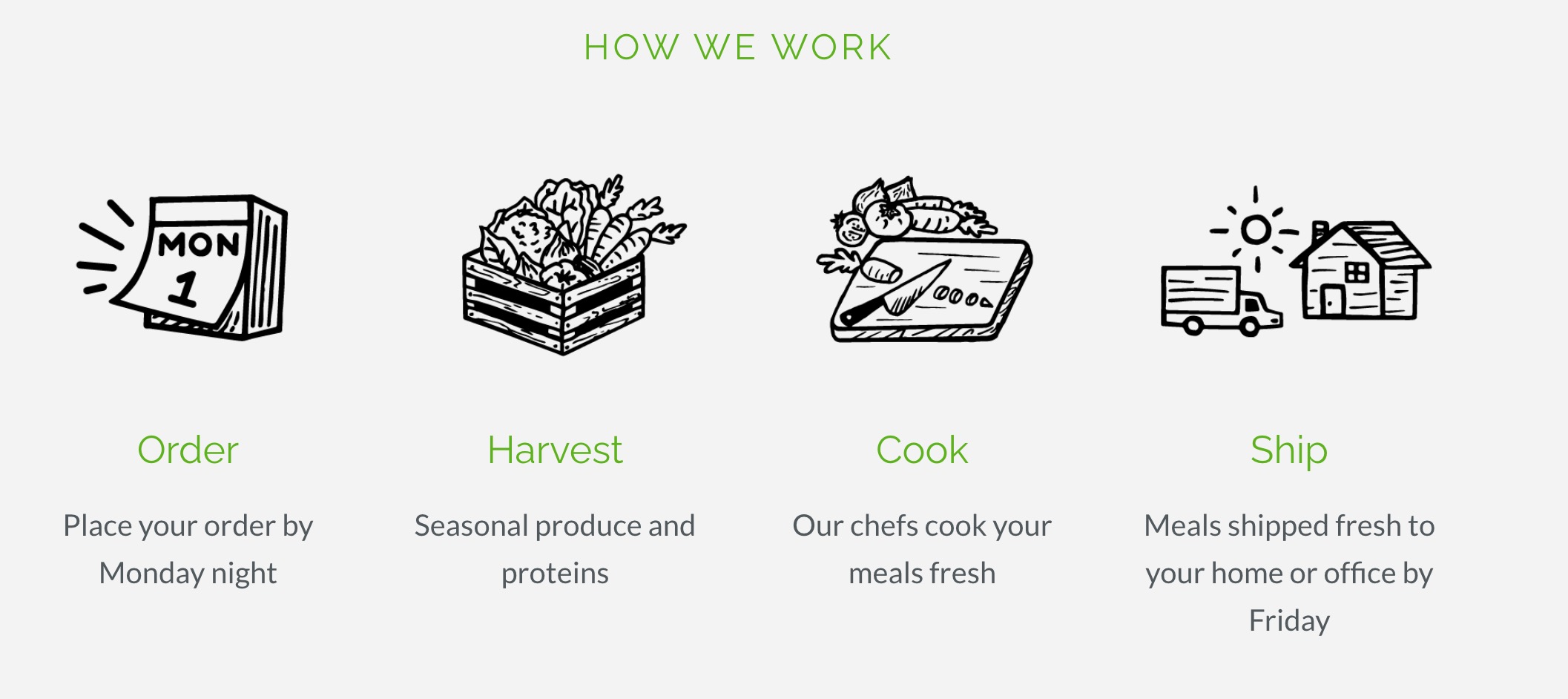 Supporting Materials
The founder, Chef Pete Servold, created his Paleo movement, which received national acclaim from the food community. And the amount of people who stick to the Paleo diet is rapidly increasing.
Due to Pete's Paleo meal delivery reviews, this service is AIP-friendly, and there are no harmful substances or colorings. Therefore it helps to reduce inflammation and prevents bowel diseases. Pete's diet proponents claim that consuming plant-based foods and lean meats positively impacts health and lowers the risk of developing chronic ailment.
Also, Pete's Paleo meal delivery earned high regard because of the complete openness. There is a list of all protein and organically grown product suppliers available on their website.
Add-Ons
The review would not be complete without mentioning such special features as Pete's Paleo gift cards and promo codes. People always beat their brains when it comes to choosing an appropriate present for loved ones. It is no longer a problem because special coupons are the perfect solution to this problem. When purchased, gift cards are sent by email, and there is necessary information about the process of redeeming. Also, Pete's Paleo promo code option makes the experience of using this meal service better. Offering up to $50 discounts on shipping or ordering delicious and fresh meals, there is seduction for you to buy more. Service also offers a la carte menu and marketplace facilities.
Who Is Pete's Paleo Good For?
Without the slightest doubt, reviews for Pete's Paleo prove that it is a good decision for sportsmen, people who are fond of fitness, and just for those who watch their figure. The portions are precisely measured and good thus. It gives a flow of energy for working out. Pete's Paleo food includes all vital components, nutritional elements for stamina and strength.
Pete's Paleo is also good for busy people who don't keep up with the everyday hustle and bustle. Delivery saves a lot of time; thus, there is no need to spend hours preparing food and cleaning up the kitchen after it. This service is a perfect option for allergic people because all products are gluten-, soy- and dairy-free.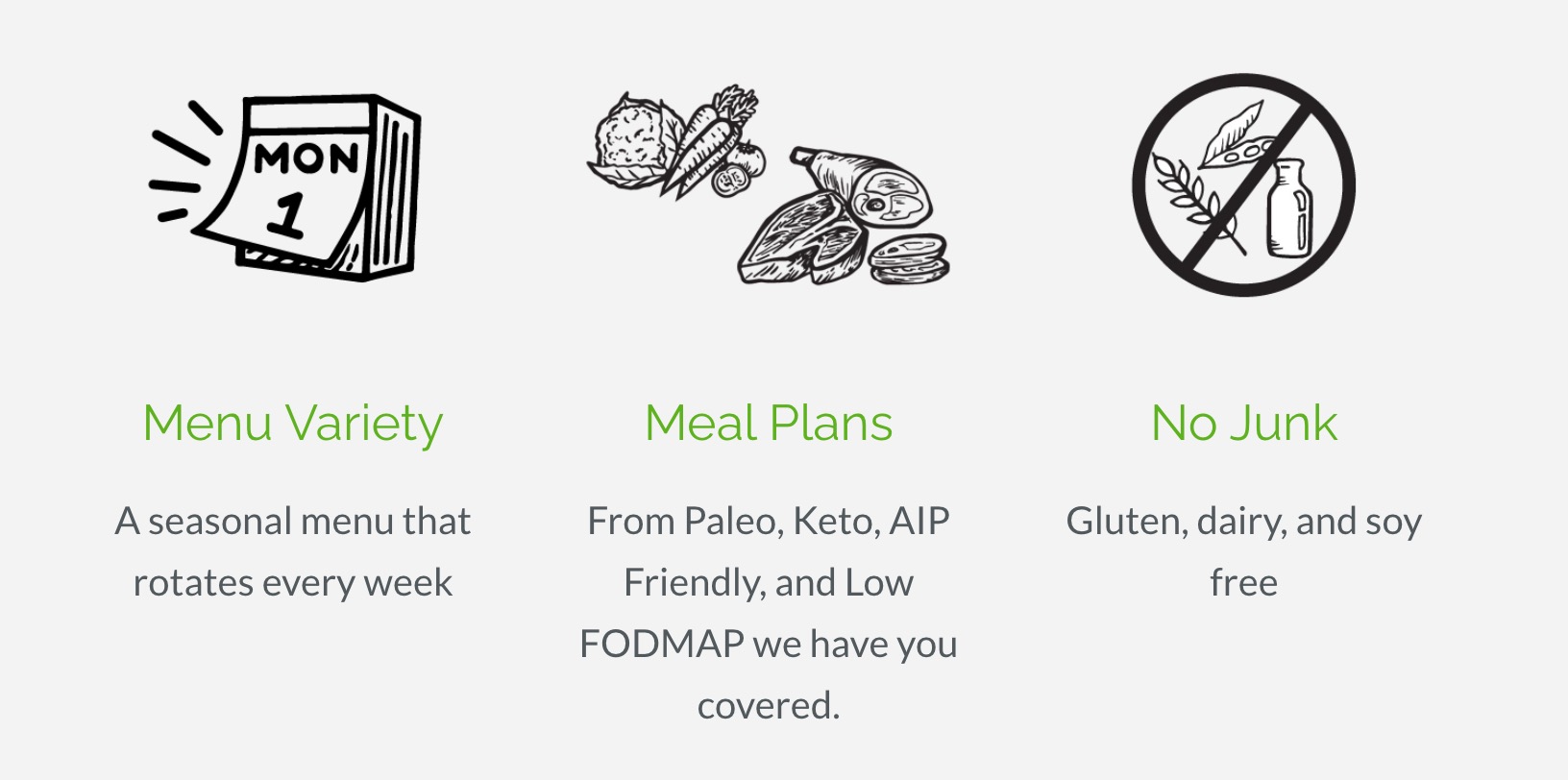 Who Isn't It Good For?
Pete's Paleo is not the best delivery service for vegans and vegetarians. Some meals include no plant-based proteins, which is a big disadvantage for non-meat eaters. There are many other good meal delivery services for people who cut down on meat.
Also, people who keep to a strict keto diet would not choose Pete's Paleo because of meals rich in carbohydrates. Only proponents of the famous paleo diet will be delighted.
Pete's Paleo Packaging and Reusability
Pete's Paleo meal service is certified as a highest-level company with top-grade packaging technologies. Consumers can rest easily because carefully prepared meals are meticulously packaged to avoid damage during the shipping process. Pete's Paleo meal kits reviews show that fresh food is transported in insulated boxes made of safe, renewable materials free from poisonous BPA's that leach into liquid, causing breast cancer, heart damage, and other serious diseases.
Changing and Cancelling
When some errors and omissions occur accidentally, the consumer always has the right to change their shipping information on the personal account or cancel the order. The Pete's Paleo customer service team is in charge of all kinds of fulfillment, such as refunds, returns, or cancellations. The person should submit a cancellation, and then a confirmation message will be sent to the email address. When the order is already shipped, the returns are not accepted because food is easily spoiled. Refunds are possible only when the foods were lost or delivered too late.
Customer Service
People can feel free to contact Pete's Paleo customer service to make any suggestions, amendments or ask for a consultation. It is really easy to chat with workers. There is a pop-up on the site where customers can fill in contact details for further communication. Customer service is responsible for all aspects of processing the order – from refunds to cancellations and returns. It notifies customers about all changes and proposals. Pete's Paleo ratings of reliability are high.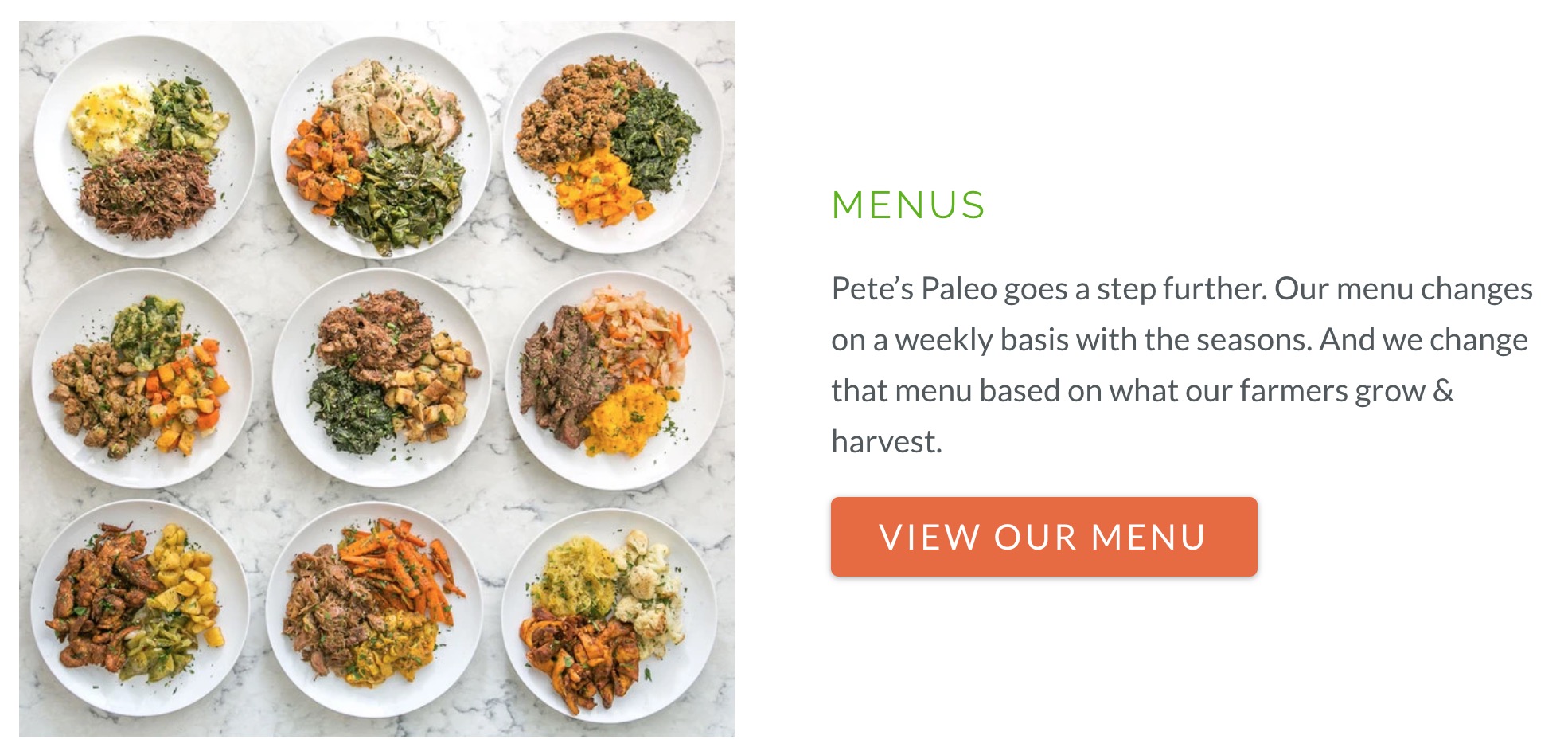 Alternatives
Comparison of two competitive food delivery services is necessary on Pete's Paleo review to choose the best one.
| | |
| --- | --- |
| Pete's Paleo | Trifecta |
| The best option for people on a high protein or low-carb diet. | Best for healthy eaters who don't want to make an effort. |
| Meals are rich in vital elements and the right quantity of carbs, protein, and fat. Consumers can add extra protein or side dishes. | Meals contain a lot of protein and fiber and no processed oil. Portion size is precisely calculated. |
Pates Paleo and Trifecta offer many menu plans (keto, vegan, low-carb, vegetarian) with organic, gluten-free, dairy-free, soy-free meals.
| | |
| --- | --- |
| Pete's Paleo | Freshly |
| Caters to paleo food-lovers. | Best for people who prefer classic and comfort food. |
| It has a lot of menu plans with different meal options. | Freshly offers up to 30 meal items on a weekly menu. |
| Meals are keto-friendly and organic. | Meals in Freshly isn't for diabetics. Service doesn't offer low-fat, low-carb meals. Therefore it is not suitable for weight loss. |
Food from both services is nutritionally balanced and free from preservatives, cholesterol.
Conclusion
Taking into account the reasonable Pete's Paleo pricing policy and fresh, organic food aspect, it is considered the best delivery service. Thoughtfully prepared meals, skilled and experienced crew, quality of packaging, and shipping processes make it top grade among other food delivery services. These meals are for those who take care of health and want to be strong. Flavors are tangy and savory; meat is tender, portions are precisely measured, weekly Pete's Paleo menus are diverse. It is a lifesaver for busy people. Whether you keep to a keto, low-carb, low-fat diet, it is undoubtedly worth trying. This food is heaven in a nutshell!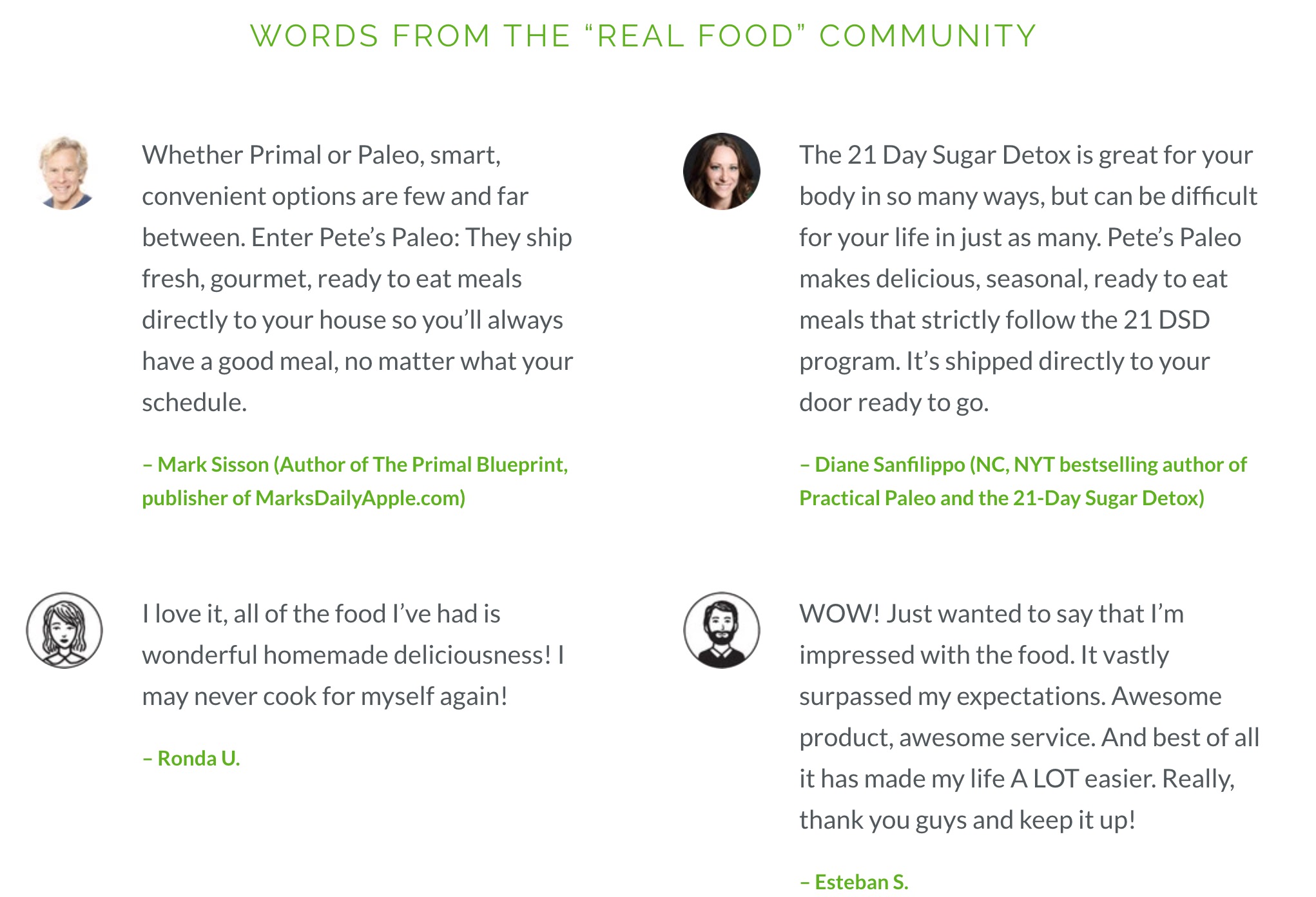 FAQs
Is Pete's Paleo Worth the Money?
Compared to other food delivery services that ship organic meals, Pete's Paleo cost is reasonable. In addition, the service uses renewable materials and avoids preservatives, poisonous substances. Health should always be at the forefront.
Are Pete's Paleo Meals Healthy?
Customers should not be concerned about the quality of Pete's Paleo meals. Thanks to modern and upscale technologies, they are prepared under standards for certifications. Ingredients don't contain poisonous supplements, coloring, and pesticides. Ingredients are 100% organic and unprocessed. This food is perfect for taking care of your health.
Is Pete's Paleo Easy to Cancel?
It is pretty easy to cancel a subscription. Customers should follow such simple steps as clicking on account settings to stop all deliveries. After the user submits cancellation, workers will send a confirmation letter to a personal email address. Customer service is friendly. Therefore it is easy to contact consultants for any questions. If you still have questions, read a few Pete's Paleo meal reviews or contact the customer support team.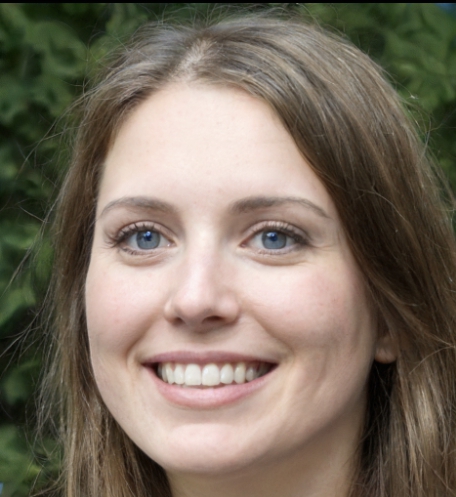 Hi! My name is Stephanie Hinton and I'm a trained expert in food and nutrition.