Hello Fresh and Dinnerly are popular choices when it comes to ordering at-home meals on a regular basis. They allow you to choose among various menu options and get pre-measured portions for any dish you can imagine.
The usage of meal delivery services such as Dinnerly or Hello Fresh helps the clients to save time going grocery shopping, preparing the ingredients, and looking out for recipes. All meal kits come already with a tried and true recipe, clean and prepared ingredients, and contain balanced contents in terms of proteins, fats, and carbs.
Still, to make a decision about the meal delivery company you will need to analyze every detail and see if you like the menu, ordering, delivery process, and the overall philosophy of the brand. So, here we are about to describe two competitors – Hello Fresh and Dinnerly and decide which is better Dinnerly vs Hello Fresh.
Short Overview of Two Meal Delivery Companies: Hello Fresh vs Dinnerly
Speaking of the general impression, the companies have a lot in common: both provide ingredients of high quality, have a variety of menus, and arrange their ordering in quite a simple way.
Both companies provide classic menu meals as well as those of many national cuisines. The difference you can easily see when looking through the menus of these companies is that Hello Fresh is more focused on sophisticated dishes worthy of serving in restaurants while Dinnerly gets you simpler meals known for most of us including burgers and tacos, yet with no worse quality of ingredients.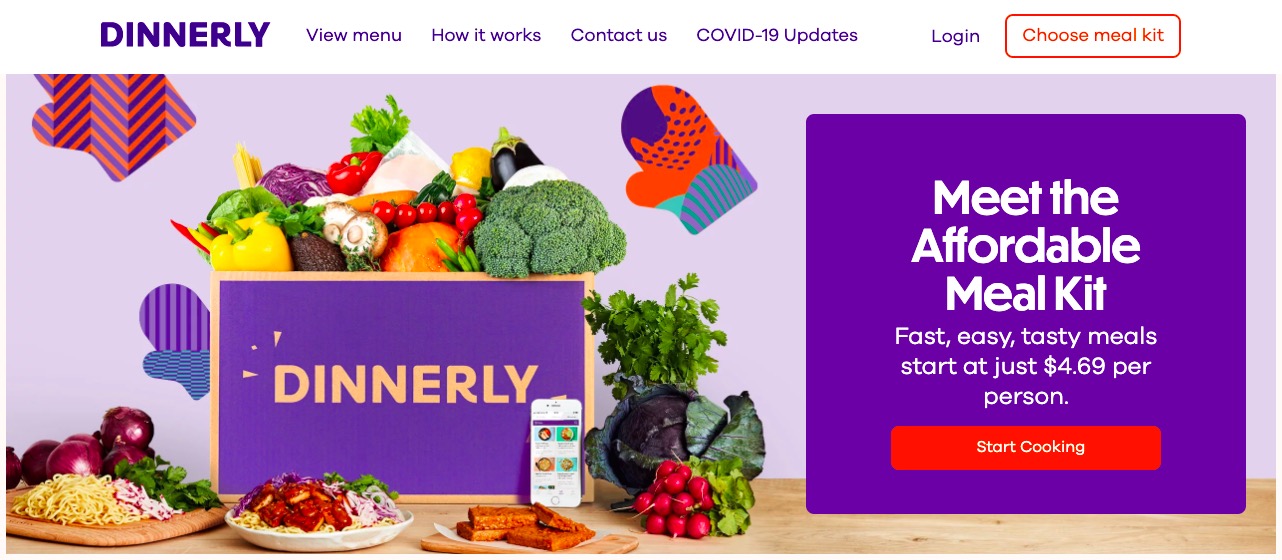 Here are some more general details to make the Dinnerly vs Hello Fresh comparison more vivid.
Dinnerly
Hello Fresh
Dietary needs and preferences
Low-calorie, carb-conscious, whole-family, child-friendly, pescatarian, vegetarian + gluten free and dairy-free
Low-calorie, carb-conscious, world cuisines, whole-family, vegetarian
Recipe variety
25 rotating recipes in a week
20 to 25 dishes in a week
Cost
$4.69 and up
$8.24 and up
Shipping fee
$8.99
$6.99
Preparation time
15 to 30 min
20 to 45 min
Delivery area
all states of the continental US (from three fulfillment centers: in Texas, California, and New Jersey)
all states of the continental US
Flexibility

Easy cancellation
Switching meal plans
Gifts
Loyal refund policy

Easy cancellation
Switching meal plans
Gifts
Free trial period
Loyal refund policy
Customizable weekly menu
Plans and Pricing
Meal kit deliveries Hello Fresh and Dinnerly bring radical changes into the whole cooking routine with their excellent plans and dishes. So, let us see their meal plan peculiarities and price range.
Plans and Pricing at Dinnerly
With Dinnerly being known as, perhaps, the most affordable option of healthy meal delivery service, it becomes clear why it is so popular. Dinnerly is an excellent choice when you want to save time on grocery shopping, enjoy tasty meals, and eat healthily without paying over the odds.
This meal kit delivery will save you even if in your family you have picky eaters: 6 different meal plans that contain meat, fish, and vegetarian dishes, or their mixed options. Plans are worked out with the focus on specific dietary goals whether it is weight loss or keeping the whole family's eating healthy.
Plans at Dinnerly include 2 convenient options: for a couple and for the family of 4 persons. Each of them includes 3 to 6 dishes every week. All subscriptions here are customizable so you can exclude separate foods from your menu or make the whole meal kit vegetarian.
A special place deserves to be given to Dinnerly's occasional adds-on: delicious pancakes, doughnuts, lava cakes, and protein packs.
Compared to Hello Fresh, the prices are very democratic – just for 5 USD, you can have a nutritious dinner plus even save up a bit when ordering a family plan.
Plans and Pricing at Hello Fresh
The delightful taste of dishes by Hello Fresh is the main reason why people keep choosing this service above all else. The diverse menu consisting of nearly 20 recipes that change every week allow customers to try out many world cuisines without spending time and effort on recipe searching or grocery shopping. All exclusive ingredients come prepared and you don't have to be cautious with recipes since all of them are already tested and proven by chefs.
Hello Fresh also delivers meals 2 to 5 times a week and gives plans for 2 or 4 persons. Any special diet plans are not included yet but Hello Fresh allows for ordering at least 6 different vegetarian dishes a week.
Hello Fresh's choice is really rich – from classical burgers under tomato-and-onion jam to ravioli with cheesy fillings. Seafood, various types of meat, spices and herbs make dishes unforgettably tasty.
Now, we move to cost comparison. Prices at Hello Fresh appear higher than at Dinnerly, however, the creativity of recipes can compensate for the costs in many cases. Still, a dinner for the whole family that consists of two courses or the main dish alone would be much more expensive than at Dinnerly. Plus, there are no desserts for now.
Winner: Dinnerly.
Types of Menu
The two meal kit deliveries have a lot in common including nice vegetarian dishes, liquid and solid foods, meals of different cuisines, and for those keeping fit.
Among the key differences, we consider these to be the greatest.
Types of Menu at Dinnerly
Besides the mentioned menus, Dinnerly is proud to have recipes for people of all ages (including young kids) as well as dairy- and gluten-free meals.
The especially pleasant thing about Dinnerly is that they don't skimp on the quality of ingredients to keep prices low. All veggies are grown on local farms, meat is chemical-free and gets tested for the absence of growth hormones.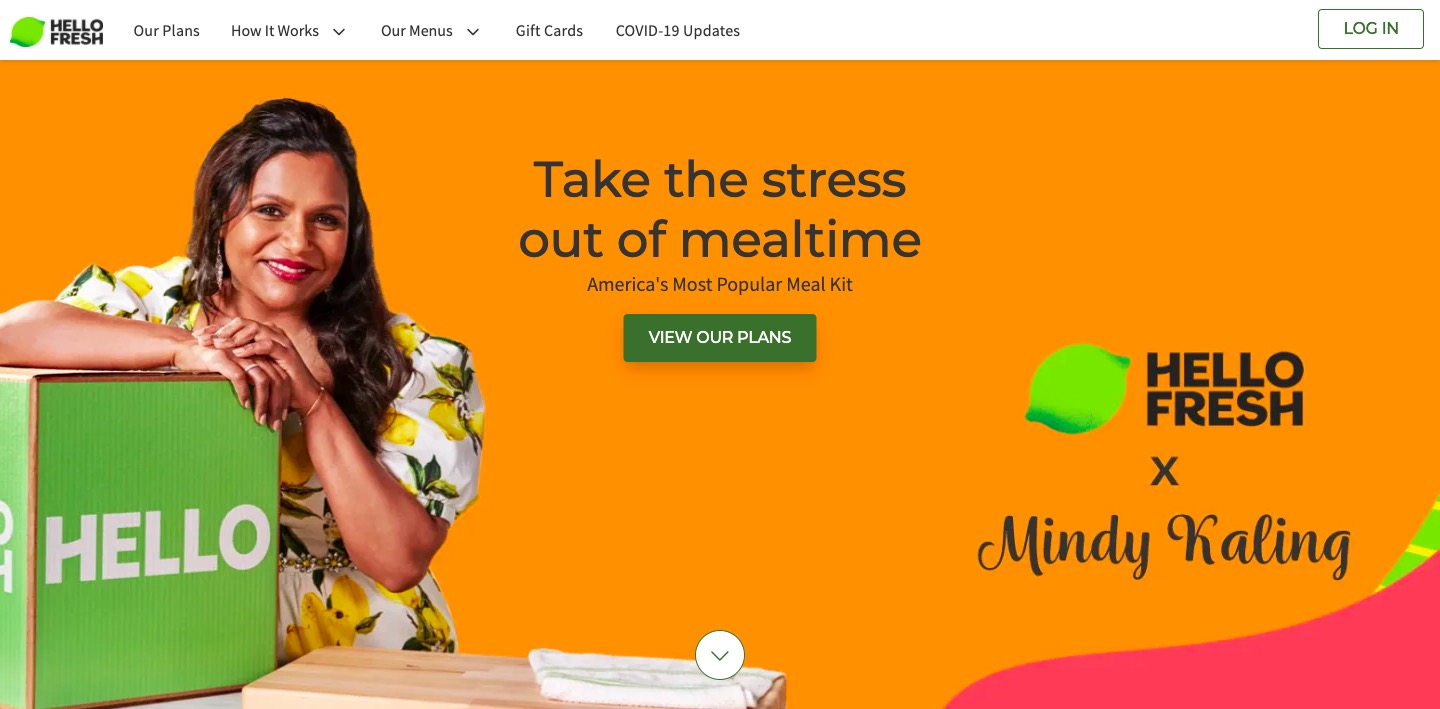 Types of Menu at Hello Fresh
Everything that Dinnerly has you can also find here. Yet, Hello Fresh also specializes in exotic seafood dishes that can be a part of a classical or pescatarian menu. We adore the low-calorie and vegetarian plans marked as 'Quick and Easy'. They get cooked for some 15 minutes and can be customized to fit into any menu plan.
All ingredients are locally grown and fresh all the time. It is important that Hello Fresh makes it easy to choose veggies on its website and increase veggie intake in a whole family's menu. You can have a vegetable-based meal even as a quick breakfast!
The only drawback might be that none of these food delivery services claim to have organic or vegan ingredients. This is not a must for a healthy diet but for those who prefer clean eating or all organic food, this might be a problem.
Winner: Dinnerly.
Packaging and Delivery
The way that your meal kits arrive at your door is not the last factor determining whether you go for a company's service or not. So, let us see if it is Dinnerly or Hello Fresh that deserves the status of the best delivery service.
What you should remember is that neither of them sends its boxes to Alaska or Hawaii.
Packaging and Delivery at Dinnerly
Dinnerly sends its carton meal kit boxes in well recognizable brand delivery packages. Whatever meat or fish you ordered as a part of the menu, it comes in packed wrap ups with ice inside. This helps the proteins remain cold during the delivery journey. As a rule, you will find them at the bottom.
The only complicating factor at Dinnerly's packaging is that all ingredients aren't separated according to the recipes they go for. As a result, this makes the cooking process longer and brings some confusion so this is the area where Hello Fresh wins in the battle 'Hello Fresh vs Dinnerly'.
Still, as for a cost-saving meal delivery service, this might be okay as it makes the price more affordable. At least, they saved costs not on the quality of food.
Packaging and Delivery at Hello Fresh
Hello Fresh boxes are also designed in a minimalistic way with its green label on them. Boxes for 4 persons come larger which is logical. Sorted out ingredients help you understand at a glance which product fits into which recipe.
Winner: Hello Fresh.
Cooking Process and Taste
Now, we get upon tasting and cooking – the main part of enjoying the order. Let us see how Hello Fresh vs Dinnerly can compete here.
Cooking Using Recipe Cards by Dinnerly
Recipes for orders made by Dinnerly appear useful but there is one but: they are all digital. Instead of beautiful recipes with pictures printed on paper, you need to search for them on the Dinnerly's website to start cooking.
We cannot claim that it's a huge minus since it's a good way to save the trees cutting down on the usage of paper and pay less. For those loving the aesthetics of full-color recipe cards, you can always print them out at home and keep them for the next time.
All in all, Dinnerly's step-by-step recipes are great as they are easily searched by tags, contain details about cooking time, nutritional value for single serving, cooking difficulty level, and even allergens.
Cooking Exclusive Dishes with Hello Fresh
Hello Fresh is more traditional in this sphere. Each meal kit box comes with a recipe card printed on both sides. Every recipe sums up the relevant info about calories, level of cooking complexity, ingredients, and steps to take.
These Hello Fresh recipes are fool-proof – even if you get stuck and don't want to spoil the ingredients, just dial the number they mention at every recipe card, and voila – they will give you support and guidance.
Since it all depends on your cooking skills level and experience, your perception of these cooking processes at Hello Fresh vs Dinnerly can be different from ours. Still, both provide easy ways to cook worthy dishes at home, even for novice cooks.
Considering also the taste, Hello Fresh comes on top here with its special gourmet dishes. It also gives a richer number of spices available.
Winner: Hello Fresh.
Ordering and Cancellation Process
Online ordering experience is rather convenient with both options. Both Hello Fresh and Dinnerly have official websites and smartphone apps to make quick orders and change your account settings.
Ordering requires having a subscription in both variants (for a plan for 2 or 4 persons). This process is quite flexible – both with Dinnerly and Hello Fresh, you can skip one or a few deliveries, cancel them, or change the date of delivery (1 week before delivery).
Winner: we call it a tie and can't choose a winner in the category as both are very stress-free and convenient.
Customer Support
And again we can't choose the winner in customer support Dinnerly vs Hello Fresh. Both are much praised by customers and are responsive enough when it comes to navigating orders or putting the prepared foods together into one meal.
Conclusion and Our Verdict
So, let us take one final glance at the difference between Hello Fresh and Dinnerly.
In terms of menu flexibility, cooking, taste, delivery, and the convenience of ordering, there is almost nothing to compare Dinnerly vs Hello Fresh about. They both are excellent options providing fresh ingredients of high quality, sourcing them responsibly, and providing creative recipes to suit customers with different needs.
Yet, if you want a more wallet-friendly option and still have a menu full of incredibly tasty and healthy dishes, you simply won't find a better company than Dinnerly. So, our winner today is Dinnerly.
In case you have more to spend on the daily menu and are desperate for advanced recipes, Hello Fresh is totally worth its cost.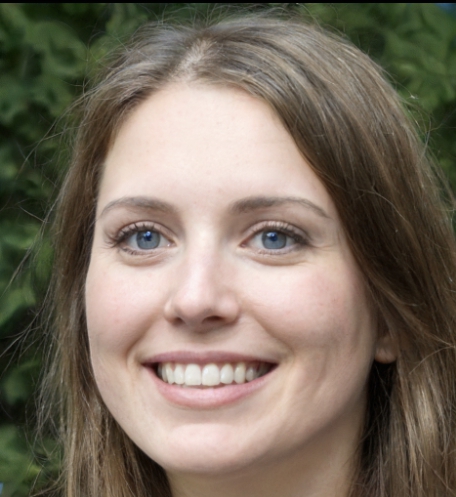 Hi! My name is Stephanie Hinton and I'm a trained expert in food and nutrition.