Learning to eat healthily is a whole science that may torture people who used to previously eat only fatty dishes. Instead of turning to online diets and shopping a La Carte in groceries, you can proceed with ordering homemade-like dishes with week delivery food services. One of such companies that cater to one's health and fast cooking is FlexPro Meals.
This FlexPro Meals review is intended to cover the service's pricing, types of menu, additional perks on the customer support team, and comparison with competitors.
Short Overview (Pros and Cons)
Let's start with the FlexPro Meals meal kits review by saying that it might not be very different from other delivery kit services that offer healthy dishes on a weekly subscription basis. They do not focus on offering lots of programs or designated plans that may assist one with plant-based eating. Today, FlexPro Meals has two directions in which they draw the clients' attention. The first one is the Fat Trimmer program which stands for 300-400 calories per dish. The second one is Lean Muscle, which, in turn, is dishes of 500-700 calories. Both are good for keeping your body fit. Then, the company has a Power Bakery if you crave some guilty-pleasures but again healthy ones.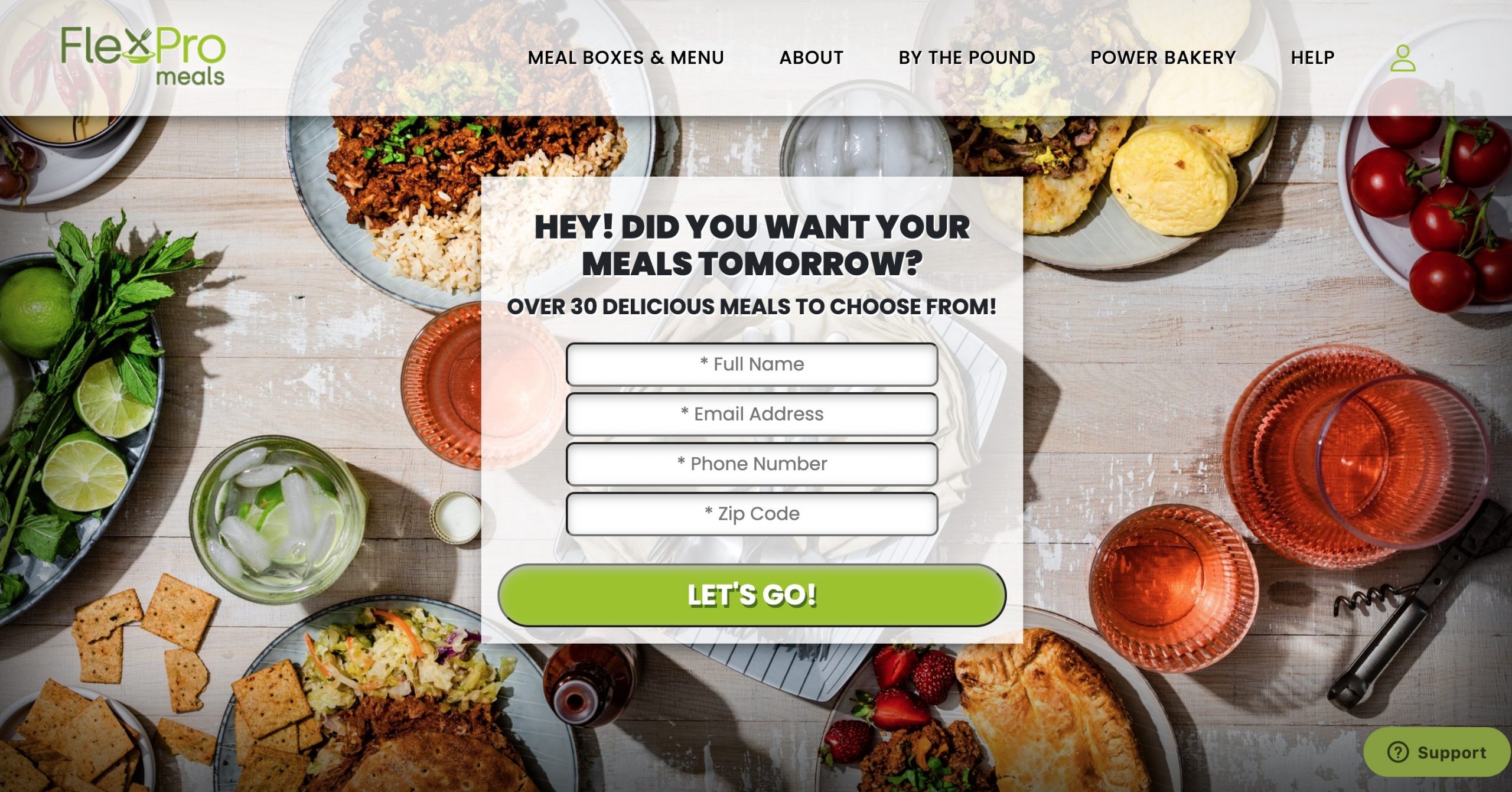 Can it be a good fit for certain dietary preferences? Reviews of FlexPro Meals confirm that the service is more than happy to meet your dietary needs because you can sort the menu and find Low carb, Keto-friendly, gluten-free, dairy-free, and pork-free options.
Pros of FlexPro Meals:
A good choice for certain diet needs;
FlexPro fresh ingredients and homemade-like dishes;
Heat, eat, and repeat principle which saves you time on cooking;
Easy cancelling or modifying your dish box.
Cons of FlexPro Meals:
You may find FlexPro pricey;
Limited choice of programs for those who seek more and more.
Pricing
As was said above, FlexPro Meals has two programs that you can sign up for. Let's start with Fat Trimmer, a plan which can help you get rid of the excessive fat on your body alongside practicing sport. How much is FlexPro Meals?
7 dishes, weekly – $76.93;
10 dishes, weekly – $99;
15 dishes, weekly – $142.99;
18 dishes, weekly – $162.99;
21 dishes weekly – $178.49.
If you plan to go for 21 dishes, you will be offered the next delicacies:
Street Taco Bowl;
Garlic Chicken Alfredo;
Cabo Chicken;
Kung Pao Lo Mein.
Lean Muscle plan is a good fit for those who have already put some effort into their bodies but need auxiliary support to maintain the health of muscles. FlexPro Meals prices for Lean muscles look the following:
7 dishes, weekly – $94.43;
10 dishes, weekly – $125.49;
15 dishes, weekly – $172.99;
18 dishes, weekly – $198.99;
21 dishes, weekly – $221.49.
Among the delicacies from such FlexPro Meals menus, choose the following:
Mojo Pork and Plantain;
Fajita Skillet;
Philly Steak Bowl;
Chicken Parmesan.
Based on that, you pay approximately $8-$14 per dish, which, compared to other services, is pretty affordable. Moreover, by ordering any box, you get free delivery.
As for their Power Bakery, the exclusive offering to receive some sweets and baked items, they have a separate pricing policy. One box may contain up to 25 sweet treats, where each is $1.80. With such a menu, you can find Brownies, Cookies and Cream, M&M's treats, Reeses, among others.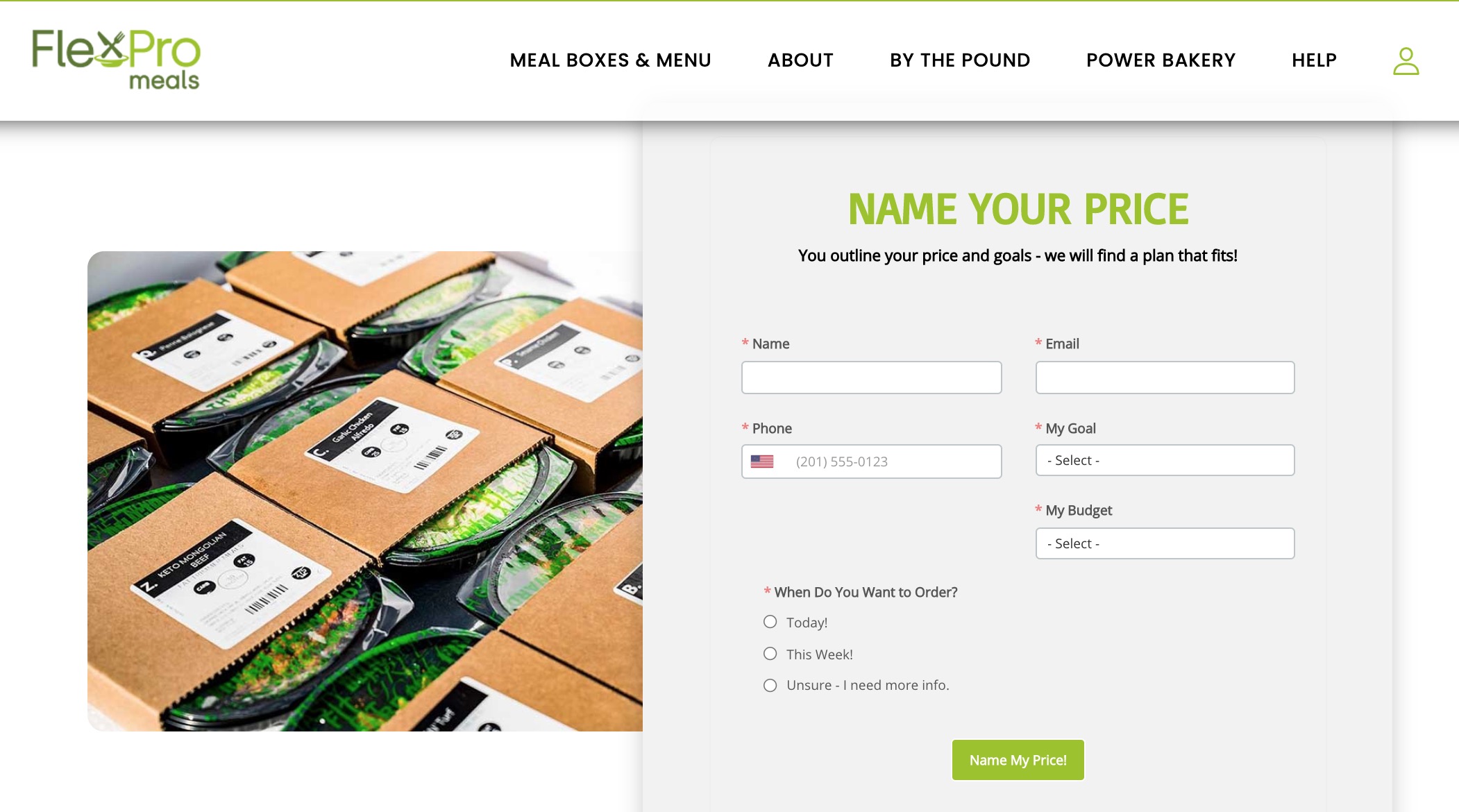 How FlexPro Meals Works
By choosing FlexPro Meals, you receive all-natural, organic food that does not require any cooking from you. The functionality of the company is easy. You have an option from two plans, where you can select 7, 10, 15, 18, and 21 dishes. If you have any requests regarding the customization of your dish box, it is better to contact them directly. As per their website statement, you can update your entrees by adding favorite power treats or skipping weeks.
You order, receive your FlexPro meals, which are shipped Monday to Wednesday, and delivered Wednesday to Friday, and reheat them using the microwave or oven only. No need for any instructions on how to mix the organic ingredients.
How Easy Are FlexPro Meals Meal Kits to Prepare?/Cooking Process
As you previously read, you do not need any time-consuming preparation or cooking of your delivered dishes. Everything is done by professional chefs behind the service. You get only whole natural prepared foods which are all packed with protein and low in sugar ingredients. Your dishes vary in calories – Fat Trimmer with 300-400 calories, and Lean Muscle with 500-700 calories. Then, based on FlexPro Meals reviews, you can choose how many proteins you want per your dish box.
Every subscription will come with the FlexPro Meals recipe cards on macronutrient information, an ingredients list where you can learn the information on possible allergies.
Who is FlexPro Meals Good For?
Based on clients' feedback and reviews for FlexPro Meals, this service is good for:
People who want to keep their bodies fit with FlexPro Meals plans of calorie-conscious dishes;
People who are already assigned to sports activities and want to maintain the health of their muscles;
People who want to have some healthy guilty-pleasures like cookies, and do not gain weight;
Those who seek options for gluten-free, Keto-Friendly, dairy-, pork-free regimens;
Those who seek protein-conscious dishes.
You may also like this company if you seek a party with free shipping for any type of box delivered.
Who it isn't Good For?
At the same time, FlexPro Meals might hide some pitfalls for some very demanding clients and eaters. It is not so good for:
Those who look vegan and vegetarian-only dishes;
Those who need more than two plans for choice to switch between them;
Those who might want more affordable plans rather than available with FlexPro Meals pricing.
Finally, as per numerous FlexPro Meals meal kits reviews, it won't be a good fit for people who have dietary preferences like Paleo, Mediterranean, Low-FODMAP, etc. You should better overview other services available in the industry.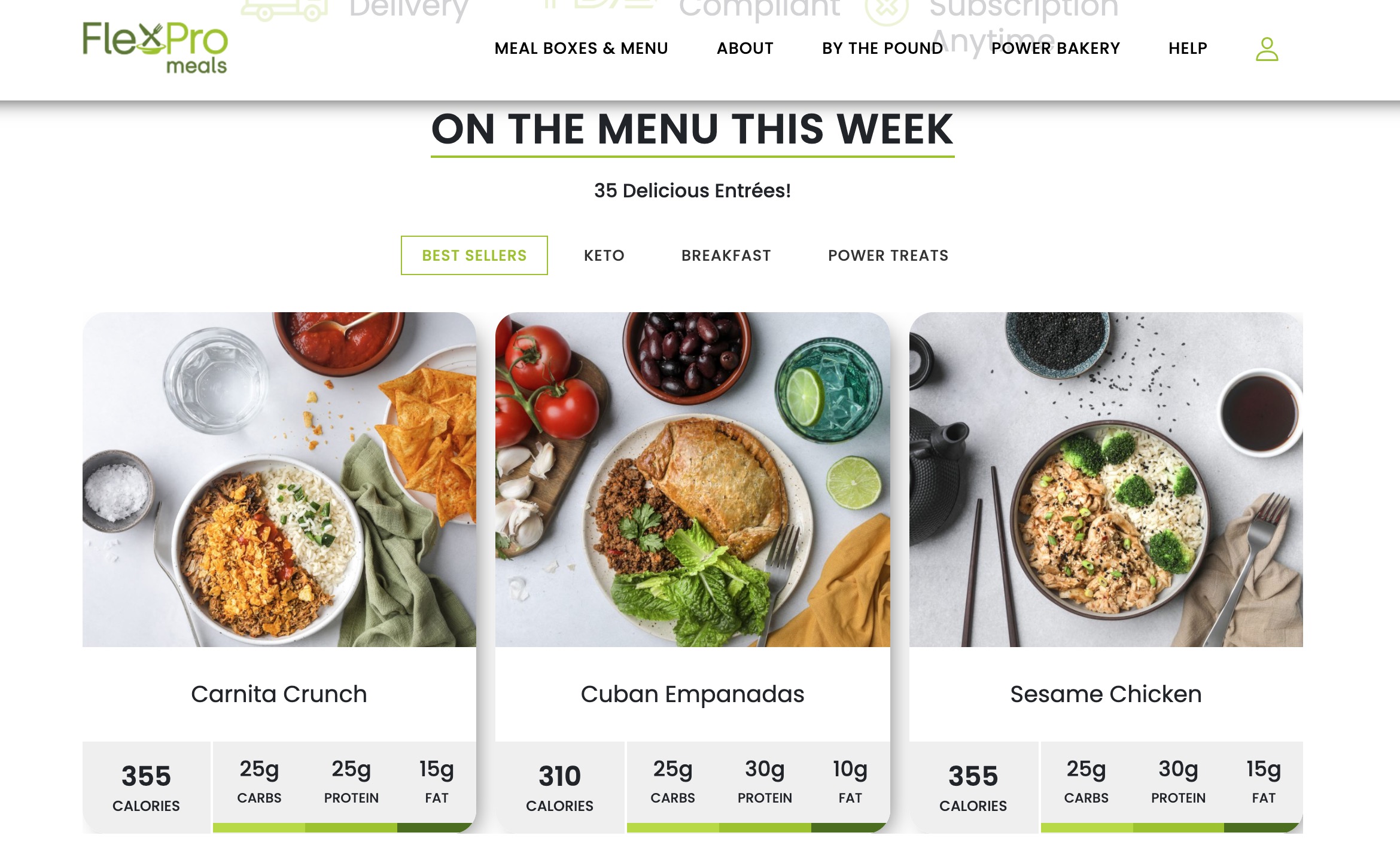 FlexPro Meals Packaging and Environmental Friendliness/Handy and Reusable")
The company is not much focused on revealing its approaches to support the environment. Yet, as per them, all your delivered dishes come with gel packs, and insulation liners, so that they are safe and cool until you reheat them.
Based on their recommendations and FlexPro Meals ratings, you can eat the dishes straight away after receiving them, or you can freeze them and eat within a few weeks. Their earth-friendly recycled box can be reused if needed and may be occasionally considered handy. Yet, they are not intended for that purpose. After you eat your dishes, you should recycle them all. When reheating, you can place the containers in your microwave safely, they won't affect the quality of the ingredients.
Changing and Canceling Order
Changing and Canceling orders with FlexPro Meals food delivery is also pretty easy. By signing up for the service, you can update your entrees, add extra power bakery treats, skip a week or modify the delivery frequency. The deadline is Thursday, after that day, your updates won't be taken into consideration and will be applied for the upcoming week delivery. Moreover, you will receive automated emails received on Thursday to remind you about the possibility of making changes to your order. Recurring billing is ongoing on Saturday.
Customer Service
To contact their customer support team, you have a few options. First off, it is not available 24/7, hence, you will need to wait to have your inquiry addressed. The team works 9 am – 5 pm CST Mon-Fri. You can reach them by calling or texting on their phone number or emailing them.
Beyond that, they have some kind of a live chat, but it also works complying with a 9 am – 5 am schedule only. For basic questions on FlexPro Meals meal reviews, you can use their FAQs section, where most clients' bothersome questions are enlisted.
The Competition/Alternatives
To help you understand the relevance of FlexPro Meals today, you can check the below-mentioned comparison of it with two companies.
Meal Kit Service
FlexPro Meals
Purple Carrot
Trifecta Nutrition
Menus available
Fat Trimmer with 300-400 calories per dish to help one lose weight. Lean Muscle with 500-700 calories per dish to maintain muscle health;
Plant-based dishes for helping one lose weight, as well provide healthy eating regimen for people suffering from high blood pressure, heart diseases, and diabetes;
A service that caters to losing weight. It especially fits moms who want to bring their sporty bodies back;
Pricing Policy
Fat Trimmer boxes may cost from $76.93 – $178.49. Lean Muscle boxes may cost from $94.43 – $221.42;
2 Serving plan – from $51.94 to $75.92;

4 Serving plan – from $59.92 to $99.88;

Keto Plan – starts at $109 per delivery;

Paleo Plan – from $109;

Vegan Plan – $90.93;

Clean Plan – $109;

Vegetarian Plan – $90.93;

Classic Plan – $119;

A La Carte – $119.

Shipping
Free of charge;
Free of charge;
Not free;
Delivery
Nationwide Express delivery;
This meal service covers Contiguous US;
This meal delivery covers the whole country, including Hawaii and Alaska;
Customer Support
Not available 24/7.
24/7 Live Chat.
24/7 Live Chat.
All three food delivery services are good for helping you access healthy, prepared foods and losing weight. FlexPro Meals is a choice for those who need protein meal boxes, Purple Carrot for plant-based eaters, and Trifecta is an ideal service for moms who want to lose weight after childbirth.
The Verdict
FlexPro Meals is the best delivery service when you want both healthy dishes and some guilty pleasures that won't affect your body weight. FlexPro Meals cost is pretty good, and you receive free shipping. You can modify and update your current orders and cancel the subscription without any headache.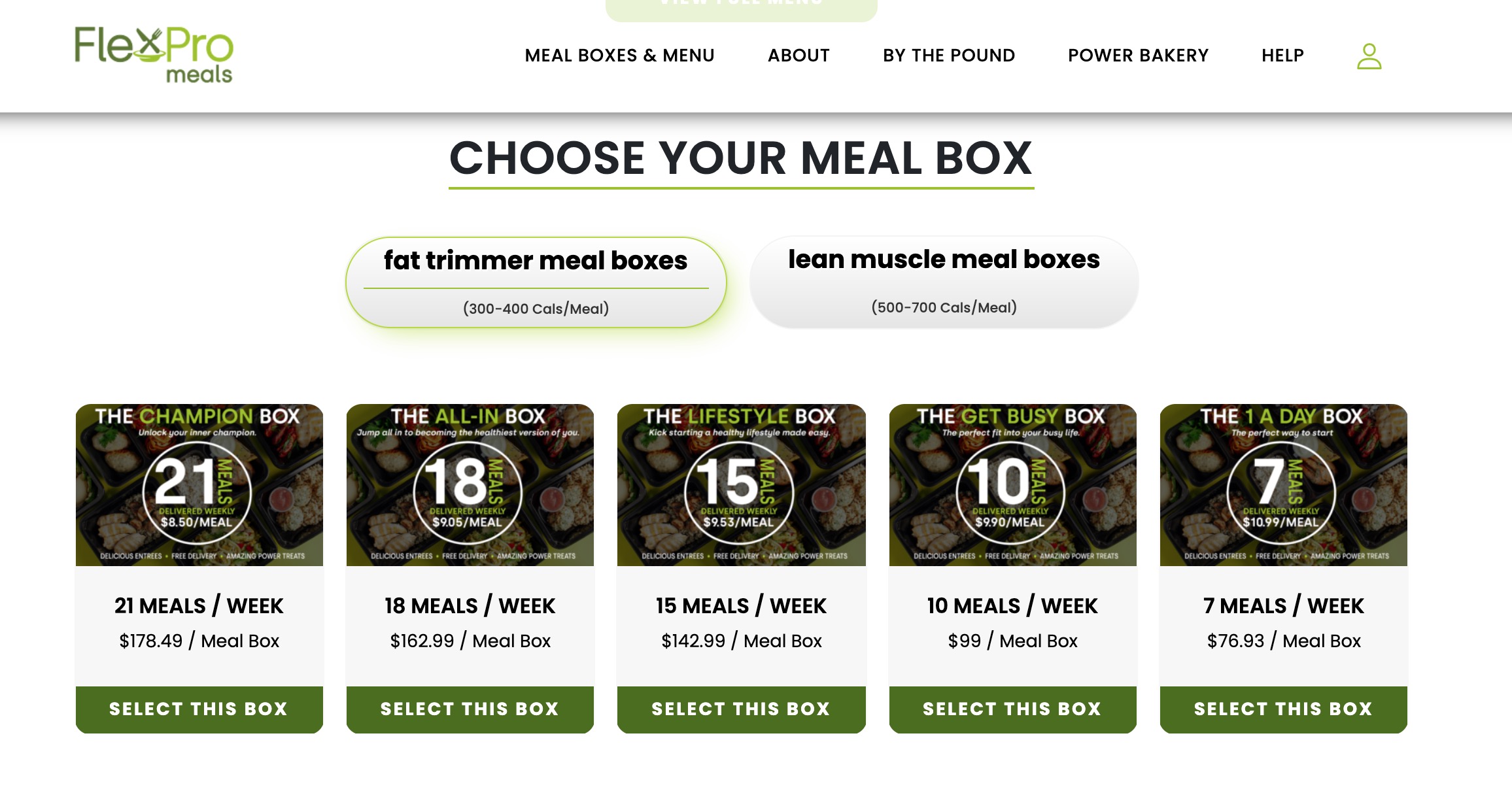 FAQs
Are FlexPro Meals Healthy?
Based on FlexPro Meals meal delivery reviews, it is possible to say that their dishes are healthy. They cater to weight loss and muscle health eating regimens. Beyond that, you can choose it for Keto-friendly, gluten-free, pork-free delicacies.
Can I try FlexPro Meals for Free?
No, there is no free trial with FlexPro Meals. As for free perks, which you can access with this service, it is only free shipping.
Does FlexPro Meals Have Coupons for Existing Customers?
By relying on third-party reviewing websites, you can find FlexPro Meals promo code, discounts, and other promotions to cut the cost on the delivery or your first orders.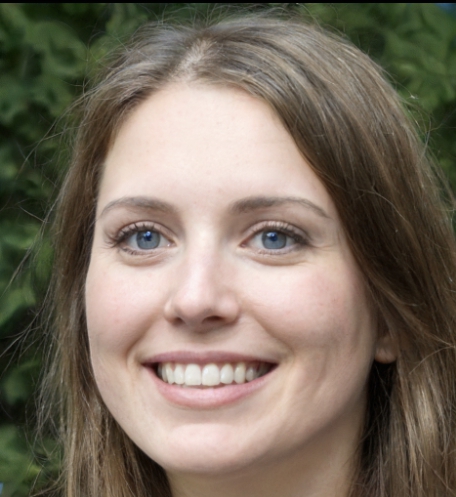 Hi! My name is Stephanie Hinton and I'm a trained expert in food and nutrition.