Are you familiar with the everyday routine when all you can do after work is grab some junk food on your way home? Or maybe you want to jump into healthy eating and start a new page of your life. Everyone who's ever tried to change their eating habits knows how hard it is to stick to the new diet. All the grocery and cooking are so exhausting. Sounds familiar? Read this review of Gobble to find a way out. I tried Gobble and would share an honest opinion on this meal delivery company.
Gobble is a meal delivery service that primarily caters to people with no special preferences or food restrictions. They service pre-made dishes for all those who don't enjoy shopping, doing all the peeling, chopping, and cooking. From opening kits to getting them on a table, you're working about 30 minutes at the most.
Although the service does not offer a wide range of dietitian plans, it still provides customers with dairy-free, gluten-free, and vegetarian lines. Besides, your menu can be easily customized. All the potential allergens are delivered in separately packed boxes to avoid contamination and give you an option whether to add particular ingredients to your plate or skip.
Gobble, is it worth it when it comes to pricing? Yes. Even though it's slightly more expensive than Blue Apron and other similar deliveries, Gobble's portion sizes and taste are worth the money. The company is also committed to the environment and encourages the users to recycle all the packaging.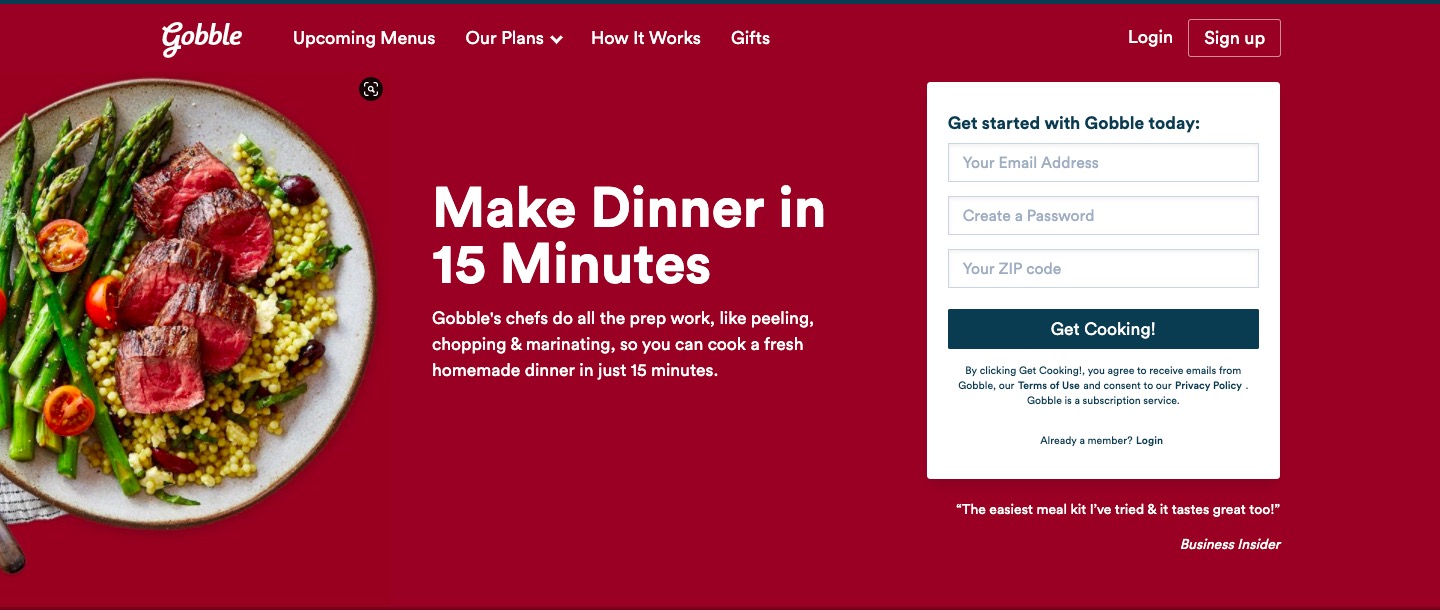 Pricing
How much does Gobble cost is an issue that can't be skipped. Especially if pricing was the only thing that kept you from starting a healthy diet. We all want our meals to be nutritious and delicious, but abandoning our wallets may not be the case. So what about Gobble food delivery? Is it an affordable pleasure?
Saying in advance, the service is a bit more expensive than its competitors. Their prices are on the higher side, but let's hope this is the only company's con. For 3 Gobble meals that promise to feed 2 adults, you will be asked $78.93 (shipping included). This breaks down to $13.16 per serving.
First-time users get a Gobble discount and receive their first six meals for $36+free shipping. Gobble shipping cost is $6.99 for all orders. Great news for those who only want to order once to check out is Gobble good for them.
Don't rush to make conclusions. The portions of the Gobble meal kit are very big. You can even save it up for later unless you're a big eater.
The minimum order is 2 dinner kits (4 meals). The size of the maximum order is not limited. If 6 or 12 meals are not enough, you are always welcome to add more meals to your weekly delivery.
You may also want to know if the service offers any discounts to the customers. While browsing the website, I found no Gobble promo code. However, If you search for Gobble discount codes on Google, you will find a few that are valid, mostly for new users.
Types of Meal Kit Food Options
On the website. You'll find plenty of mouth-watering pics of the meals the company serves for the subscribers. Don't watch them if you're hungry; otherwise, it would be hard to resist the temptation. You won't notice as your finger will be slowly approaching the "Order" button. You can explore the Gobble meal kits reviews on the Internet to learn more about it.
The service offers a rotating weekly menu with 15 options, 3-4 of which are Lean & Clean. I like that the service offers sides, soup, breakfast, dessert, premium meals, and seasonal salads in addition to their meal kits. They also have meals for 4 or special occasions.
It seems that the platform doesn't focus on a particular diet or people with specific food preferences. No offense, I find Gobble some kind of escape from all the vegan, weight-loss, paleo, and other food delivery services who only cater to the "chosen ones.
There is no paleo, diabetic-friendly, or keto menu. At least I found none of them on the site. Gobble meal options are very diverse. There are gluten-free, dairy-free, low-carb, and vegetarian options, though. All ingredients are marked and shipped separately. All potential allergens are packed securely to avoid contamination. If you're allergic to nuts, wheat, or shrimps, just don't add them to your meal plan.
The protein comes from meat, chicken, fish, and seafood. The company's main specialization is serving nutritious and delicious food and inclines more and more people into eating healthy, diverse homemade food. Most of the service's classic dinners are between 700-900 calories.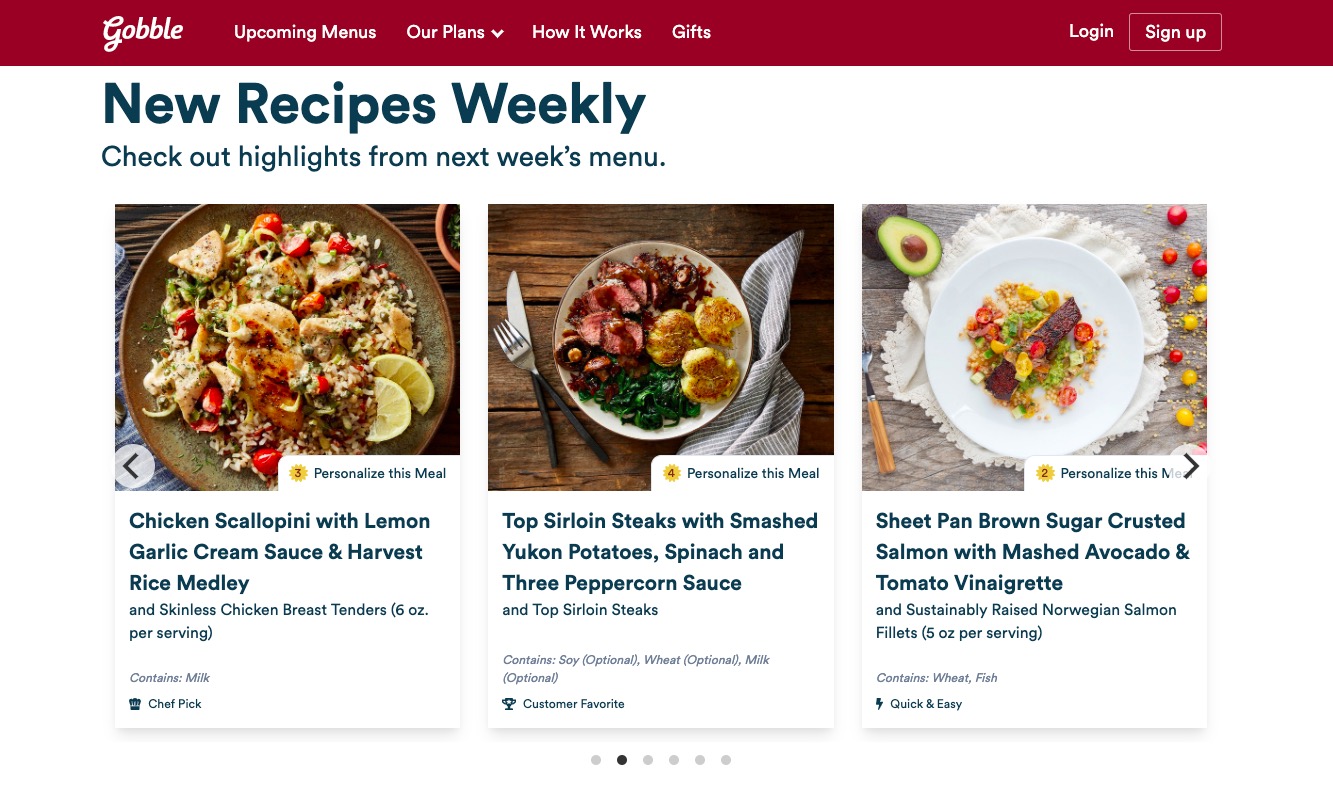 What About Vegan Menu
Vegans may find Gobble to be not the best delivery service. The fans of a plant-based diet can opt for another service. Nevertheless, Gobble meal kit reviews prove the service to be vegetarian friendly. The thing is, their founder and CEO personally maintain a vegetarian lifestyle, so having delicious, nutritious options every single week is very important to the service. There always are at least three different vegetarian dinner kits that both veggie-lovers and meat-eaters may enjoy!
Quality of Products & Taste
Let's get down to what is most important. Taste and the quality of ingredients are the key points.
What you need to know is that the service is not organic. They don't emphasize the organic origin of their ingredients. Yet organic food is not what to expect from Gobble, their products are still natural and fresh from the farm. Their dishes are flavored and delicious. Instead of sending rare rice, they send parboiled rice that takes a minute to microwave. Instead of delivering broccoli, they deliver pre-chopped broccoli to facilitate the cooking.
In general, the Gobble taste is pretty satisfying. All ingredients are carefully selected and harmoniously add to the taste. Some reviews for Gobble say its taste is on par with the likes of Blue Apron and Sun Basket.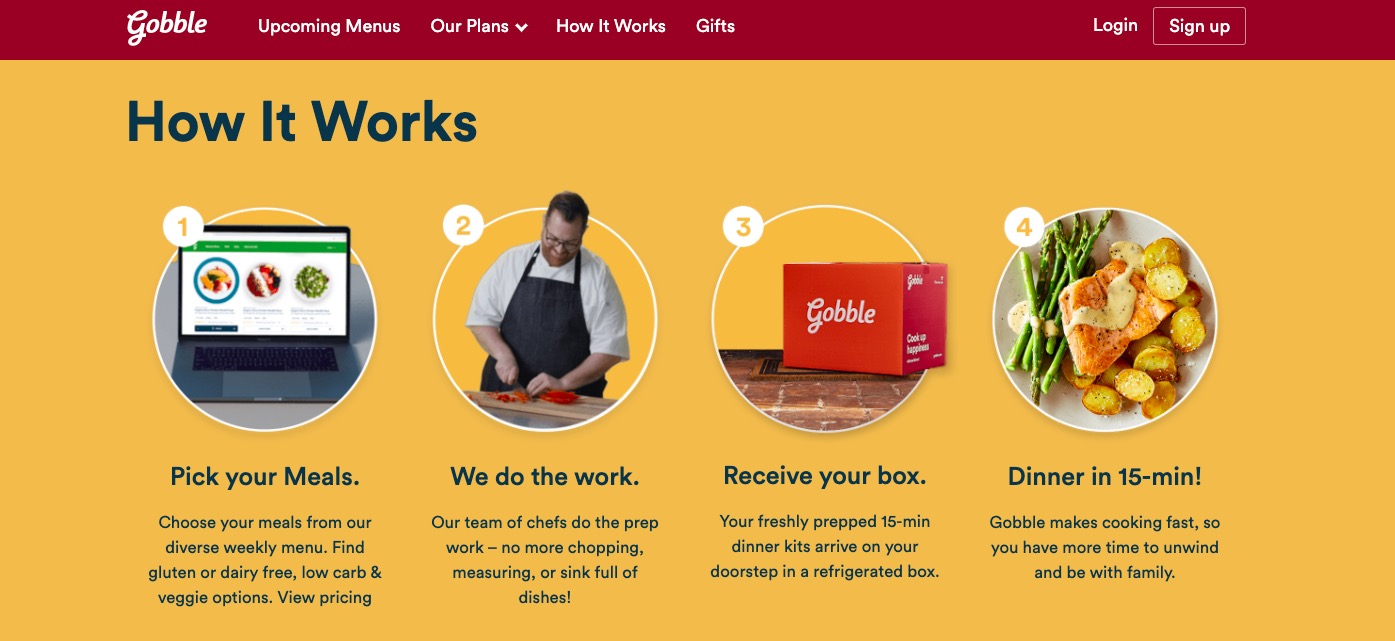 Cooking Process
All the meals from Gobble are shipped, almost ready to cook. Gobble's chefs do all the prep work, like peeling, chopping, marinating. Just add some spices to your meal and put it right into the oven. Apart from meals, Gobble also delivers recipe cards with step-by-step instructions on how to complete the preparation process. Their premade sauces need only 5 min to be edible. I was really curious how long it took to prepare the company's meal kits. Your meal kits do not feel like LEGO anymore.
Gobble reviews say that the average prep time is only 15 min. Can you imagine that? Just in 15 minutes, you will enjoy a mouth-watering portion.
Ordering Process
My review of Gobble showed that making an order on the Gobble website is a matter of a few minutes. New customers need to complete the signup process by entering the zip code, username, and password. After that, claim 6 meals for $36 off + free shipping. If you're a registered member, log in.
After that, follow a simple algorithm that I provide in this Gobble meal kits review.
Pick your meals. Choose your meals from their diverse weekly menu. Find gluten or dairy-free, low-carb & veggie options.
Let Gobble chefs do the work. Forget chopping, measuring, or sink full of dishes!
Receive your box. Get your box of freshly cooked meals delivered to your doorstep in a refrigerator box.
Dinner in 15-min. Gobble makes fast and easy, so you have more time to unwind and be with family. Or if cooking for you is a way to switch off, get a 15 min relaxation in the kitchen.
The truth about Gobble is that this is customizable on the front end, where you choose the kinds of meats you want to try or skip. The service also offers to add on sides or desserts to your order. Plus, you can mix and match dishes from the entire weekly menu.
No commitment, a subscription can be paused or canceled anytime.
Packaging & Shipping
Gobble caters to customers all across the continental U.S, with the exception of Montana and limited service in Nebraska and New Mexico. The service is rapidly growing, and the team is happy to start serving families across the country. Your personal delivery date will vary depending on your distance to their various distribution centers.
Since Gobble delivers to customers all around America, they need to pack securely in order to keep the products fresh. Even if you're not at home, the courier will leave your meal kits near your doors. Meals can be kept outside the refrigerator for a few hours so make sure you will put them in a cold place as soon as possible.
Don't worry about the packaging and freshness. Your meals are fresh and cool all the way to your house. They pack your prepared foods in a way that ensures the contents remain fresh for up to 72 hours in transit. They also promise to frequently adjust the packaging with added insulation and ice packs, ensuring that your Gobble Dinner Kits always arrive fresh and cool to the touch.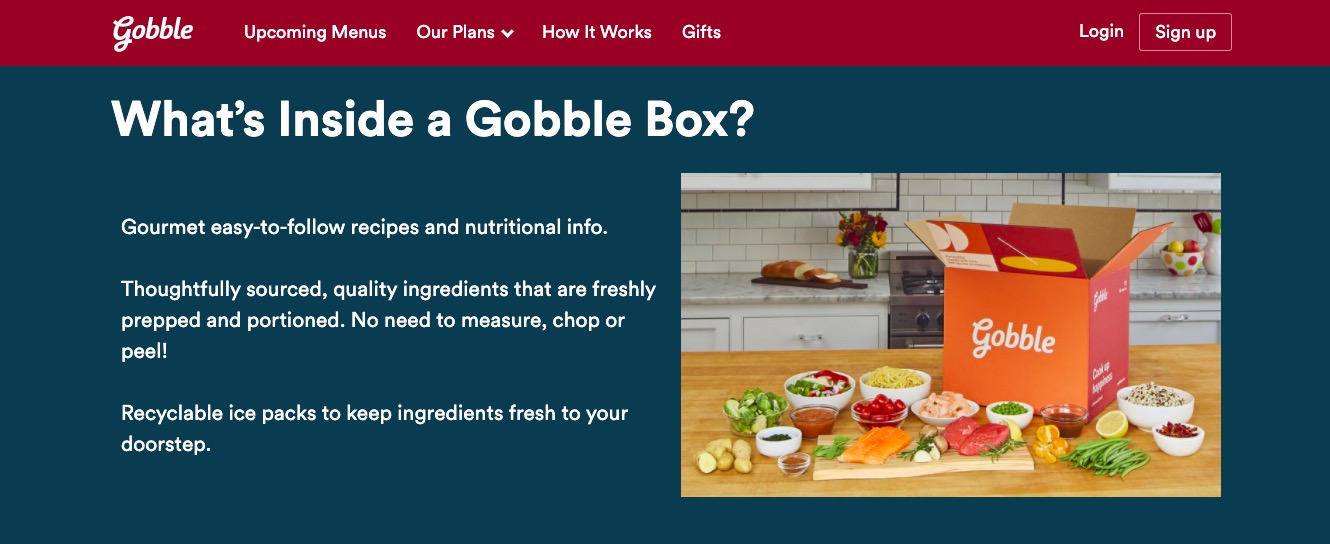 Gobble and Recycling
I appreciate that Gobble is conscious of the environment. They are serious about reducing waste and encourage the customers to do the same thing. On the website, they offer several ways you can dispose of and recycle the packaging materials.
The Gobble box can go into your cardboard recycling bin at home.
The gel ice packs are made from a natural polymer and so are completely non-toxic. They can be poured safely into the trash. Then the outer plastic can be recycled. You may give them a second chance and reuse them for picnics or traveling!
The insulated liner is recyclable and can be put for proceeding in case your community accepts them.
Plastic bags can be dropped off at a store or recycling center in the same bins as those plastic shopping bags.
Support
In case you came across an issue and need help, there are two ways how you can do that. The first is to reach for the company's help center. There, they have gathered answers to questions regarding shipping & delivery, managing your account, membership & plans, as well as general questions.
If you can't find the answer you are looking for in the Help Center, it's time to use the second method. Contact the company's Customer Success team via a request form or call them at (888) 405-7481. Gobble customer care team is available from 5 am PT to 8 pm PT Mon – Fri and 5 are PT to 1 pm PT Sat & Sun.

Similar Services
I can be absolutely positive about the convenience and excellent taste of Gobble, but you will surely want to discover at least a few Gobble's alternatives. You may even come across Gobble bad reviews that discouraged you from ordering from the company. I get it. I have chosen 3 food delivery sites that may be interesting for those looking for Gobble alternatives.
Hello Fresh
Hello, Fresh has meals to offer for a wide audience. It covers Meat & Veggies, Veggie, Family Friendly, Calorie Smart, Quick and Easy, and Pescatarian plans. No matter what category you choose, the room is always left for a little customization. According to the website, the company focuses on sourcing only high-quality ingredients. The company includes fresh produce with most recipes, and some of it is organic. Hello Fresh is reasonably priced and lets every adult, even with minimum cooking skills, create a masterpiece.
Blue Apron
Blue Apron is, in my opinion, one of the most famous food delivery companies. It offers a variety of recipes for every day, and your task is to choose the meals you'd love to have and get the products delivered to your house. Blue Apron boasts of chef recipes that even a kid can bring to life. Choose among a Vegetarian, Signature, Freestyle, and Signature for 4 menus and choose the frequency of delivery. They will send you all the recipe cards, so you know what to do with all these ingredients. Yes, everything is that simple.
Tovala
Just like all of the mentioned services, Tovala is a comprehensive choice for people who enjoy homemade food. All of the meals are extremely easy to prepare so you can save time for more pleasant activities. Recipes are all created by Tovala's professional chefs and made with fresh, raw, and real ingredients. Their dishes are full of veggies and proteins and contain between 280-590 calories. The Tovala meal options include Carb Conscious, Calorie Smart, Vegetarian, and Gluten-Free menu. Each Tovala meal is $11.99, which makes the company an average but still affordable delivery service.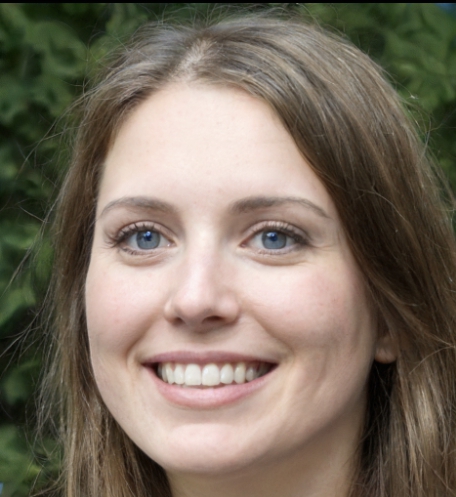 Hi! My name is Stephanie Hinton and I'm a trained expert in food and nutrition.