In the era of technologies, people cannot be surprised by mobile apps and online platforms for ordering meal kits. Nowadays, people seek exclusive recipes and certain diets which may help them boost their health and wellbeing. Two of the best diet regimens to take control of your digestive health are Mediterranean and Low-FODMAP. Speaking of the services which cater to such eaters, Modify Health can surprise you with offerings. Read this Modify Health review to learn more about their pricing, menus, and accompanying features.
Short Overview (Pros and Cons)
Modify Health reviews usually start with the brief profile of a company. Therefore, let's not beat about the bush. Modify Health is a meal subscription service that focuses on delivering delicious, ready-to-eat Mediterranean and Low-FODMAP gluten-free dishes. By signing up for their offers, you can receive expert dietitian support to be guided among the plans and your particular dieting progress. Their Low-FODMAP plan is certified by Monash University. All the dishes are gluten-free and deprived of hormone-/antibiotics-ingredients. As per their official website statement, Modify Health caters to people who currently suffer from Celiac disease, Irritable Bowel Syndrome, and fatty liver disease, among others. Otherwise, you can pick this service when you just want to change your eating habits positively.
Pros of Modify Health:
They focus on organic ingredients within their ready-to-eat dishes;
The service caters to certain eating diets that may assist one with irritable bowel syndrome (and other health conditions) and fast cooking;
They offer optional expert dietician support;
Free shipping with all plans;
Pretty affordable plans aimed at various paying capacities.
Cons of Modify Health:
Only two plans are available with this meal service;
Some dishes might require from you additional seasoning;
Portions cannot be considered huge.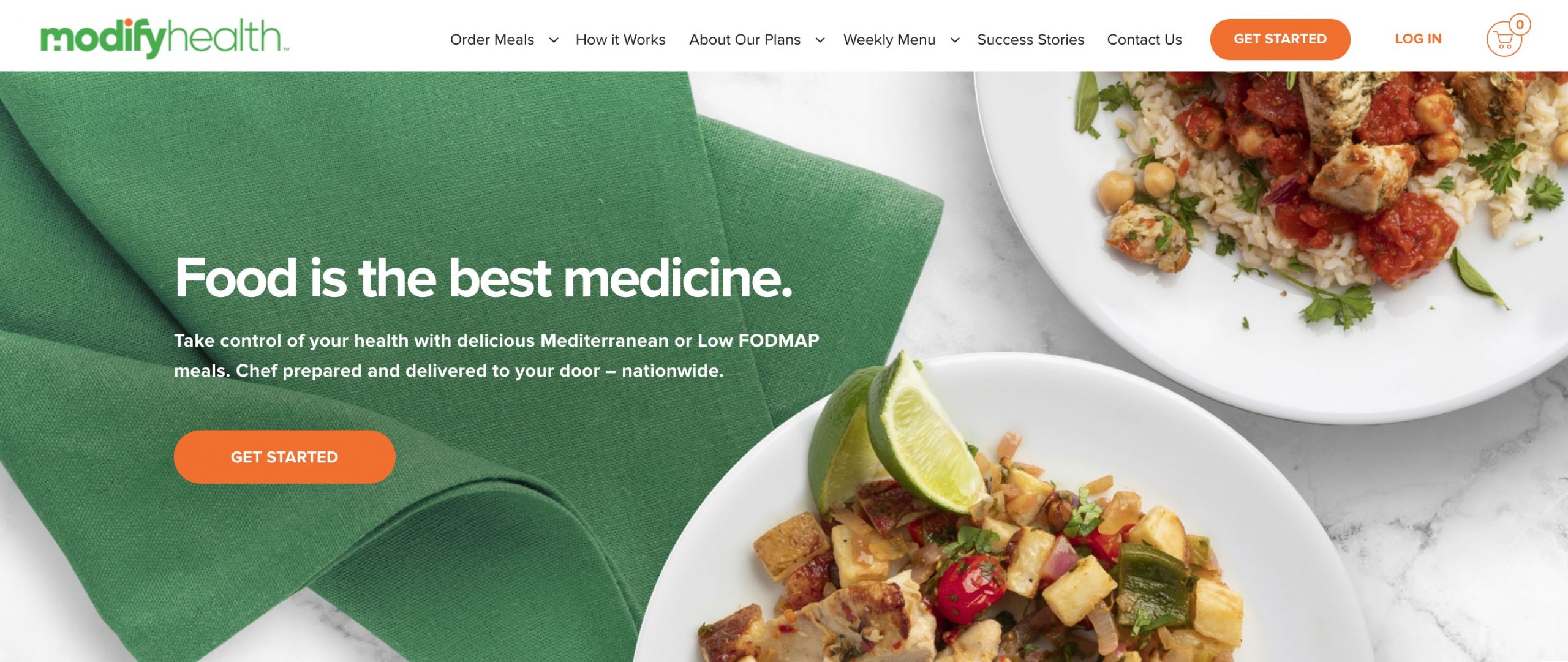 Pricing
How much is Modify Health? The pricing policy with Modify Health is reasonable, and you have only two options to choose from. Let's first start with the two menus.
The Low-FODMAP menu stands for Fermentable Oligosaccharides, Disaccharides, Monosaccharides, Polyols. Its primary goal is to help the eater to digest the dishes better and absorb nutritious microelements without harm to their stomach "environment". You will come across gluten-free dishes with a focus on chicken, scrambled eggs, cabbage, porridges. The current examples of the Low-FODMAP menu are the following:
Chicken with Bok Choy alongside Green Beans;
Blueberry Rice Porridge which comes with Almonds;
Vegetable Scramble;
Beef Frittata.
Then, Modify Health offers a Mediterranean menu. It involves plant-based recipes with a great focus on vegetables, fruits, beans, various nuts, whole grains, only olive oil, as well as sustainably sourced fish. The current examples of the Mediterranean menu are the following:
White Fish alongside Quinoa and Vegetables;
Chicken with Quinoa, Artichokes, and fruity tomatoes;
Salmon with Quinoa, Broccoli alongside Red Bell Pepper;
Chicken Cacciatore.
Now, let's move to the Modify Health prices. Low-FODMAP meals will require from you a contribution of $7.90 for breakfast dishes and $11.75 for lunch and dinner. The Mediterranean plan costs from $11.75 to $12.50, depending on your pick.
Do also consider requesting Modify Health dietician support which is optional, however, you can be guided on following the diet the way you achieve your weight or health goals.
How Modify Health Works
To start with this health service, you have to follow certain steps to order Modify Health plans.
Select the preferred plan. It can be either – Low-FODMAP Certified meal plan or a Dietitian-developed Mediterranean plan;
Select the dishes from the rotating menu which provokes the most interest to you;
Decide on the delivery day, and have dishes delivered straight to your door;
Enjoy your meals. They are fully prepared, hence, you can eat them after 2-3 minutes of reheating only.
Again, if needed, you can also request dietician support and have scheduled consultations
with the help of your smartphone or video chat.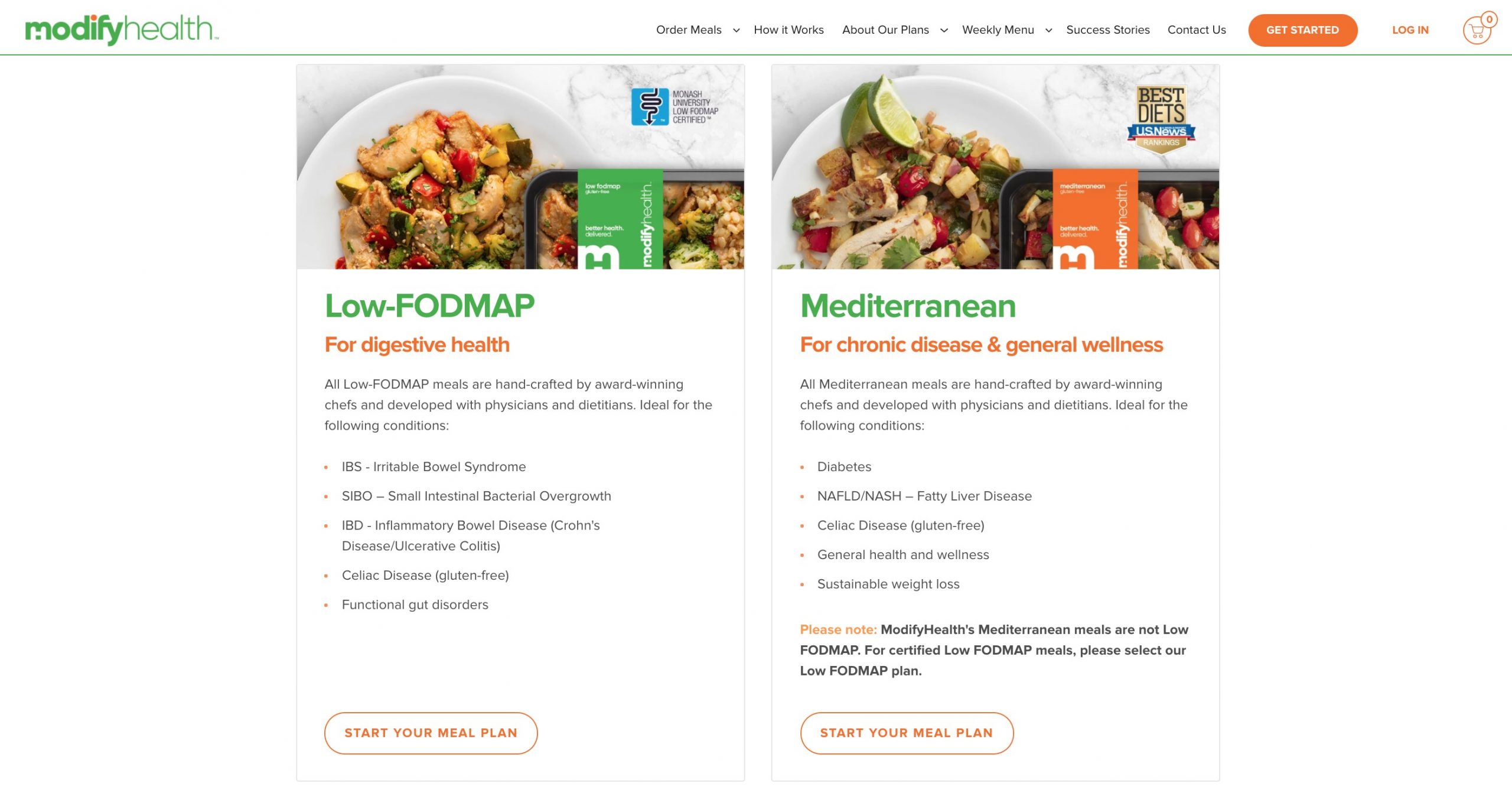 How Easy Are Modify Healthy Meal Kits to Prepare?/Cooking Process
Similar to other meal kit services and reviews of Modify Health, it strives to help busy people access fully prepared dishes. Therefore, only 2-3 minutes of reheating are required. On some occasions, you can also eat them cold.
Beyond that, the service provides tips or, better to say Modify Health recipe cards on preparing meals. For instance, each dish will be delivered with directions on microwaves, ovens, and stovetops.
Who Is Modify Health Good For?
Modify Health is a service for particular clients, strange it may sound. Normally, it is relied on among eaters who suffer from Irritable Bowel Syndrome (IBS), Inflammatory Bowel Disease (IBD), and/or fatty liver disease (NASH/NAFLD), and they need to maintain their health.
Then, some clients may just want to try out the Modify Health menus for the Mediterranean dishes known for plant-based ingredients with a focus on seafood and veggies.
Finally, Modify Health is a good option for those who just want to access healthy and organic food that will help them maintain their healthy weight or lose excessive weight with the help of a dietician. Yet, such dietician support should be paid extra.
All in all, Modify Health, compared to other services, has a favorable profile for clients who need something new regarding foods and delicacies at affordable prices.
Who It isn't Good For?
You may agree that meal kit services are not always the best fit for every person. Modify Health, in turn, won't be the best company for:
Clients who want to have particular diet plans including Keto/Paleo, Vegan, Vegetarian, etc.;
Clients who want to have a plan with free dietician support;
Clients who want larger portions for dinner.
Summing up, taking into consideration other Modify Health meal reviews, it is not the best option for those who want to have a meal kit service with lots of diets, huge portions regardless of the eating time, and free perks such as experts' guidance on losing weight.
Modify Health Packaging and Environmental Friendliness/Handy and Reusable
It cares about packaging and environmental friendliness for sure based on various reviews for Modify Health. When it comes to their meals, they are all vacuum-sealed in BPA-free trays. They can be recycled. Then, your meals are delivered with ice packs in cardboard boxes that both help to keep your delicacies at safe temperatures.
To shed light on their handy and reusable boxes properties, it is hard to say that they are intended for further use. Clients normally get rid of them after eating, however, you can reuse them if applicable.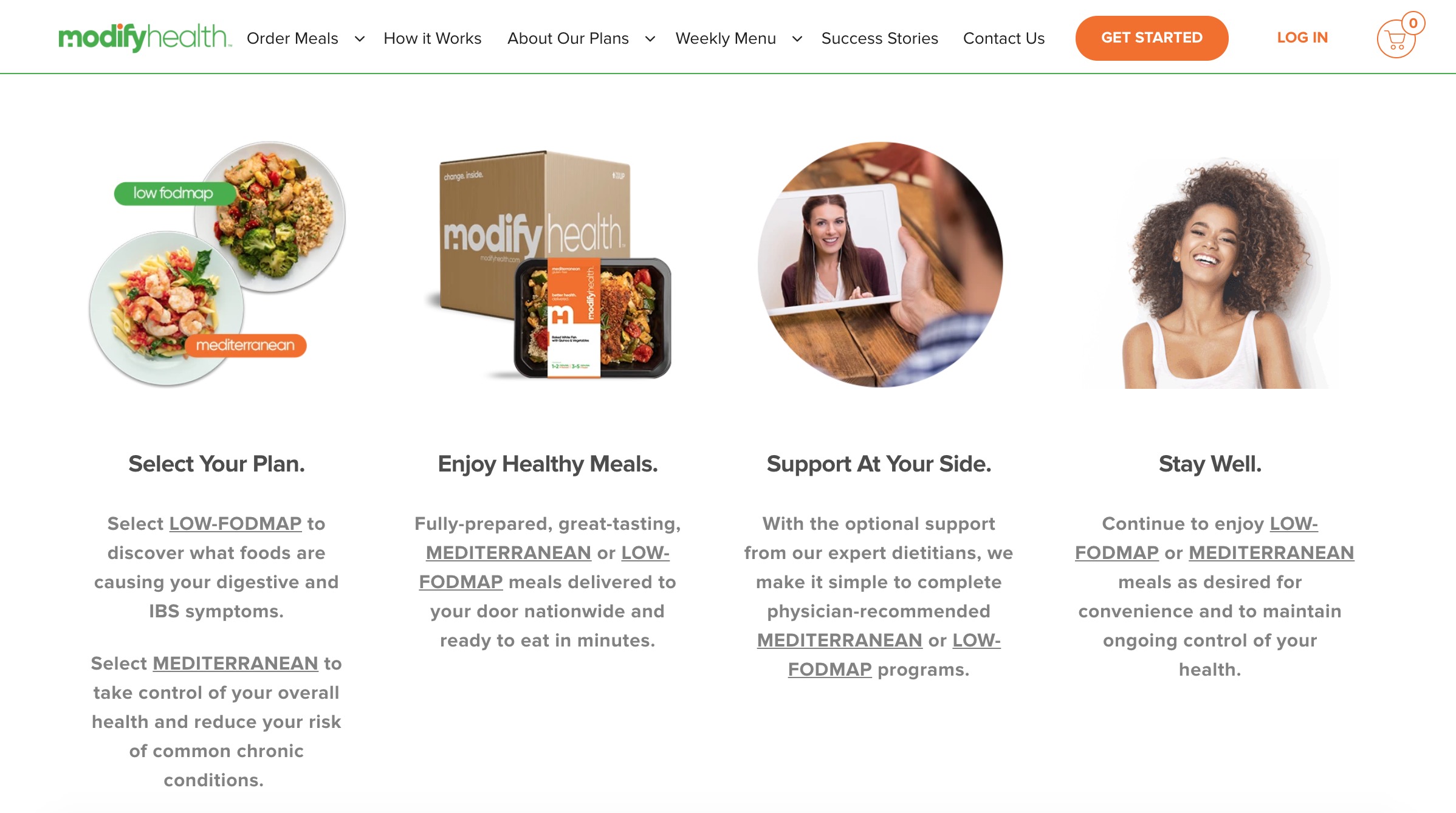 Changing and Canceling Order
To change or cancel the order, you should go directly to your account and proceed with modifications to the order. Another option for clients is to call them and request a cancellation.
Do note that changes and skipping ALL should be placed by Sunday only if you want them implemented for the upcoming week's delivery. All the requests submitted after the deadline will be implemented for the following week's delivery only. If you have any other inquiries or experience difficulties with changing and canceling, you can also contact the customer team via email. According to some Modify Health meal delivery reviews, it would be fair to say that on some occasions, a company may make advances with your urgent requests.
Customer Service
Their meal delivery customer support team works Monday-Friday, 9a-5p EST. You can contact them via toll-free number, email, as well as online submission form where you can specify what issues or inquiries you have.
Unfortunately, the Modify Health meal kits reviews feature the absence of any Live Chat button where you can receive answers promptly, but their FAQs section is pretty detailed.
The Competition/Alternatives
To help you understand the relevance of Modify Health, you can overlook its standing in comparison to two other similar food delivery services. The representatives used for the comparison are Pete's Paleo and Caveman Chefs.
Meal Kit Service
Modify Health
Pete's Paleo
Caveman Chefs
Menus available
Low-FODMAP, Mediterranean with optional for ordering dietician support;
Meals for chronic gastrointestinal symptoms which may fit clients who seek Low-FODMAP options;
Low-FODMAP, Keto, Paleo;
Pricing Policy
Modify Health cost is from $7.90 for breakfast prepared foods and $11.75 for lunch and dinner – Low-FODMAP;

From $11.75 to $12.50 – Mediterranean;

A La Carte. The fresh dishes may come at $17 per serving;
Starting from $13.75 to $18.75 depending on the size of the ordered meals;
Shipping
Free of charge;
Not free;
Not free;
Delivery
Continental U.S;
Nationwide including Hawaii and Alaska;
They deliver within 50 miles of the Charlotte area;
Customer Support
Not available 24/7.
24/7 Live Chat.
Not available 24/7.
All three cater to particular eaters. Pete's Paleo is a good fit for Paleo clients and those who want to order A La Carte. Caveman Chefs is perfect for Keto, Paleo, and Low-FODMAP eaters and those who do not mind paying more for high-quality ingredients. Finally, our reviewed meal kit Modify Health has a single focus on Low-FODMAP and Mediterranean diets. Beyond that, Modify Health pricing is cheaper compared to other companies.
Conclusion
Based on Modify Health ratings from existing clients, you should definitely think of this meal kit company to improve your digestive health. Either with their dietician support or without, you can get rid of some health conditions alongside applied treatment protocols from your doctor. Their Low-FODMAP and Mediterranean dishes are tasty, and the pricing policy is great. This is the best delivery service for such diets which you can choose as an alternative to other companies.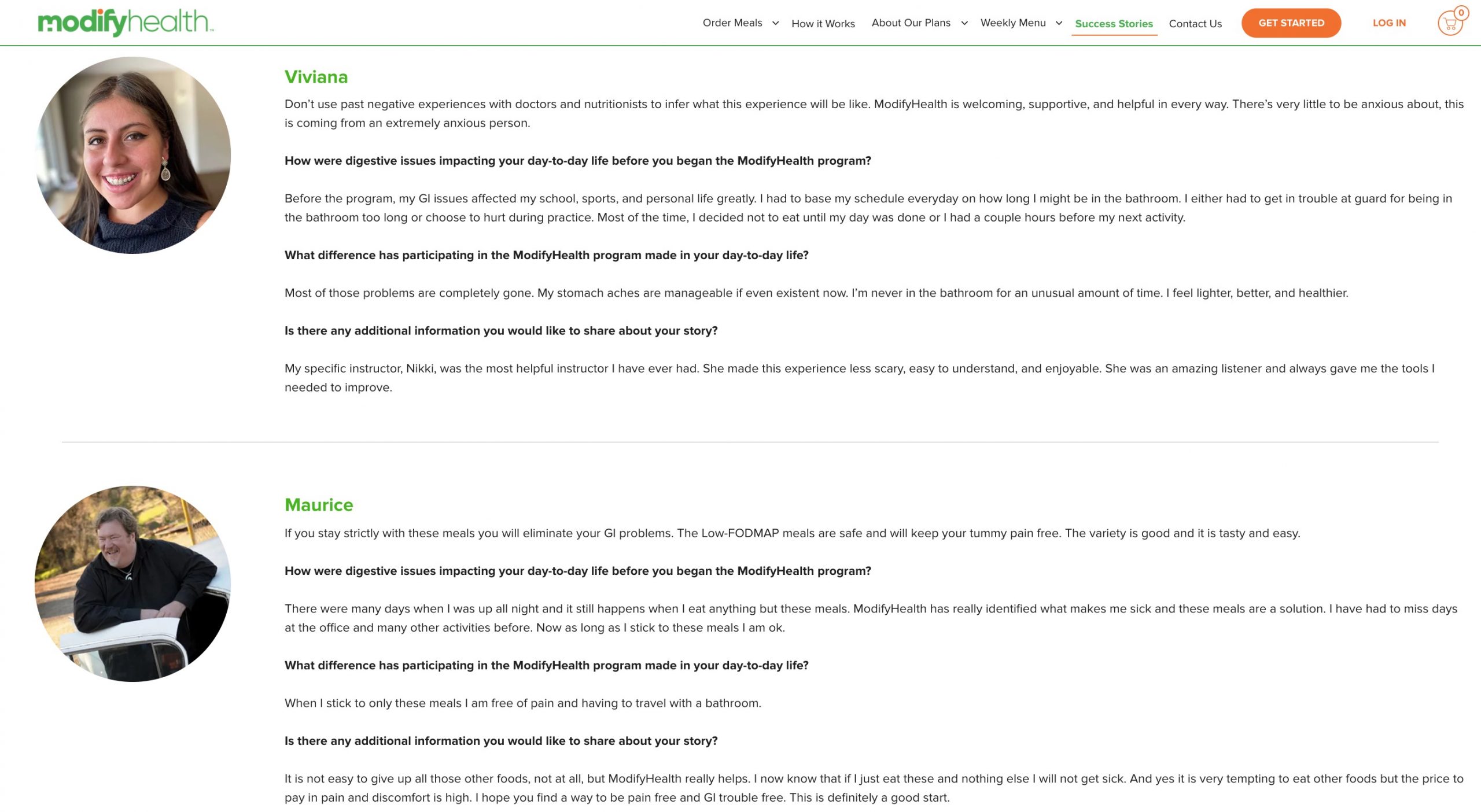 FAQs
Can I Try Modify Health for Free?
This Modify Health meal kits review and other clients' feedback can hint to you that this company does not offer any meals for free. There are no trials but established prices for two existing plans to choose from.
Does Modify Healthy Have Coupons for Existing Customers?
By visiting third-party websites where clients access discounts and promotions, one may also find Modify Health promo code for the first order and delivery. Yet, there is always free shipping which caters to savings.
Is Modify Health Worth the Money?
Modify Health food delivery is worth the money for their plans. Mediterranean and Low-FODMAP plans are not always cheap when buying the products in groceries, while their prices are pretty affordable. Again, there is also free shipping.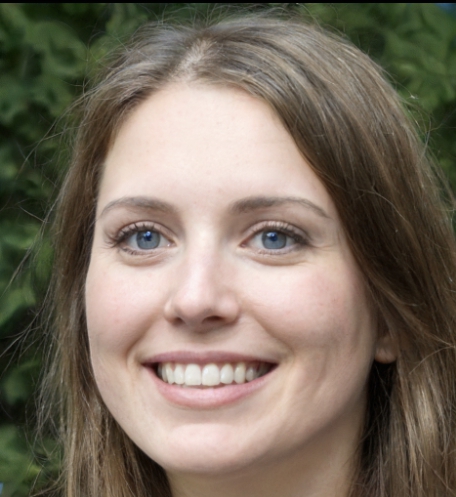 Hi! My name is Stephanie Hinton and I'm a trained expert in food and nutrition.