Each of us has a fear for the life and health of our loved ones. Unfortunately, we do not always have the opportunity to be there at the most important moment, but we want to do something pleasant for them, to cheer them up. Spoonful of Comfort reviews tell you how you can take care of loved ones with soup and cookies.
Short Overview
Spoonful of Comfort was founded in 2007 after the founder learned that his mom was diagnosed with lung cancer. They lived very far away, and he could not come to her. He wanted to somehow Comfort her and cheer her up, so he wanted to make her soup, as she cooked for him in childhood when he was sick.
Each of us can find ourselves in such a situation, especially in the era of the coronavirus. Spoonful of Comfort specializes in gifts that will help you take care of your loved ones and also lift their spirits. In the assortment of the company you will find:
6 types of soups;
4 types of cookies;
Accessories (socks, blankets, gift spoons, encouraging books, bibs, hand cream, and much more).
Also, in the assortment, you will find signs with the wishes of a good day and a speedy recovery. Typically, these kits are sent to the hospital or to homes where elderly or seriously ill people live.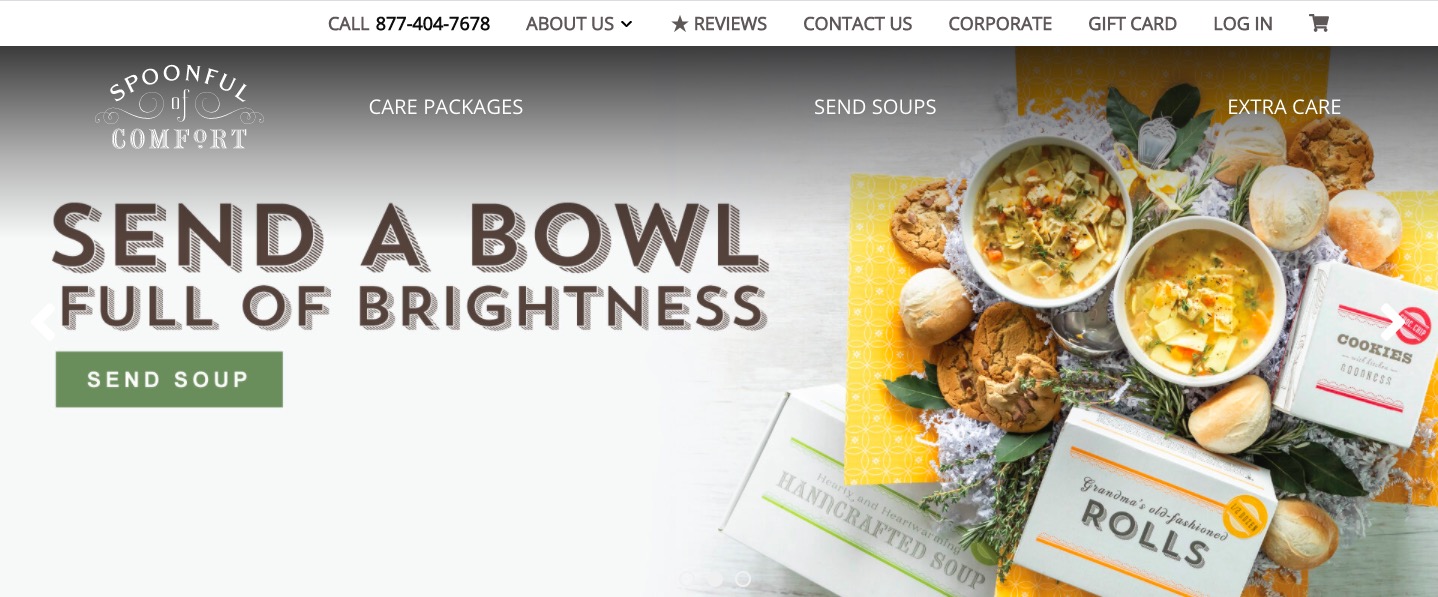 Advantages
Spoonful of Comfort review highlights the following advantages of ready-made meal service:
All products presented in the assortment are prepared by the chef;
Incredibly beautiful packaging;
Fresh products are used;
Available throughout the United States (in all 50 states);
100% satisfaction guarantee.
Spoonful of Comfort ratings are always very high since the delivery service provides really high-quality products that help to take care of loved ones.
Flaws
Spoonful of Comfort offers a small number of prepared foods – only soups and biscuits. There aren't any Spoonful of Comfort plans for diet here, but you can order gluten-free and nut-free foods if the recipient is allergic.
Spoonful of Comfort separately charges a delivery fee, which depends on the code you want to receive the parcel.
Vegan options can be found if desired, but there are very few of them. Most soups are cooked with broth, and biscuits use eggs.
Pricing
Spoonful of Comfort pricing depends on how many meals you want and what accessories you choose.
If you want to get only soups without cookies, then the cost of one set is 59.99 USD. If you don't like the idea of ​​sending soups but want to send a cookie to your dear person, then the Spoonful of Comfort cost is 24.99 USD. If you wish, you can order a double portion of cookies, then you can count on a discount.
Spoonful of Comfort prices for accessories are specified separately. The most expensive of these is a blanket – 49.99 USD, and the cheapest honey – 5 USD.
How much is Spoonful of Comfort depends only on you. Here you can find both budget and more expensive options for forming a parcel.
Delivery must be paid separately. If you are satisfied with the delivery within 2 – 3 days, then its cost will be 14.99 USD. For two days delivery, you need to pay 39.99 USD, and if you want to receive overnight delivery, you need to pay as much as 49.99 USD.
Spoonful of Comfort promo code allows you to save money on purchases or even get free shipping.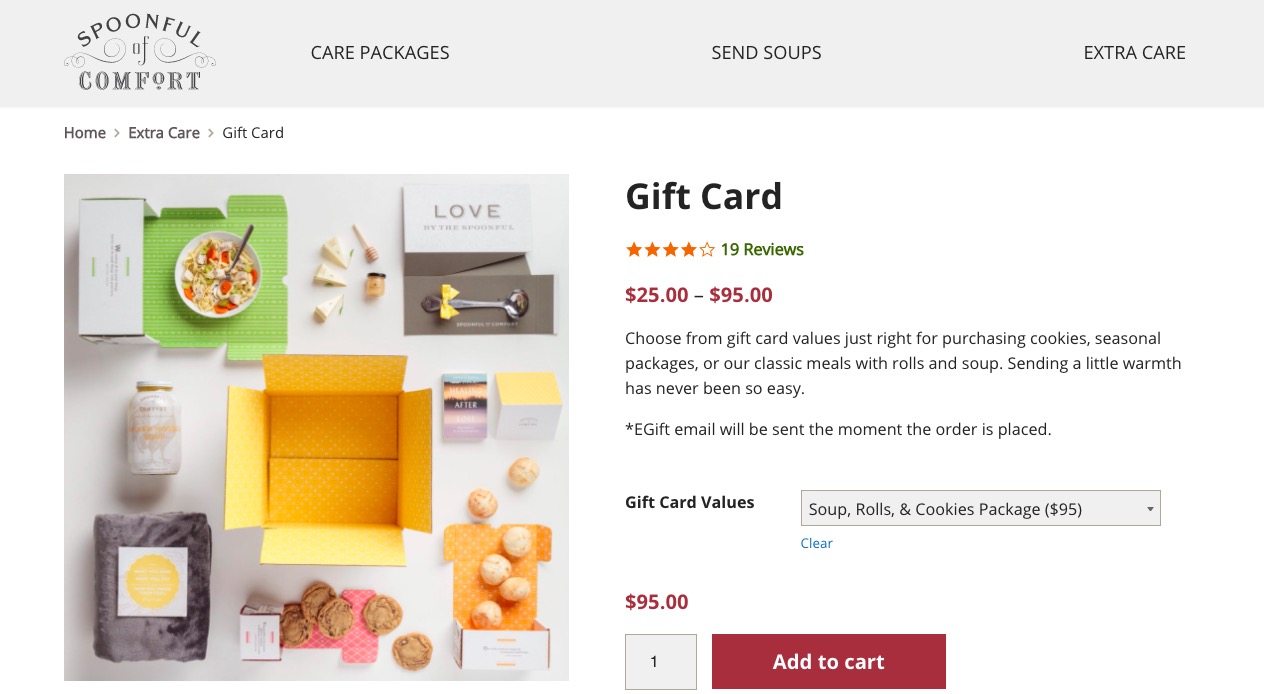 How Spoonful of Comfort Works?
The Spoonful of Comfort company has been operating since 2007, so during this time it was able to develop really good conditions for cooperation.
The company only offers soups and biscuits and has no plans to introduce other Spoonful of Comfort meal plans. If you wish, you can order additional accessories and even jewelry. Their variety is so great that everyone can choose the most suitable option, based on the purpose of the gift.
To place an order, you need to go to the site, select the necessary care packages. It only takes a few minutes. Next, you need to specify the delivery address and pay for the order.
Sending is carried out not by subscription but by one-time. If you are satisfied with the cooperation, then you can place your order again.
All dishes in the assortment are prepared according to classic recipes. This allows you to preserve the taste that is reminiscent of childhood. There is no better recipe for improving your mood.
Spoonful of Comfort meal kits reviews say the meals are made with quality organic produce that is grown without the use of growth stimulants. As a result, Spoonful of comfort offers healthy food that will definitely benefit your loved one.
Cooking Process
Reviews of Spoonful of Comfort claim that all soups and cookies come ready-made, so there is no need to cook anymore. If there is a soothing tea in the set, then it needs to be brewed, which does not take much time.
The set can include from 4 to 6 soups. If the recipients do not plan to eat them right away, they can freeze them. In this case, they can take them out and reheat them in the microwave when you are hungry.
In the Spoonful of Comfort recipe cards, you will find information about the product, what ingredients are in the composition, how many calories are in the dish. Soups also offer tips on how to reheat them and what ingredients you can add to enhance the flavor. Organic food should not only be healthy but also tasty.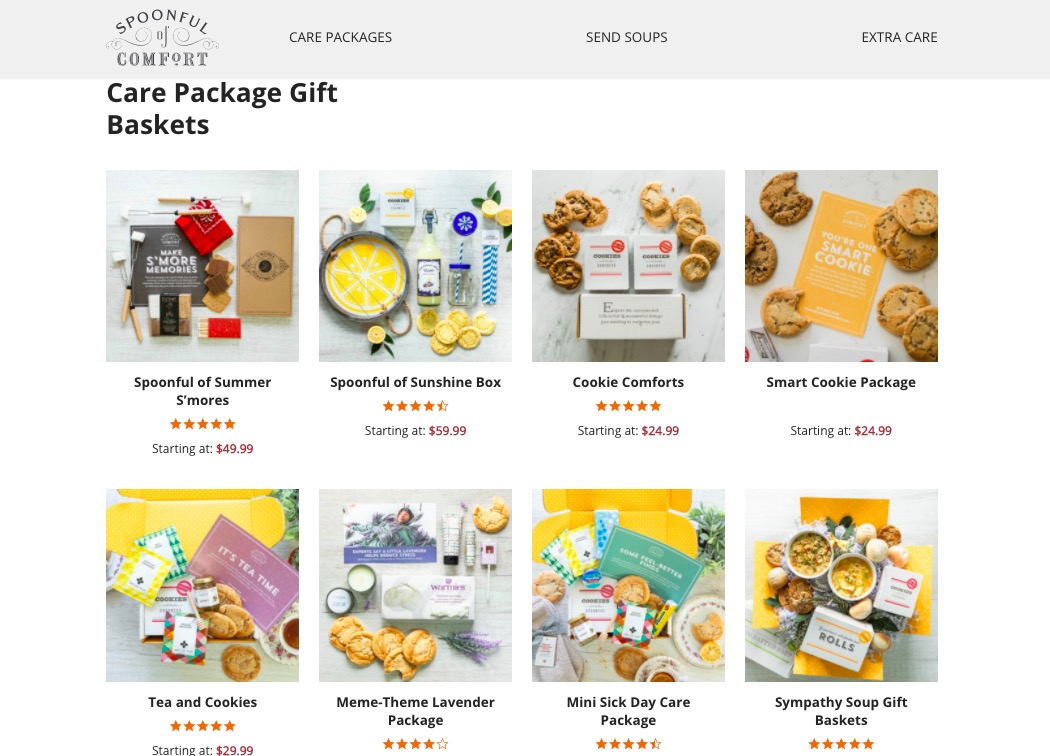 Who Is Spoonful of ComFort Good for?
Organic food from Spoonful of Comfort is suitable for those who want to please their loved ones, give them care and a good mood. Initially, the company offered kits for people with chronic disease, but today it has been able to expand the reasons:
For a birthday;
Housewarming;
For parents;
For pregnant;
To cheer up during a difficult period of life.
Spoonful of Comfort menus are formed in such a way that your loved one gets as many positive emotions as possible, smiles, and feels your love, despite the fact that you are far from each other.
Who It Isn't Good For?
Spoonful of Comfort food delivery is not suitable for people who just want to dine out. This ready-to-eat service is unlike the ones we are used to seeing.
You can order soup for yourself here, but it will cost several times more than in other companies because of the incredibly beautiful packaging, which is important for a gift.
Example Packaging and Environmental Friendliness
Reviews for Spoonful of Comfort claim that the company pays great attention to packaging. It has a really beautiful gift design. All products are packaged in eco-friendly packaging, some of the kits include glass bottles to make the soup more convenient to drink.
All packaging is recyclable, so with Spoonful of Comfort, you care about the environment.
Changing and Canceling Order
Spoonful of Comfort strives to make the client satisfied with the cooperation. If you open the box and see goods of poor quality, you can contact the delivery service and managers will replace it for you.
Any disputes here are resolved in favor of the client, which allows us to maintain a remarkable reputation for the company.
Customer Service
Spoonful of Comfort has a well thought out customer service. Only qualified and polite personnel are waiting for you here, who will answer all your questions and help resolve controversial issues.
Telephone support is available from Monday to Friday (9 am – 5 pm MST). You can also leave your message by email.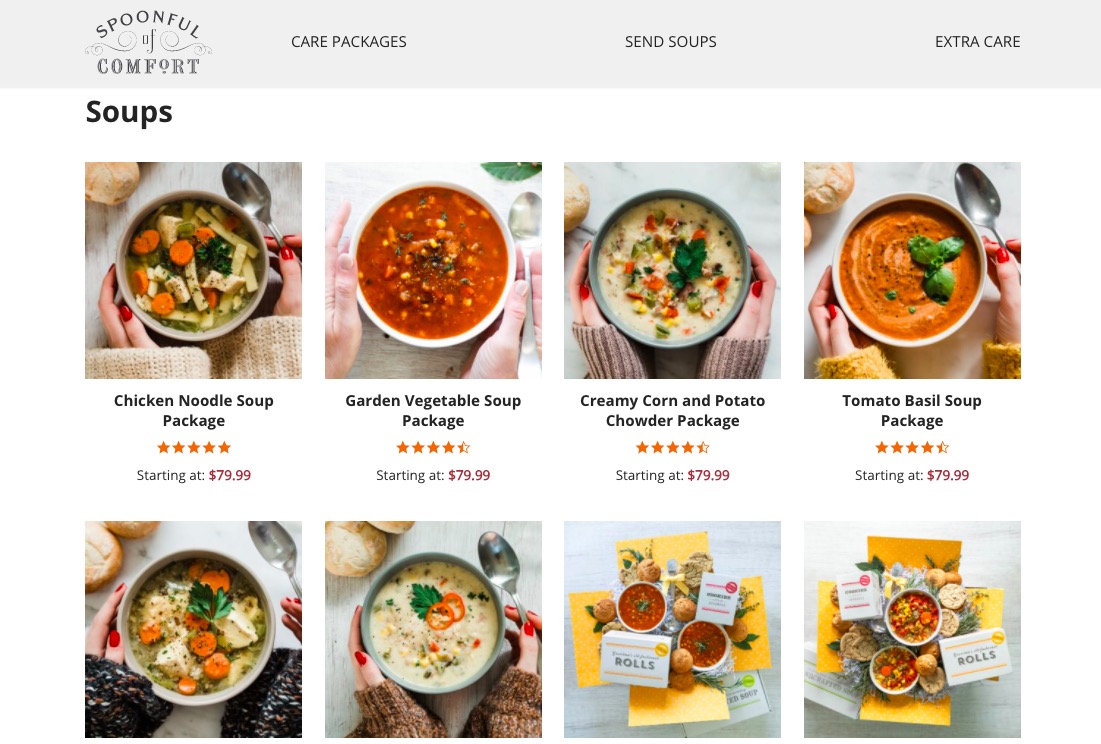 Alternatives
Spoonful of Comfort meal delivery reviews assures that the company is unique in its kind, so it has no direct competitors. Of course, there are food delivery services out there now, but none of them specialize in gift delivery.
Among the services that specialize in gifts, there is no other that would offer its customers soups.
The Verdict
Spoonful of Comfort meal reviews assures that the company is the best delivery service for those who want to surprise their loved ones and give them more positive emotions. This service is not about food but about taking care of the people who are important to you.
Spoonful of Comfort uses high-quality ingredients to make meals tastier and healthier.
Spoonful of Comfort meal kits review proves that being in a good mood and caring for loved ones can prolong a person's life, alleviate his pain and do everything possible to make him feel much better.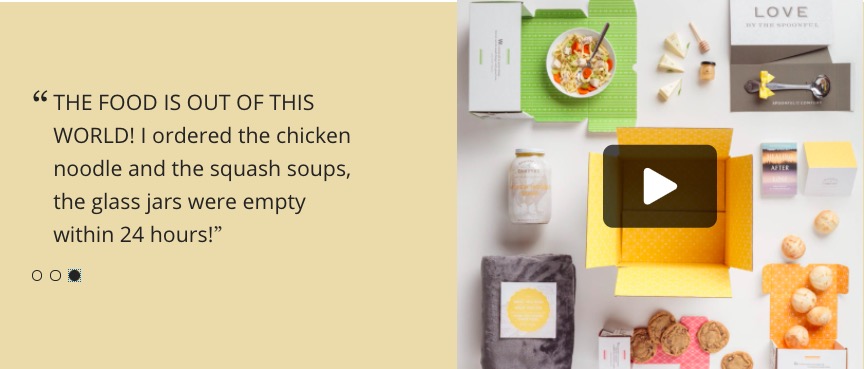 FAQs
Are Spoonful of Comfort Meals Healthy?
Spoonful of Comfort is a delivery service that was originally developed for people with possible chronic diseases. All dishes are based on high-quality ingredients, they are prepared using a special technology by the hands of chefs, so we can say with confidence that such prepared food is healthy.
Is Spoonful of Comfort Worth the Money?
The cost of one soup in Spoonful of Comfort is much higher than in other services, but here it is made from natural products and packed in gift wrapping, which makes it a complete gift for any occasion.
Is Spoonful of Comfort Easy to Cancel?
Spoonful of Comfort does not subscribe like other ready-to-eat services, so there is no need to unsubscribe. If you are not satisfied with the contents of the package, the company will replace it or refund the money.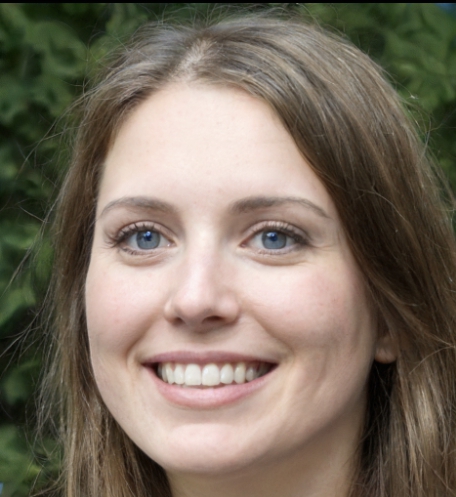 Hi! My name is Stephanie Hinton and I'm a trained expert in food and nutrition.