Today, animal husbandry contributes 57% of water pollution and 58% of food emissions. That is why switching to a plant-based diet seems like a natural way to reduce this environmental impact. However, many people don't have time to look for recipes and prepare plant-based dishes. It is where the Thistle meal delivery comes to the rescue. Thistle is the best delivery service that promises to fill your fridge with organic, plant-based meals and cold-pressed juices.
Short Overview: Pros and Cons
What about Thistle meal delivery reviews? What is interesting about this delivery? The San Francisco-based company wants to stand out from the competition by supplying ready-to-eat meals made from organic ingredients and high-quality ingredients. The menu changes daily and weekly. Ingredients are not strictly vegan, vegetarian, paleo, or raw. But you can customize your diet to suit your nutritional needs. The delivery company claims that its menu is designed to meet your macronutrient needs. Ingredients provide your body with vitamins and minerals from whole organic food, not including sweeteners or preservatives.
It is a 3, 4, or 5 day home delivery program. You can choose different dishes, snacks, and juices, which will be delivered to your door.
Pros
An ideal choice for busy people who want to eat healthy food
Variety of nutrients
Organic products
Gluten- & Dairy-free
Superfoods
Ideal for people who want to get a lot of protein in their meals
Meals are changed every day, and there's a new menu every week
Cons
Narrow delivery circle area
Expensive food delivery service
Not environmentally friendly packaging
Some meals are better than others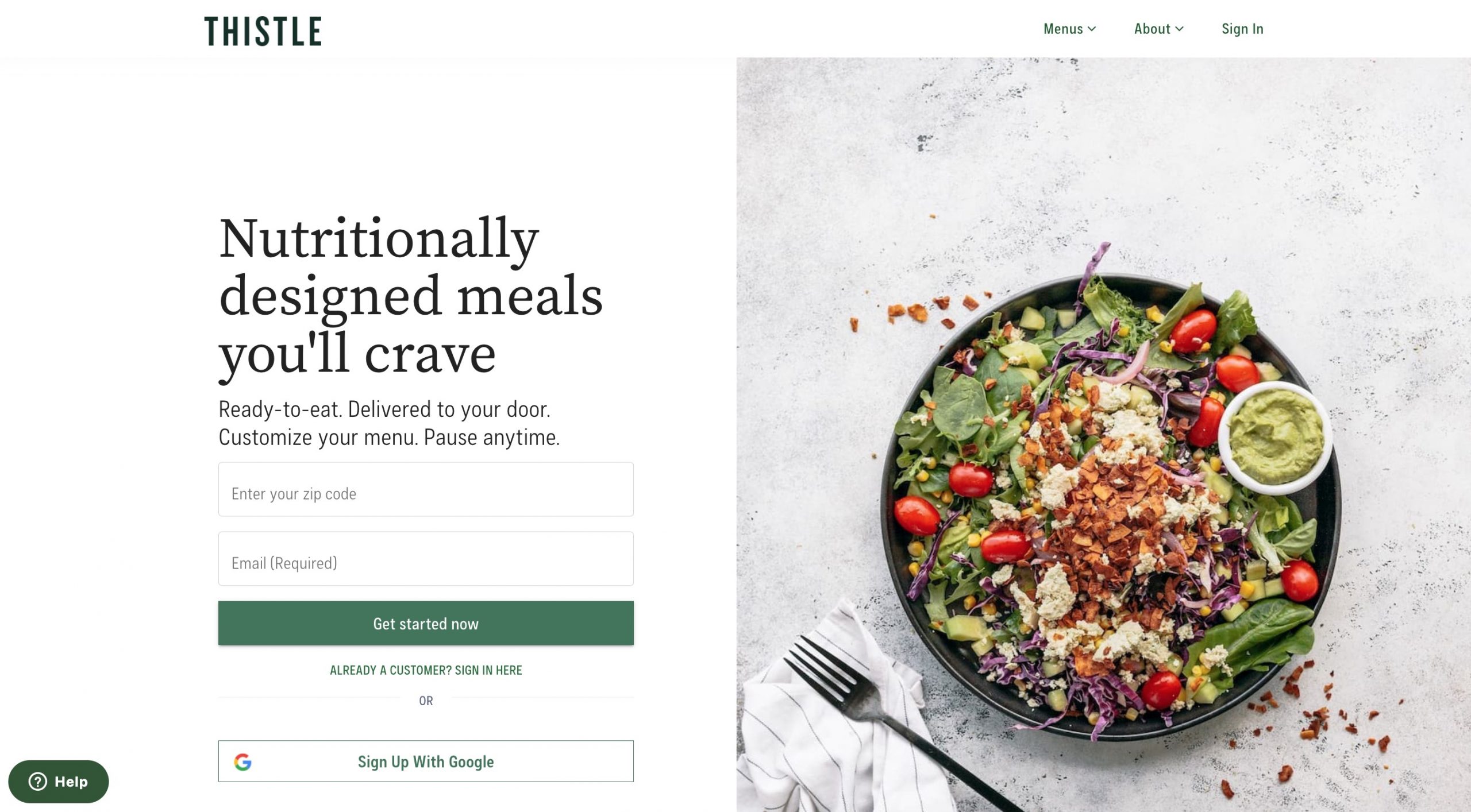 Thistle Pricing
How much is Thistle meal delivery? You can order whatever you want for breakfast, lunch, and dinner. But you can also choose from ready meal Thistle plans:
Most Popular (Thistle cost is $92 per week)
Lunch + Dinner
4 days a week
For Early Birds ($62 per week)
Breakfast + Latte
3 days a week
For Busy Workdays ($110 per week)
Lunch + Juice
4 days a week
For a Complete Reset ($185 per week)
Breakfast, Lunch + Dinner
5 days a week
The first two options contain vegetable protein, while the last two contain animal protein. It means that no one is forcing you to live a vegetarian lifestyle if you are not into it. All prepared foods from Thistle delivery are good for the body. They boost energy, sharpen your mind, and clear your skin. It is a healthy diet.
How Thistle Works
As Thistle meal kits review states, its chefs create a delicious new menu filled with high-quality ingredients each week. All meals are gluten and dairy-free!
Choose how many days in a week you want to receive food delivery (3, 4, or 5 days). Some customers order breakfast or lunch only; others need 3 meals a day, plus additional snacks and juice. It depends on you. You can also choose an individual plan by adding and replacing certain meals. Moreover, you can update your meal options if you find that a particular option doesn't work for you.
The Thistle menus also include juices, snacks, iced coffees, etc. It is the perfect "accompaniment" to delicious meals.
The meal delivery is done to your home or office every Monday, Wednesday, and Friday. Food arrives in a cooler bag. This way, it stays cold for a long time. You will have fresh food delivered to your door if you are a local customer (you live in San Francisco, Los Angeles, San Diego, Las Vegas, Sacramento, North Bay, Davis). If you don't see your city listed, you can be found on the shortlist of delivery areas served by Thistle meal delivery (California, Oregon, Arizona, Nevada, Idaho, Washington, and Utah).
By the way, shipping is free if you are a Thistle meal delivery customer!
How Easy Are Thistle Meal Kits to Prepare?
Most food companies deliver frozen food that takes 30 to 40 minutes to prepare. Dishes from Thistle delivery are completely ready, which is very convenient. It only takes 3-5 minutes to cook. The menu is suitable for both vegans and those who eat meat and fish. It includes a variety of dishes for breakfast, lunch, and dinner. Meals don't contain gluten, dairy products, and eggs.
Here are some dishes and snacks from the menu:
Sprouted brown rice pudding with cardamom;
Smoked cashew and cheddar pasta;
Raspberry grape and quinoa salad with curry;
Arroz Con Leche pudding;
Ashwagandha and seed bar.
The delivery uses locally produced organic ingredients. It also works with farmers and suppliers. What's more, the company claims that its meals will help you achieve your ideal body weight while improving several other aspects of health.
As reviews for Thistle state, most meals contain 400-600 calories per serving, which can replace higher calorie weight loss meals. Meals are rich in animal or vegetable protein, depending on the plan you choose. Increasing protein intake helps control weight and appetite. Also, Thistle meal delivery offers a variety of dishes and snacks suitable for those on a plant-based diet.
Who Is Thistle Good For?
Thistle delivery is good for those who want to include more nutritious meals in their daily diet while saving time on cooking. It is important in case you follow a vegan diet or eat more plant-based foods.
Who Isn't Thistle Good For?
It is more expensive than similar food delivery services and only offers delivery to some regions of the West Coast. Still, there is a Thistle promo code, and you can save money. Moreover, the delivery may not suit people with special dietary preferences or food allergies, as only customers in the company's delivery area can customize their meal plans.
Thistle Packaging and Environmental Friendliness
If you live in a local delivery area, organic food will be delivered on ice in reusable bags. This meal delivery focuses on limiting waste by providing local farmers with all leftovers for composting.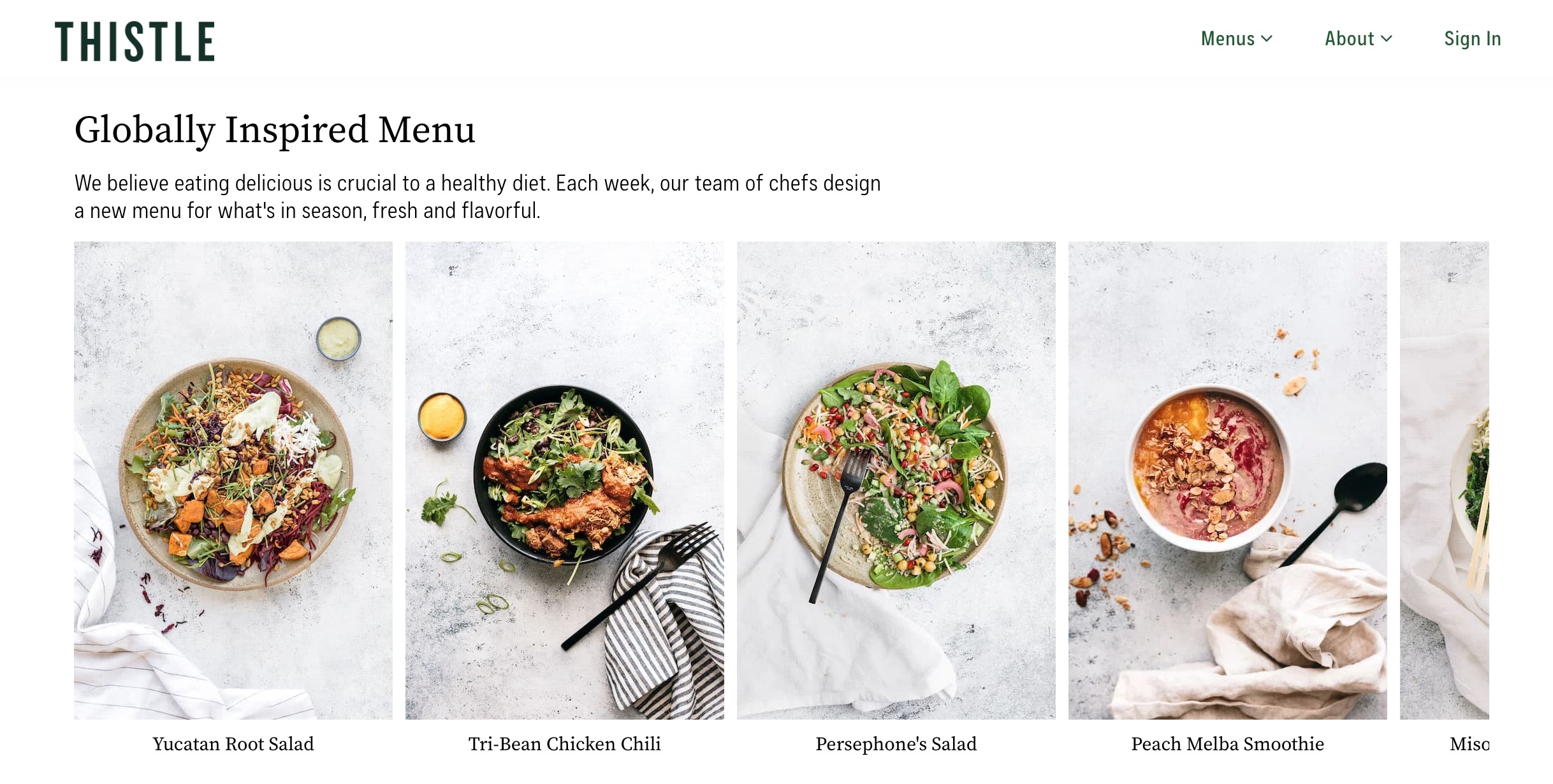 Changing and Canceling Order
If you don't like the dishes, then you can easily pause or cancel your delivery subscription whenever you want. Also, shipping is free.
Follow these simple steps to stop receiving delivery:
Login to your account on the Thistle delivery website
Click the "Cancel" button
Do it no later than on Thursday at 11:50 p.m.
Some customers have reported difficulty canceling their subscription through the Thistle delivery website. In this case, you are advised to contact customer support.
Customer Service
For any questions, you can contact the delivery through:
The Competition
Thistle vs. Sakara
Thistle food delivery takes into account each customer's lifestyle. Its meal plans include both plant-based and animal-based meals. Variety is the spice of life, especially when it comes to your diet. You can be sure that this delivery is healthy, convenient, and, for the most part, delicious.
Sakara Meal Plans are organic if you're looking for preservatives- and pesticide-free foods. The delivery also provides health consultations through their programs and offers health products like teas and nutritional supplements.
Thistle vs. Blue Apron
Dishes in the Blue Apron are tasty and relatively easy to prepare. But you will prepare Thistle dishes much faster. The Blue Apron delivery provides small advantages considering price, creativity, taste, support materials, customer service, and access to complete nutritional information.
In their Thistle meal reviews, many customers state that this delivery is better for people with many different dietary needs, like vegetarian, low-calorie, or low-carb diet meals. It offers more common flavors, larger serving sizes, and higher protein content.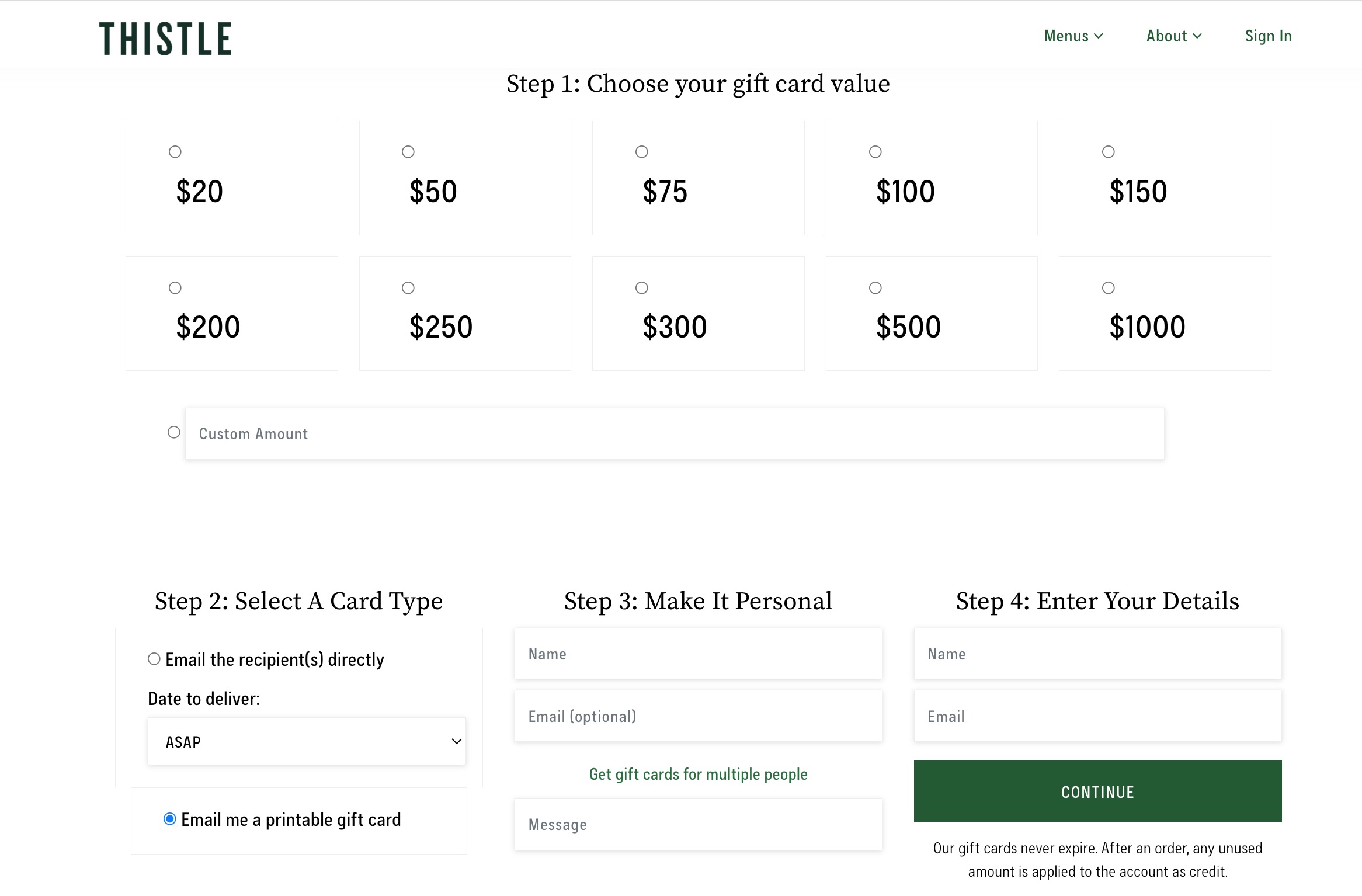 The Verdict
This meal delivery is an excellent option for anyone in California, and it can be an even better option if you're in Oregon, Arizona, Nevada, Idaho, Washington, or Utah. Customers really love this meal service. It has tens of thousands of 5-star Thistle reviews across multiple sites.
Customers are impressed by the feature of seeing new offers on the menu every week and the delicious taste of the dishes.
However, there are some complaints about the excessive plastic packaging (although Thistle says it wants to help nature), and Thistle prices are too high for simple ingredients.
Despite these disadvantages, many customers appreciated the wide range of delicious dishes, and it is essential. So, Thistle ratings are not low.
FAQ
Are Thistle Meals Healthy?
Yes, it is healthy. With vegan and other food options, it offers a wide variety of healthy options for those who want to save time and energy and don't want to cook. The company focuses on creating "nutrient diversity" in its Thistle recipe cards. On average, a Thistle meal delivered to you will contain a total of 5.8 grams of fruit, vegetables, plants, or meat.
Is Thistle Worth the Money?
For the most part, yes, it is worth the money. Moreover, you can renew your subscription at any time. If you are a busy person who finds it impossible to get proper nutrition from a balanced diet, this meal delivery helps you stay disciplined in your diet. You can make sure of it by reading other Thistle meal kits reviews.
Is Thistle Easy to Cancel?
You can cancel the order yourself. Contact support staff for help in case of problems. It is recommended to write to the chat as soon as possible. You will be connected to an operator who will check the order's status and, if possible, cancel it. But it is impossible to cancel an order in your account after payment. It will immediately be confirmed.
Can I Try Thistle for Free?
No, turning to different reviews of Thistle, this delivery doesn't provide its customers with such a service. But you can choose the cheapest plan from the menu and try it out. If you like the dishes' taste/smell/etc., you can become a regular customer and order as many dishes for a week as you need.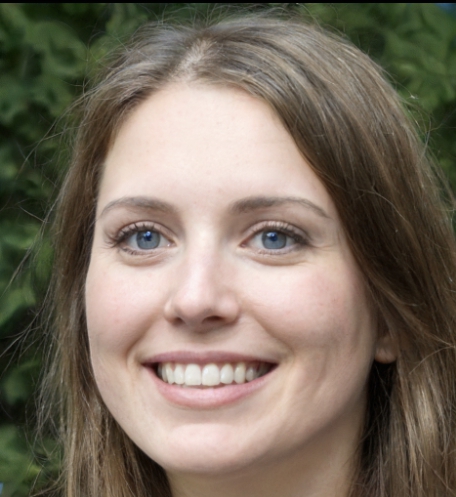 Hi! My name is Stephanie Hinton and I'm a trained expert in food and nutrition.