Trifecta food delivery offers a wide range of tasty, nutritionally balanced food. It provides various plans and menu alternatives, which may appeal to those who follow specific eating patterns such as paleo, ketogenic, or vegan diets. The company also utilizes organic vegetables and ethically reared meat in its dishes, making it an excellent alternative for people who value environmental stewardship.
In this Trifecta review, you'll get further company details, including how it works, how much it costs, and if you should try it.
Short Overview: Pros and Cons of Trifecta Food Delivery
Trifecta is a new healthy prepackaged meal delivery service that delivers fully cooked, vacuum-sealed boxes and prep packages to your home, eliminating the need for you to cook. The firm promises to utilize the "best quality products in the market," Their healthy meal plans are aimed at athletes and anyone attempting to follow a low-calorie, low-carb, high-protein diet. Let's look at the pros and cons of Trifecta reviews.
Pros:
Unique food-delivery app with fitness tips;
Offers selections for breakfast, lunch, and supper;
Has programs for a variety of eating patterns that include organic, sustainably sourced products;
May aid in weight reduction and overall well-being;
Shipping is available across the United States.
Cons:
Trifecta menus plates might be better with adding more flavor;
You have little influence over the specific plates you receive.

Pricing: How Much Is Trifecta Meal?
Trifecta plans include programs for a variety of diets:
Clean: consists of meat or fish, whole grains, fruits, and vegetables;
Keto: meat or fish, dairy products, healthy fats, and low carb fruits and vegetables;
Paleo: consists of meat or fish, fruits, and vegetables;
Vegan: consists of beans, tofu, whole grains, fruits, and vegetables;
Vegetarian: legumes, tofu, eggs, whole grains, fruits, and veggies.
These Trifecta recipe cards are all Chef's Choice, which means you'll get dishes from the service's changing menu and won't be able to pick specific entrees or sides. There's also a traditional plan that allows you to choose and select your plates to build a personalized menu.
Trifecta pricing begins at $109 for a seven-meal order. That's the fewest portion of food you can order on the Clean Paleo or Keto diet, and it works out to roughly $15.50 each plate.
Vegan or vegetarian Trifecta prices are about $114 for ten plates or $11.40 for each meal. Remember that you can miss any week without penalty, so you won't be charged that every week, just in the weeks when you receive boxes that might last you a few weeks or as long as you take to consume them.
According to numerous Trifecta reviews, the price doesn't decrease significantly even if you pick a plan with many more dishes. For example, ten plates per week cost $150 ($15 each meal), whereas 14 meals per week cost $210 (still $15 per dish).
The A la Carte meal Trifecta cost starts at $119 per box, around $6 for each plate. Individual subscriptions of prepared meats, seafood, vegetables, and cereals begin at $10 each week and go higher from there.
How Trifecta Works
The meal delivery service focuses on clean, macro-based, healthy eating. The business provides five nutritional food plans: clean, paleo, keto, vegan, and vegetarian. Each week, you have a choice for breakfast, lunch, supper, and a few snacks. Almost majority of the Trifecta meal kits reviews include portioned, prepared foods, so you simply need to heat them.
Boxes are delivered every Friday, and the service is available in every state. Dishes are fully cooked and vacuum-sealed. They may be stored in the refrigerator for up to 10 days or in the freezer for six months. Heat food in the microwave, oven, stovetop, or air fryer. The meal trays are thin, so they're easy to travel if you want to bring a meal to work or enjoy one on the go.
Trifecta meals may be browsed and ordered straight on the company's webpage or by installing the app, which is free for both iPhone and Android. You may set up an account with your email address after selecting your plan or adding things to your cart.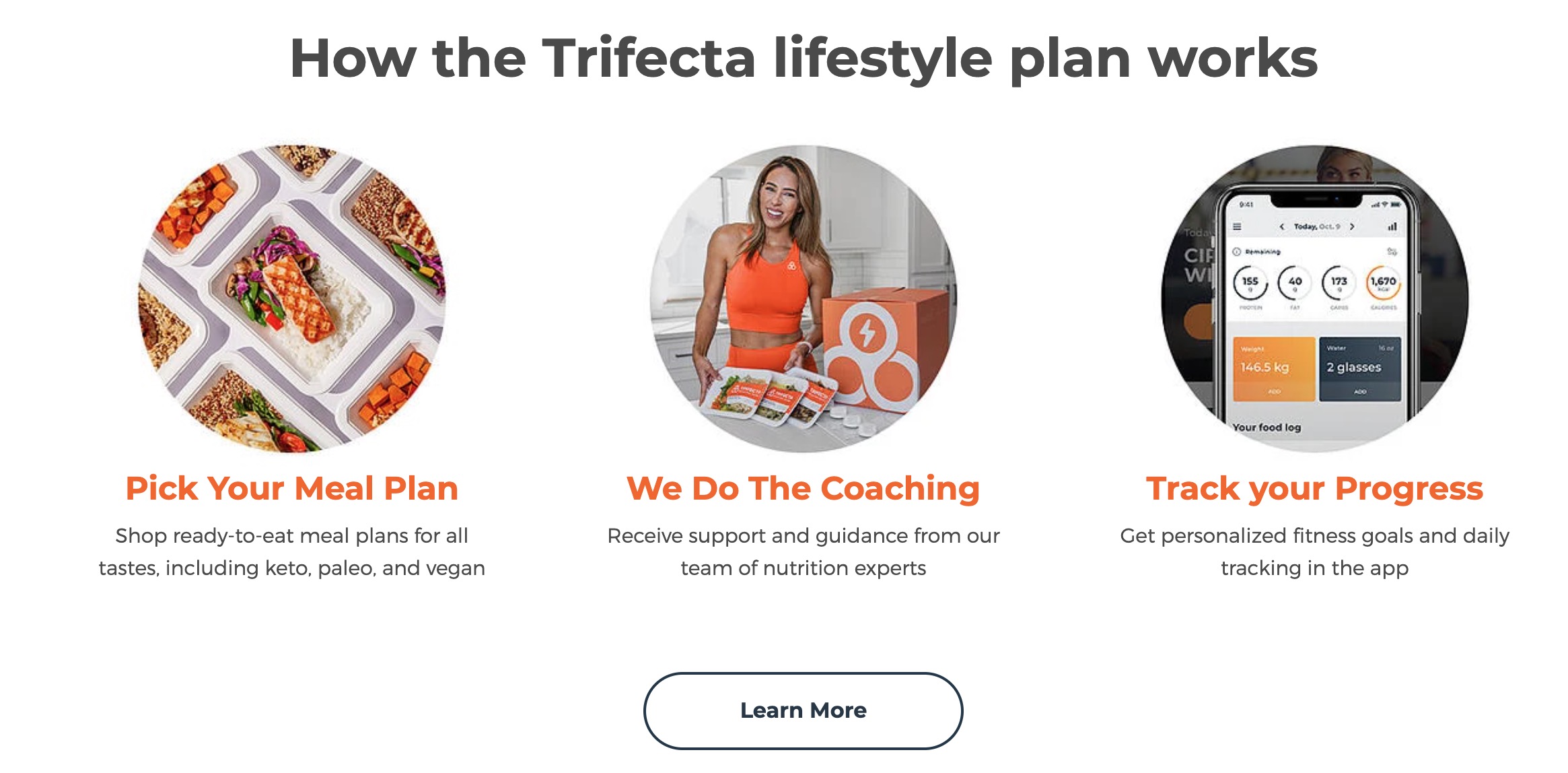 How Easy Are Trifecta Meal Kits to Prepare?
According to reviews of Trifecta, all plates are made with fresh, high-quality ingredients obtained from family-run suppliers who use sustainable techniques wherever feasible. The service includes humanely grown, grass-fed beef and sustainably sourced fish, in addition to all organic veggies. Dishes are also seasoned with sea salt and organic spices and prepared with healthy fats like olive oil, avocado oil, and coconut oil.
All plates are ready in minutes, and the labels on each tray clearly state how to cook your food. One thing to keep in mind: if you want your meal components separate, microwaving in the trays may be the best cooking choice for you. Because the food can be swirled in the skillet to heat it evenly, all meal components can blend. However, it might be okay for people who like their plate ingredients combined.
Who Is Trifecta Good For?
Reviews for Trifecta state that if you want to eat healthily every day but don't want to prepare, Trifecta meals are ideal. It's suitable for athletes for a reason: if you're exercising or following a keto diet and seeking high-protein, low-calorie, low-carb food, the company will most certainly deliver you that.
Who Isn't It Good For?
It isn't an exemplary service for you if you're fussy about what you eat. Although most of the meals will have recognizable flavors, you're ultimately at the mercy of what Trifecta gives you.
Trifecta is also unsuitable for those with high taste expectations or who seek out innovative and imaginative food. Trifecta meal reviews inform you that it's precooked dishes that'll never be as nice as home-cooked meals or even freshly made takeout. The recipes at Trifecta are likewise very conventional and safe.

Trifecta Packaging and Environmental Friendliness
Each dish is vacuum-sealed in a reusable white tray with a big sticker label and vacuum-sealed in a recyclable white tray. The logo and the dish title are printed on the front of the package. The food type, calories, protein, carbohydrates, fat, and an enjoy-by date are also listed on the sticker. A complete nutritional information list, as well as heating instructions for a skillet, air fryer, oven, and microwave, can be found on the back of the tray.
By 2023, the business hopes to have entirely biodegradable packaging. Dishes can be frozen for up to three months.
Changing and Canceling Order
Any modifications to your order must be made by the Friday before the next estimated delivery date. After this date, any changes will be applied to your purchase the following week.
If you provide the firm with seven days' notice, you can stop or cancel your membership. Because you may only stop for a maximum of four weeks, if you're not sure how long you'll need to take a break, it may be preferable to cancel and resubscribe later.
Customer Service
Trifecta ratings of its Customer Service are pretty positive. The company has a small staff, so if you don't get through right away, please leave a message, and they'll contact you back as soon as possible! The company may provide information on nutrition, food planning, and your account.

The Competition: Trifecta vs. Factor vs. Good Kitchen
Trifecta meal delivery reviews are comparable to several other meal delivery businesses.
Factor, for example, is a service that makes healthy eating simple by bringing nutritious, fully cooked dishes right to your home. Factor, like Trifecta meal kits review, offers ketogenic, low carb, vegetarian, and plant-based diet choices. On the other hand, Factor allows you to create your plates from their menu based on your particular food tastes and provides add-ons such as shakes, soups, and protein packs.
Like many other meal delivery services, The Good Kitchen has a diverse menu that includes vegetarian, keto-friendly, paleo, and low-fat options. It, too, utilizes grass-fed beef and ethically sourced seafood in all of its dishes, as does Trifecta. However, not all products are organic, and the costs start at $13 for a dish, depending on the subscription you pick.
The Verdict
Trifecta is an organic food delivery business that focuses on improving your appearance and health by increasing the quality of your food. Trifecta caters to a wide range of taste buds and dietary demands by offering a choice of meal plans and menu alternatives with Trifecta promo code options.
It also enables you to order many plates each day, saving you time in the kitchen without compromising flavor or nutrition. While it's a fantastic choice for healthful, thoroughly cooked dishes, it's not a good fit if you're on a limited budget or like to have more control over the authentic dishes and ingredients you receive each week.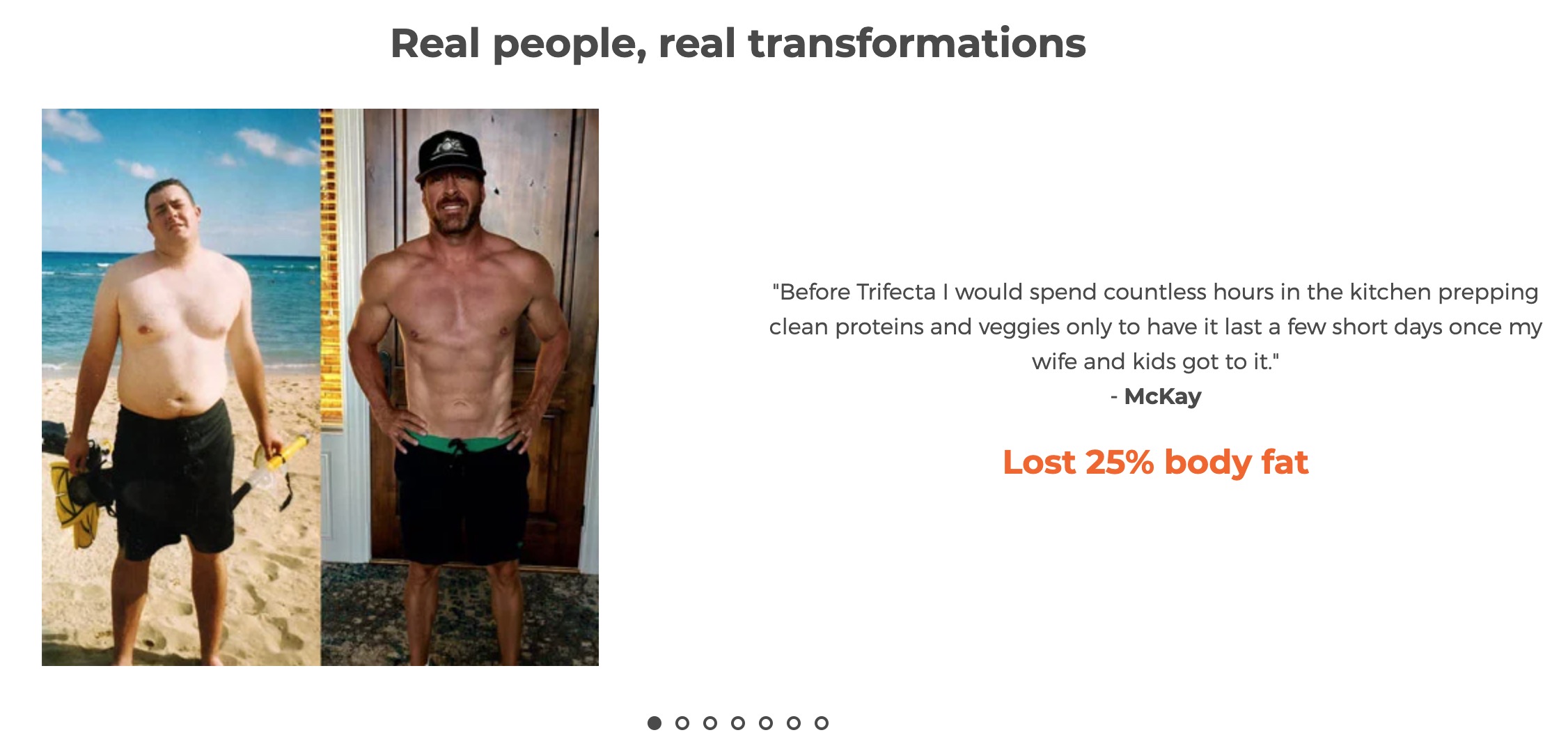 FAQ
Are Trifecta Meals Healthy?
Trifecta offers nutritionally balanced meals that are suitable for a wide range of diets. No antibiotics are ever used on grass-fed, pasture-raised, or sustainably harvested proteins! There is no food waste with the Trifecta meal service. As a result, it might be an excellent alternative for individuals who want to save time in the kitchen while simultaneously enhancing the quality of their food.
Can I Try Trifecta for Free?
No, there is no such option as trying Trifecta for free. Instead, you may buy particular meals or individual grocery products. A La Carte meal plans start at $6 for each meal with a minimum of $119 per delivery, while Trifecta meal plans start at $90.93 per delivery. They handle meal planning, grocery shopping, and cooking so you can focus on other things. Trifecta offers free shipping to all 50 states.
Is Trifecta Worth the Money?
It's worth it. Trifecta is the best delivery service that focuses on fresh, nutritious, and minimally processed meals. Its meals are founded on the Trifecta concept, which states that health is attained by addressing three critical areas: physical, mental, and social health. Trifecta plans the menu, shops for ingredients, and cooks before delivery. The firm uses products that are grown sustainably and recyclable packaging.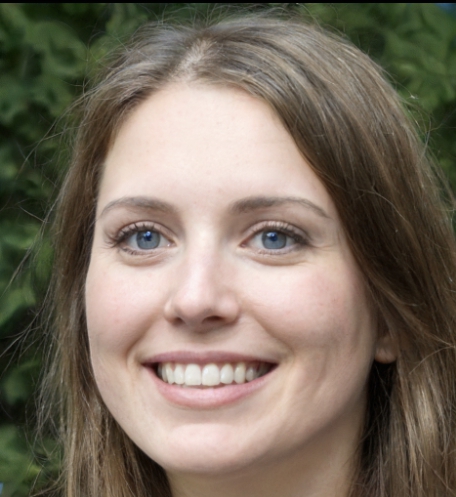 Hi! My name is Stephanie Hinton and I'm a trained expert in food and nutrition.